If you are checking algae belt dryer dw price, or looking for cheap high torque algae belt dryer dw, welcome to contact KODI Machinery, we are one of the leading China algae belt dryer dw manufacturers.
Quick Details
Condition: New
Place of Origin: Jiangsu, China (Mainland)
Brand Name: KODI
Model Number: DW
Type: Dryer
Voltage: 220V-450V
Power(W): 11.4kw-36.8kw
Weight: Depends on the model
Dimension(L*W*H): Depends on the model
Certification: ISO9001,CE
Warranty: 1 year
After-sales Service Provided: Engineers available to service machinery overseas
Product Name: DW Model Continuous Algae Belt Dryer /Algae Conveyor Dryer/Algae Dryer
Material: Stainless steel, carbon steel
Quantity of unit: 4-12
Belt width: 1.2m-3.85m
Length of drying section: 8m-24m
Operation temperature: 50℃-140℃
Steam pressure: 0.2Mpa-0.8Mpa
Steam consume: 120-1200kg/h
Installation: KODI service
Spare parts: supply the whole lifetime
Packaging & Delivery
| | |
| --- | --- |
| Packaging Details: | KODI Algae Belt Dryer /Algae Conveyor Dryer/Algae Dryer is packing with plywood cases or As customers' requirement |
| Delivery Detail: | 45-90 days |
DW Model Continuous Algae Belt Dryer /Algae Conveyor Dryer /Algae Dryer

1, Algae belt dryer/ algae conveyor dryer/ algae dryer
2, Good mobility and dissolving
3, Easy operation and control
Product Description
What is Algae
Algae is an informal term for a large, diverse group of eukaryotic organisms that are not necessarily closely related and are thus polyphyletic. Included organisms range from unicellular genera, such as Chlorella and the diatoms, to multicellular forms, such as the giant kelp, a large brown alga that may grow up to 50 meters in length. Most are aquatic and autotrophic and lack many of the distinct cell and tissue types, such as stomata, xylem and phloem, that are found in land plants. The largest and most complex marine algae are called seaweeds, while the most complex freshwater forms are the Charophyta, a division of green algae that includes, for example, Spirogyra and the stoneworts.
There is no generally accepted definition of algae. One definition is that algae "have chlorophyll as their primary photosynthetic pigment and lack a sterile covering of cells around their reproductive cells".Some authors exclude all prokaryotes and thus do not consider cyanobacteria (blue-green algae) as algae.
Algae constitute a polyphyletic groupsince they do not include a common ancestor, and although their plastids seem to have a single origin, from cyanobacteria, they were acquired in different ways. Green algae are examples of algae that have primary chloroplasts derived from endosymbiotic cyanobacteria. Diatoms are examples of algae with secondary chloroplasts derived from an endosymbiotic red alga.
Algae exhibit a wide range of reproductive strategies, from simple asexual cell division to complex forms of sexual reproduction.
Algae lack the various structures that characterize land plants, such as the phyllids (leaf-like structures) of bryophytes, rhizoids in nonvascular plants, and the roots, leaves, and other organs that are found in tracheophytes (vascular plants). Most are phototrophic, although some groups[which?] contain members that are mixotrophic, deriving energy both from photosynthesis and uptake of organic carbon either by osmotrophy, myzotrophy, or phagotrophy. Some unicellular species of green algae, many golden algae, euglenids, dinoflagellates and other algae have become heterotrophs (also called colorless or apochlorotic algae), sometimes parasitic, relying entirely on external energy sources and have limited or no photosynthetic apparatus.Some other heterotrophic organisms, like the apicomplexans, are also derived from cells whose ancestors possessed plastids, but are not traditionally considered as algae. Algae have photosynthetic machinery ultimately derived from cyanobacteria that produce oxygen as a by-product of photosynthesis, unlike other photosynthetic bacteria such as purple and green sulfur bacteria. Fossilized filamentous algae from the Vindhya basin have been dated back to 1.6 to 1.7 billion years ago.
Description of Algae Belt Dryer
The algae after washed should be distributed on the conveyer belt through suitable mechanism such as star distributor, swing conveyor, crusher or granulator, the conveyer passes through the channel including of one or several heating unit. Each heating unit is equipped with air heater and circle system. Each channel has one or several damp discharge systems. When the conveyer passes through it, hot air will pass through the algae from up to down or from down to up. In this way the algae can be dried uniformly.

Application of Algae Belt Dryer
The Industrial continuous algae belt dryer is an industrial continuous drying equipment. It is widely used for chemical industry, foodstuff industry, pharmaceutical industry, construction materials industry, electronic industry and so on. Especially it is suitable for drying raw materials that are good in breathability and have the shape of pieces or strip of granule. It is also possible to dry the pasted raw materials such as filter cake after shaped through granulator or extruder.
Features of Algae Dryer
1, Air quantity, heating temperature, materials staying time and feeding speed can be adjusted to achieve the best drying effect.
2,The equipment configuration is flexible, mesh belt washing system and materials cooling system can be used.
3,Most air is recycled to realize saving energy
4,The machine is equipped with unique air dividing apparatus, it makes the hot air distribute uniform better and guarantee the quality of products is constant.
5,Heating source can be steam, conduction oil,, electricity, coal (oil), or hot air furnace.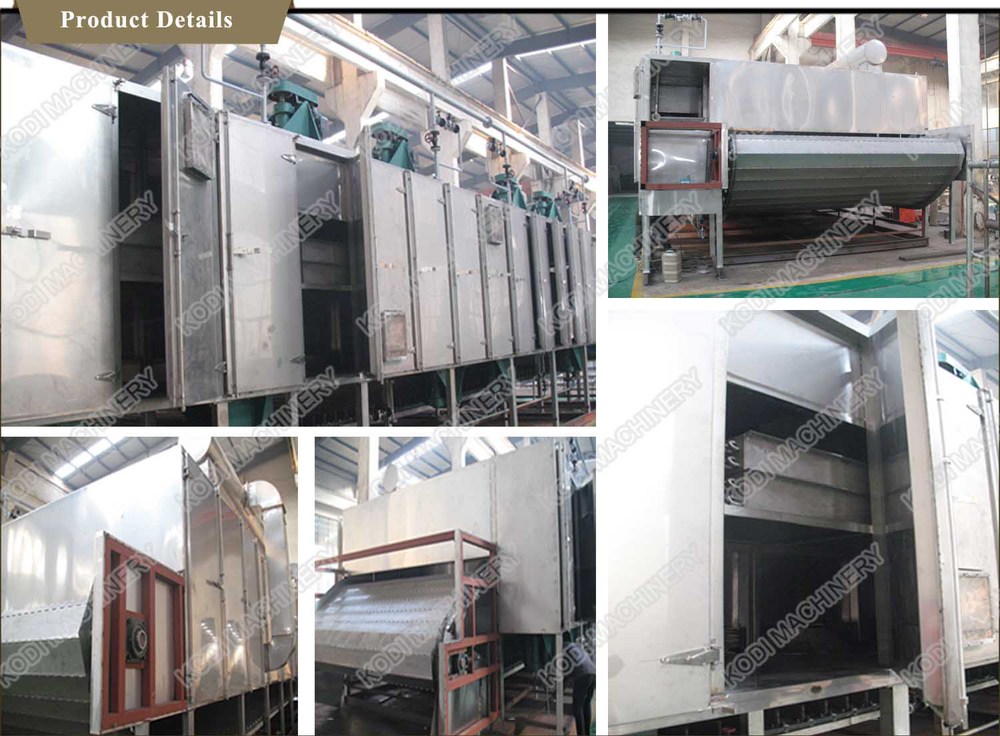 Algae Drying Details by KODI Algae Belt Dryer


Technical Parameters of Algae Conveyor Dryer
Type

DW-1.2-8

DW-1.2-10

DW-1.6-8

DW-1.6-10

DW-2-8

DW-2-10

DW-2-20

Quantity of unit

4

5

4

5

4

5

10

Belt width(m)

1.2

1.6

2

Length of drying section(m)

8

10

8

10

8

10

20

Thickness of raw material(mm)

≤60

Operation temperature(°C)

50-140

Steam pressure(MPa)

0.2-0.8

Steam consume(kg/h)

120-300

150-375

150-375

170-470

180-500

225-600

450-1200

Drying time(h)

0.2-1.2

0.25-1.5

0.2-1.2

0.25-1.5

0.2-1.2

0.25-1.5

0.5-3

Drying strength(kg/h)

60-160

80-220

75-220

95-250

100-260

120-300

240-600

Power equipped(kw)

11.4

13.6

11.4

13.6

14.7

15.8

36.8

Overall dimensions

L(m)

9.56

11.56

9.56

11.56

9.56

11.56

21.56

W(m)

1.49

1.49

1.9

1.9

2.32

2.32

2.32

H(m)

2.3

2.3

2.4

2.4

2.5

2.5

2.5

weight(kg)

4500

5600

5300

6400

6200

7500

140
Remark:
1. Parameters above in the table are regular model for reference;
2. The model for drying algae is special which doesn't show in the above table , please contact KODI sales team to konw more details about algae belt dryer.
Simple flow chart of Algae Belt Dryer


Successful Experience Overseas by KODI Algae Dryer
Packaging & Shipping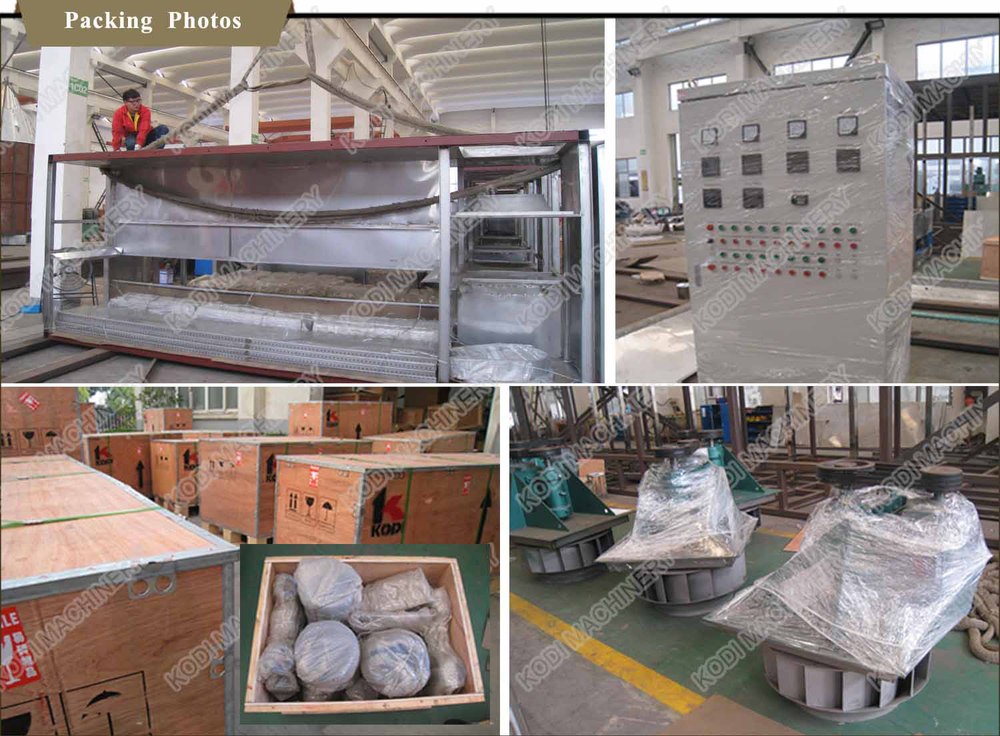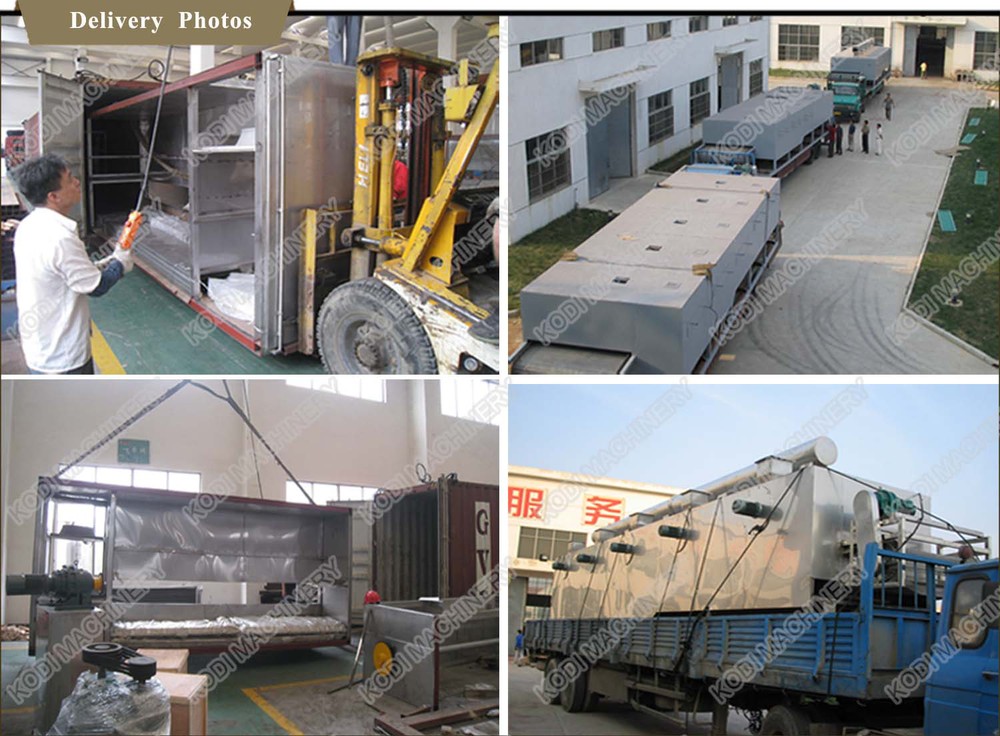 Hot Tags: algae belt dryer dw, China, manufacturers, cheap, price, high torque