If you are checking battery materials vacuum dryer szg price, or looking for cheap high torque battery materials vacuum dryer szg, welcome to contact KODI Machinery, we are one of the leading China battery materials vacuum dryer szg manufacturers.
Quick Details
Condition: New
Type: Rotary Drying Equipment
Place of Origin: Jiangsu, China (Mainland)
Brand Name: KODI
Model Number: SZG
Voltage: 220v-450v
Power(W): 0.75kw-11kw
Dimension(L*W*H): Depends on the model
Weight: Depends on the model
Certification: ISO9001, CE
Warranty: 1 year
After-sales Service Provided: Engineers available to service machinery overseas
Product Name: SZG Model Battery Materials Double Cone Rotary Vacuum Dryer
Material: Stainless steel
Max loading volume: 50-2500 L
Rotary height: 1750-4200 mm
Rotary speed: 4-6 rmp
Design pressure of jacket: ≤0.3 Mpa
Designed pressure in the tank: -0.1-0.15 Mpa
Working temperature: In the tank≤85℃ jacket≤140℃
Installation: KODI service
Spare parts: Supply the whole lifetime
Packaging & Delivery
| | |
| --- | --- |
| Packaging Details: | SZG Model Low Temperature Battery Materials double cone vacuum dryer /Battery Materials rotary vacuum dryer /Battery Materials vacuum dryer is packing with plywood box or As customers' requirement |
| Delivery Detail: | 15-45 days |
SZG Model Low Temperature Battery Materials Double Cone Rotary Vacuum Dryer
1. Battery Materials double cone vacuum dryer / Battery Materials rotary vacuum dryer / Battery Materials vacuum dryer
2. Easy to operate and control
3. GMP standard
4. High efficiency
Product Description
What is Battery Materials
An electric battery is a device consisting of two or more electrochemical cells that convert stored chemical energy into electrical energy. Each cell has a positive terminal, or cathode, and a negative terminal, or anode. The terminal marked positive is at a higher electrical potential energy than is the terminal marked negative. The terminal marked positive is the source of electrons that when connected to an external circuit will flow and deliver energy to an external device. When a battery is connected to an external circuit, Electrolytes are able to move as ions within, allowing the chemical reactions to be completed at the separate terminals and so deliver energy to the external circuit. It is the movement of those ions within the battery which allows current to flow out of the battery to perform work.Although the term battery technically means a device with multiple cells, single cells are also popularly called batteries.
Primary (single-use or "disposable") batteries are used once and discarded; the electrode materials are irreversibly changed during discharge. Common examples are the alkaline battery used forflashlights and a multitude of portable devices. Secondary (rechargeable batteries) can be discharged and recharged multiple times; the original composition of the electrodes can be restored by reverse current. Examples include the lead-acid batteries used in vehicles and lithium ion batteries used for portable electronics.
Batteries come in many shapes and sizes, from miniature cells used to power hearing aids and wristwatches to battery banks the size of rooms that provide standby power for telephone exchangesand computer data centers.
Description of Battery Materials Double Cone Vacuum Dryer
The Battery Materials double cone Vacuum Dryer consists of a jacketed double conical shell rotating around 6 RPM with under the state of vacuum inside the shell, pass steam or hot water in to jacket for heating. The large heating surface area presented by the internals of the cone ensures uniform drying of the product, as the product gently tumbles while the cone rotates slowly. The vaporized steam can be pumped out through vacuum exhaust pipe when the damp raw material absorbed heat. The diffusive action induced by the tumbling cone constantly presents a fresh layer to come into contact with the indirectly heated walls of the shell, the dry speed of raw material is quickened and uniform drying efficiency is raised too. A well designed sealing system enable maintenance of deep vacuum inside the shell, and also ensures positive circulation of a heating media in the jacket.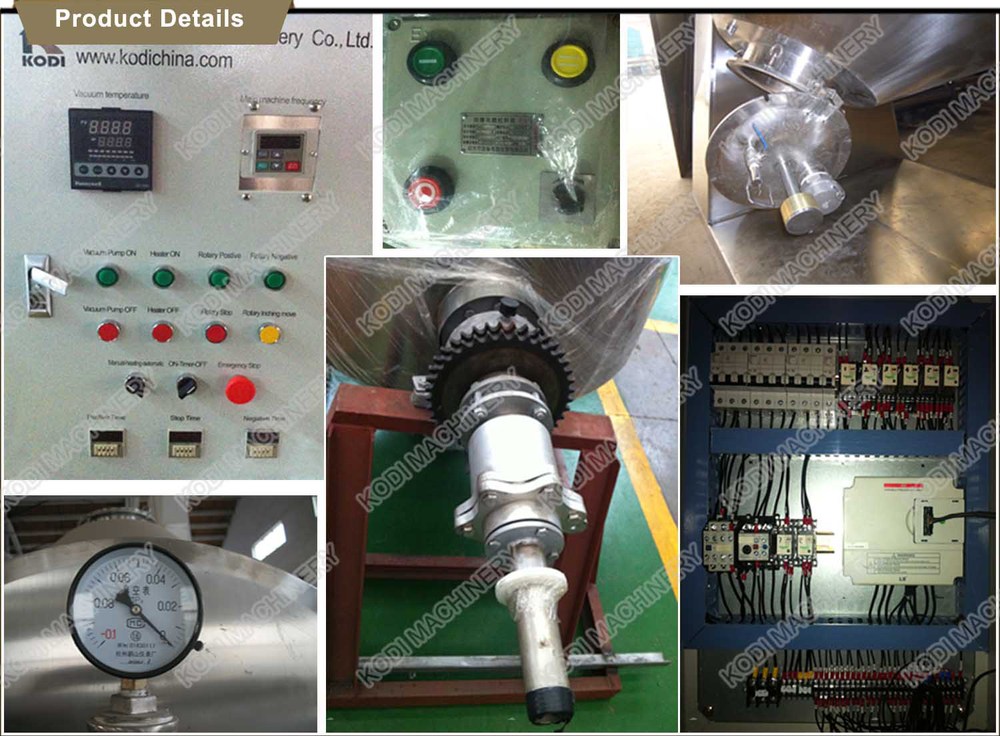 Features of Battery Materials Vacuum Dryer
Design is GMP

All Product contact parts AISI 316/ 316L & non-contact parts AISI 304. Or completely 304.

Simple & compact Design for Easy to operate, clean, convenient & user friendly.

Automated mixing and Drying process in single bowl.

Dust free operation.

High vacuum operation

Low temperature drying.

Solvent recovery

Continuous rotation of container, material will make complex impacting motion in the container and reach to uniform mixing and drying at low temperature..

Continues vacuum maintenance during process.

Vacuumed closed system with condenser, Receiver for solvent recovery & Cyclone separator to recovery the solid particle.

Rapid & Complete discharge / Zero holdup after discharge

The product dried is homogeneous with uniform properties.

Very low value of final moisture even at low drying temperatures.

Inside Filter assembly with 5 Micron.
Optional Features :
l Option for advance PLC Controls with HMI touch screen..
l Option for Flame Proof Electrical.
l Option for lump breaker.
l Option for condenser, Receiver & Cyclone for solvent recovery.
l Option for heating media steam/ hot water / hot oil.
Applications of Battery Materials Rotary Vacuum Dryer
1. Material that cannot undertake high temperature.
2. Material that is easy to oxidize.
3. Material that do not permit to destruct.
4. To recover material with residual volatile.
5. Material with vigorous irrelative and toxicity.
6. Biology products and mine.
7.Dry raw materials of pharmaceutical industry, chemical industry, foodstuff industry, dyestuff industry and biochemistry at low temp etc.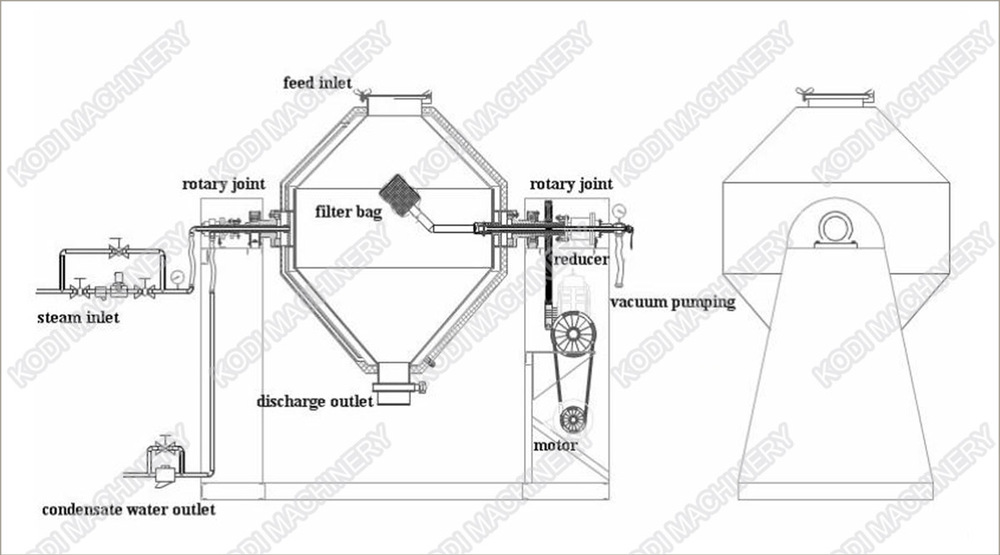 Technical Parameter of Battery Materials Double Cone Vacuum Dryer
Model (SZG-)

100

350

500

750

1000

1500

2000

3500

4500

5000

Total volume(L)

100

350

500

750

1000

1500

2000

3500

4500

5000

Loading volume(L)

≤50

≤175

≤250

≤375

≤500

≤750

≤1000

≤1750

≤2250

≤2500

Heating area
(m2)

1.16

2

2.63

3.5

4.61

5.58

7.5

11.2

13.1

14.1

Rotary peed
(rpm)

4 - 6

Power of motor
(kw)

0.75

1.1

1.5

2

3

3

4

5.5

7.5

11

Occupied area,
L×W(mm)

2160
×800

2260
×800

2350
×800

2560
×1000

2860
×1300

3060
×1300

3260
×1400

3760
×1800

3960
×2000

4400
×2500

Rotary height(mm)

1750

2100

2250

2490

2800

2940

2990

3490

4100

4200

Design pressure
inside the tank
(MPa)

-0.1-0.15

Design pressure
of jacket (MPa)

≤0.3

working temperature (oC)

In the tank≤85 jacket≤140

When use condenser

2X-15A

2X-15A

2X-30A

2X-30A

2X-70A

JZJX300-8

JZJX300-4

JZJX600-8

JZJX600-4

JZJX300-4

model and power
of vacuum pump

2KW

2KW

3KW

3KW

505KW

7KW

9.5KW

11KW

20.5KW

22KW

When don't use
condenser

SK-0.4

SK-0.8

SK-0.8

SK-2.7B

SK-2.7B

SK-3

SK-6

SK-6

SK-9

SK-10

model and power
of vacuum pump

1.5KW

2.2KW

2.2KW

4KW

4KW

5.5KW

11KW

11KW

15KW

18.5KW

Weight(kg)

800

1100

1200

1500

2800

3300

3600

6400

7500

8600
Successful Experience Overseas By KODI Battery Materials Vacuum Dryer
Packaging & Shipping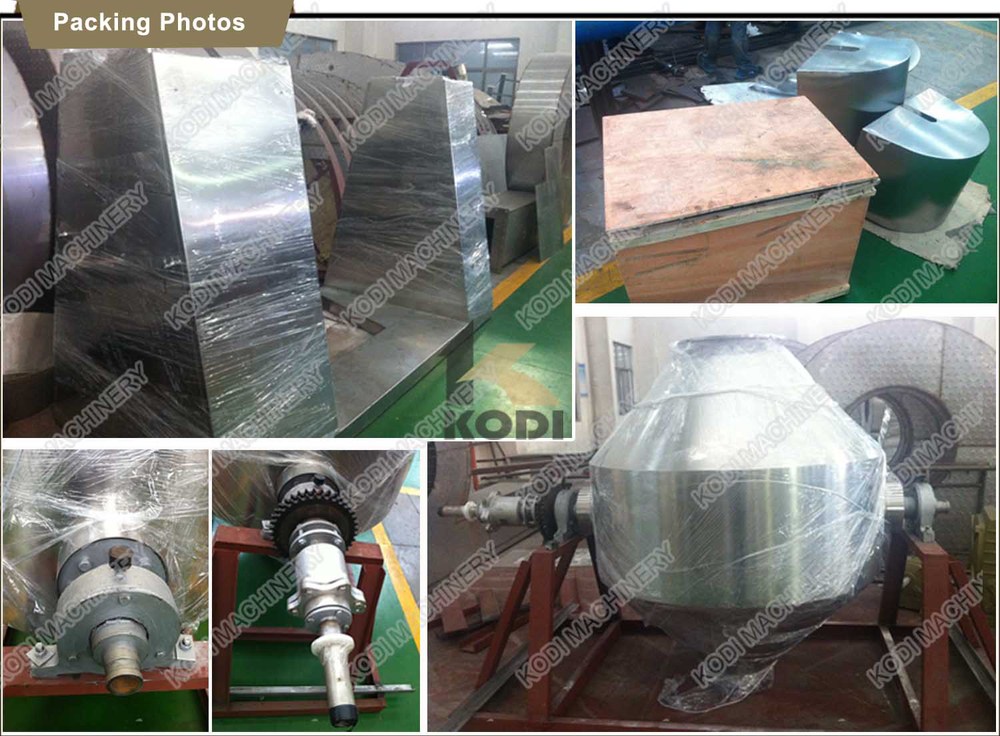 Hot Tags: battery materials vacuum dryer szg, China, manufacturers, cheap, price, high torque