If you are checking blood spray dryer lpg price, or looking for cheap high torque blood spray dryer lpg, welcome to contact KODI Machinery, we are one of the leading China blood spray dryer lpg manufacturers.
Quick Details
Condition: New
Type: Spray Drying Equipment
Place of Origin: Jiangsu, China (Mainland)
Brand Name: KODI
Model Number: LPG series
Voltage: 220v-450v
Power(W): Depand on the model
Dimension(L*W*H): Depends on the model
Weight: Depends on the model
Certification: IS9001,CE
Warranty: 1 year
After-sales Service Provided: Engineers available to service machinery overseas
Product Name: Blood Spray Dryer, Spray Drying Machine/Equipment
Material: Stainless steel304/316L
Inlet air temperature: ≤ 350°C
Outlet air temperature: 80-90°C
Rotary speed: 15000-25000
Dry powder yield: ≥ 95%
Control: PLC touch screen/button type
Heating source: Electricity/LPG/Natural gas/Oil/Steam
Installation: KODI service
Spare parts: Supply the whole lifetime
Packaging & Delivery

| | |
| --- | --- |
| Packaging Details: | KODI LPG blood spray dryer/blood spray drying machine/blood spray drying equipment is packing with plywood box or As customers' requirement |
| Delivery Detail: | 15 - 90 days |
LPG Model High-speed Atomizer Blood Spray Dryer, Spray Drying Machine/Equipment
1, LPG model centirfugal atomizer blood spray dryer / blood spray drying equipment/ blood spray drying machine
2, Liquid or slurry drying processor
3, Easy operation and control
4, Stainless steel
Product Description
What is Blood
Blood is a bodily fluid in animals that delivers necessary substances such as nutrients and oxygen to the cells and transports metabolic waste products away from those same cells.When it reaches the lungs, gas exchange occurs when carbon dioxide is diffused out of the blood into the pulmonary alveoli and oxygen is diffused into the blood. This oxygenated blood is pumped to the left hand side of the heart in the pulmonary vein and enters the left atrium. From here it passes through the mitral valve, through the ventricle and taken all around the body by the aorta. Blood contains antibodies, nutrients, oxygen and much more to help the body work.
In vertebrates, it is composed of blood cells suspended in blood plasma. Plasma, which constitutes 55% of blood fluid, is mostly water (92% by volume),and contains dissipated proteins, glucose, mineral ions, hormones, carbon dioxide (plasma being the main medium for excretory product transportation), and blood cells themselves. Albumin is the main protein in plasma, and it functions to regulate the colloidal osmotic pressure of blood. The blood cells are mainly red blood cells (also called RBCs or erythrocytes), white blood cells (also called WBCs or leukocytes) and platelets. The most abundant cells in vertebrate blood are red blood cells. These contain hemoglobin, an iron-containing protein, which facilitates oxygen transport by reversibly binding to this respiratory gas and greatly increasing its solubility in blood. In contrast, carbon dioxide is almost entirely transported extracellularly dissolved in plasma as bicarbonate ion.
Blood is circulated around the body through blood vessels by the pumping action of the heart. In animals with lungs, arterial blood carries oxygen from inhaled air to the tissues of the body, and venous blood carries carbon dioxide, a waste product of metabolism produced by cells, from the tissues to the lungs to be exhaled.
Blood performs many important functions within the body including:
Supply of oxygen to tissues (bound to hemoglobin, which is carried in red cells)
Supply of nutrients such as glucose, amino acids, and fatty acids (dissolved in the blood or bound to plasma proteins (e.g., blood lipids))
Removal of waste such as carbon dioxide, urea, and lactic acid
Immunological functions, including circulation of white blood cells, and detection of foreign material by antibodies
Coagulation, the response to a broken blood vessel, the conversion of blood from a liquid to a semi-solid gel to stop bleeding.
Messenger functions, including the transport of hormones and the signaling of tissue damage
Regulation of body pH
Regulation of core body temperature
Hydraulic functions
LPG Blood Spray Dryer Description
KODI blood spray dryer is a wide applied process in liquid process shaping and drying industry. Particularly it is suitable for producing powder, granule or block solid product from solution, blood, suspending liquid and pumped paste liquid. Therefore when the distribution of granule size, final moisture, bulk density, granule shape of finished product must be conformed to accuracy standard, the spray drying is an ideal process.
LPG Blood Spray Dryer Application
It's widely used in foodstuff, pharmaceutical and blood industrial, such as whey, egg powder, geltain,coffee powder, white egg, amino acid product, protein, blood, food flavor, food ingredients, pectin, carrageenan, spirulina, herbal extraction, pigment, cocoa, mushroom, PAC, malt dextrin, collagen, juice, yeast, Coffee, Creamer, coconut, milk, blood , gum and acacia etc.
LPG Working Principle of Blood Spray Drying Machine
After filtering and heating, the hot fresh air enter into the air distributor at the top of drying chamber, distributed in spiral way uniformly from up to down. At the same time, the feeding liquid is pumped to the top atomizer, then be sprayed to extremely fine mist liquid drop. Through the short time of direct contact with hot air, the moisture evaporated at once, the solid remains to be powder. The dry powder will be discharged continuously from the bottom of drying tower and cyclone collector, the exhaust air will be discharged after cleaning.
Details of LPG Blood Spray Drying Equipment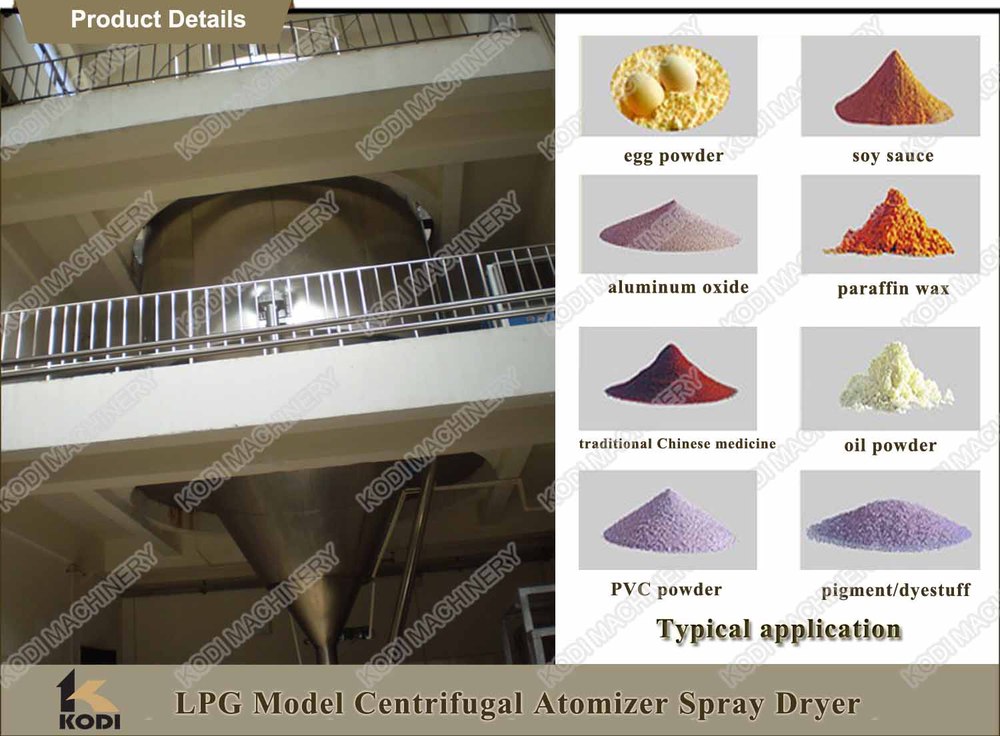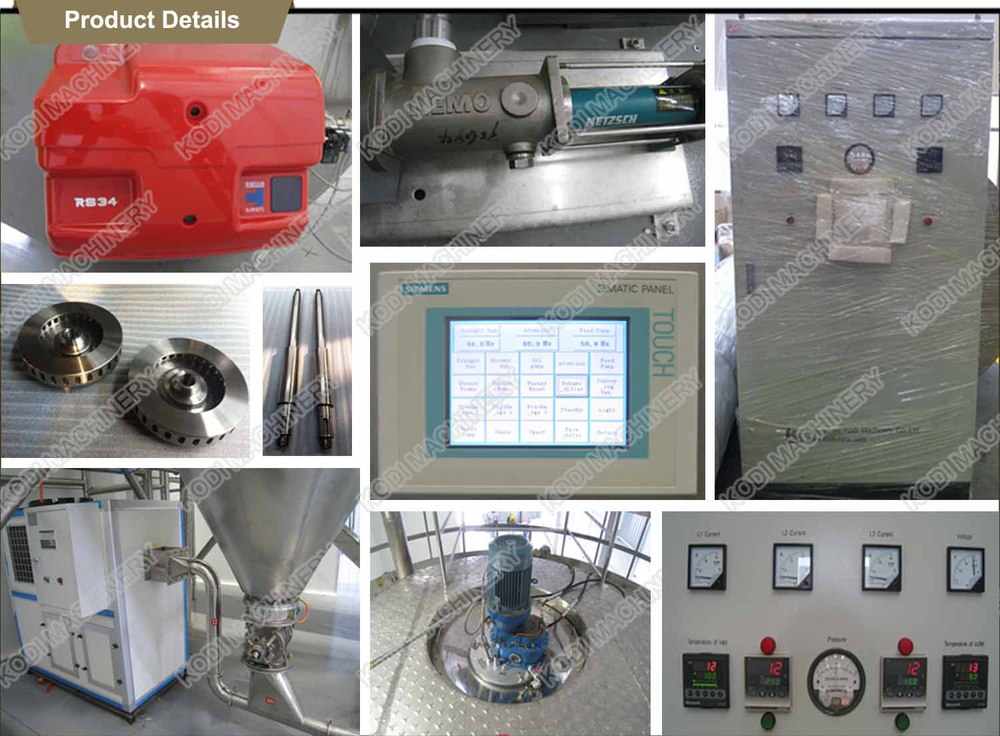 Final Product of KODI LPG Blood Spray Dryer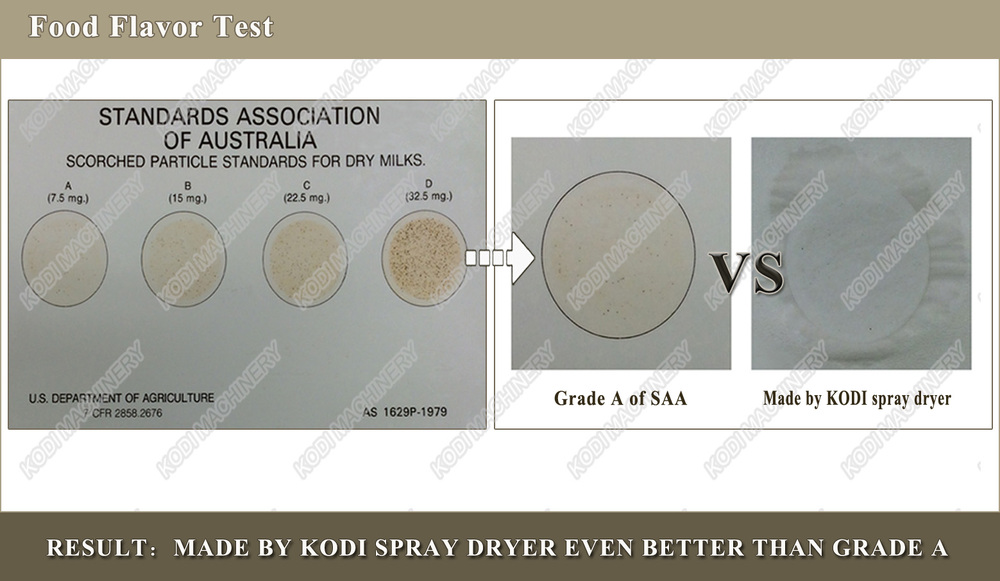 LPG Blood Spray Dryer Technical Parameters
Model

Blood spray Dryer MODEL LPG-

5
25
50
100
150
200-5000

Inlet air temperature

≤ 350°C

Outlet air temperature

80-90°C

Evaporate capacity (kg/h)

5

25

50

100

150

200-5000

Atomizer type

compressed air drive






mechanical drive





Rotary speed

25000

22000

21500

18000

18000

15000

Diameter of atomizer disc (mm)

50

120

120

120

150

180-500

Heating source

Electricity

Electricity/LPG/

Natural gas/Oil/Steam

Electricity/LPG/

Natural gas/Oil/Steam

Electricity/LPG/

Natural gas/Oil/Steam

Electricity/LPG/

Natural gas/Oil/Steam

Electricity/LPG/

Natural gas/Oil/Steam

Electric-heating power (kw)

9

-

-

-

-

-

Dry powder yield (%)

≥ 95

≥ 95

≥ 95

≥ 95

≥ 95

≥ 95
Successful Experience Overseas of KODI LPG Blood Spray Drying Machine
LPG blood spray dryer/ blood spray drying euqipment has a very mature technology and process, and KODI company has rich overseas site installation experience and good after sale service .

Packaging & Shipping