If you are checking boro 3-3 glass reactor pgr price, or looking for cheap high torque boro 3-3 glass reactor pgr, welcome to contact KODI Machinery, we are one of the leading China boro 3-3 glass reactor pgr manufacturers.
Quick Details
Condition: New
Automatic Grade: Automatic
Type: Reaction Kettle
Place of Origin: Jiangsu, China (Mainland)
Brand Name: KODI
Model Number: PGR
Voltage: 110V-450V
Power(W): 90-370w
Dimension(L*W*H): Depends on the model
Weight: Deponds on the model
Certification: CE,ISO
Warranty: 24 months
After-sales Service Provided: Engineers available to service machinery overseas
Product Name: PGR Model Double Layer Boro 3.3 Jacketed Glass Lined Reactor
Material: Borosilicate Glass
Operation temperature: -80℃ to 300℃
Mixing speed: 60-720 RPM
Glass type: Boro 3.3
Safety: Explosion proof
Ex proof: yes
Volume: 3-150l
Spare parts: supply the whole lifetime
Installation: KODI service
Packaging & Delivery
Packaging Details:
KODI Double Layer Boro 3.3 glass reactor /Boro 3.3 glass lined reactor/ Boro 3.3 jacketed glass reactor is packing with plywood cases or As customers' requirement
Anti-shake spring for holding the glass part
Delivery Detail:
10-30 days
PGR Model Double Layer Boro 3.3 Jacketed Glass Lined Reactor
1, Boro 3.3 glass reactor / Boro 3.3 glass lined reactor/ Boro 3.3 jacketed glass reactor
2, No Liquid remain after discharging
3, GMP, Pharmaceutical standard
4, GG17 Borosilicate Glass , Stainless steel structre, PTFE Sealing, High temperature glass
5, Explosion-proof motor and control box
Product Description
What is Boro 3.3
Boro 3.3 thermal shock float plate glass (English name plat relief against a glass 3.3, instead of the Schott company logo borofloat & reg; 3.3, Corning company trademark Pyrex & reg; 7740) is produced by the float process, sodium oxide (Na2O), boron oxide (B2O3), 2 oxygen of silica (SiO2) is a fundamental component of a flat glass. In this kind of glass composition, the contents of boron and silicon were higher, and the contents of the 12.5 ~ 13.5%, Si: 80% ~ 78, respectively. So this kind of glass for high borosilicate glass. Belongs to the borosilicate glass in Pyrex glass. It is characterized by small thermal expansion coefficient, good thermal stability, chemical stability, transmittance and electrical properties, so it has the characteristics of resistance to chemical corrosion, thermal shock resistance, good mechanical properties, high temperature, high hardness, so it is also known as heat resistant glass, high temperature resistant glass, high temperature resistant glass, but also a special kind of fireproof glass.
Description of Double Layer Boro 3.3 Glass Reactor

KODI Jacketed Boro 3.3 glass reactor is with double glass design, the inner layer placed reaction solvent can do the mixing reaction, the inter layer can be added with the different hot and cold sources (frozen liquid, hot water or hot oil) to do loop heating or cooling reaction. This jacketed lab scale glass reactor can be used to do high temperatureexperiment(max temperature is 280°C),as well aslow temperature experiment(min temperature is -80°C) and vacuum tests. It is an ideal equipment for chemistry small and medium-sized experiment,bio-pharmaceuticals and new materials synthesis
Application of Boro 3.3 Jacketed Glass Reactor

1. It can be used in the experiment, middle-scale test, and production of chemistry, fine chemical engineering, biological pharmacy and synthesis of new materials.
2. The products can be made into system devices with multi-purpose circulating water vacuum pump, diaphragm vacuum pump, low temperature circulating pump(vacuum), circulating cooler, constant temperature circulator, low temperature cooling liquid circulating pump and closed cooling and heating circulating equipment.
Boro 3.3 Glass Lined Reactor Characteristics

1.High Boro 3.3 glass has good physical and chemical properties.
2.Can be used in wide temperature range from high temperature (200°C)to low temperature(-80°C).
3.Can work in constant pressure and vacuum, vacuum degree is below 0.095MPa in quiet situation.
4.Digital display of mixing speed, , frequency conversion, and constant speed mixing system, work steadily.
5.The sealing method and materials between mixer shaft ,PTFE mixing propeller(paddle),and kettle cover are Know how of our company.
6.Corrosion resistant discharge valve is without dead spacedesign.
7.The cooling or heating solution in the interlayer can be completely removed after reaction.
8.The whole structure is novelty, practical and beautiful.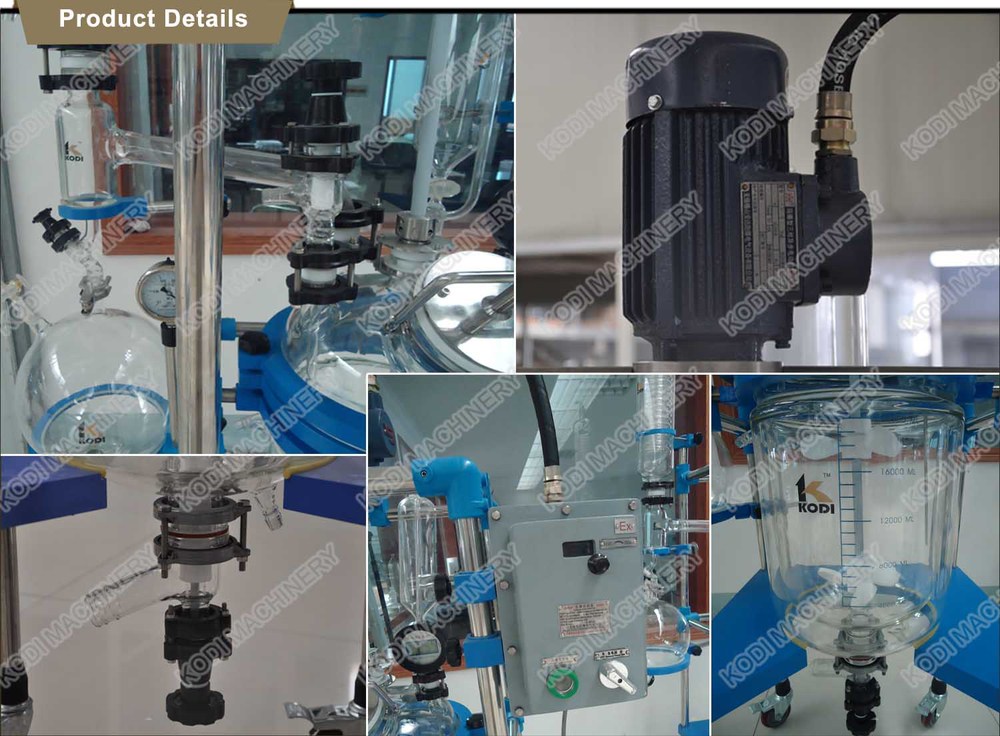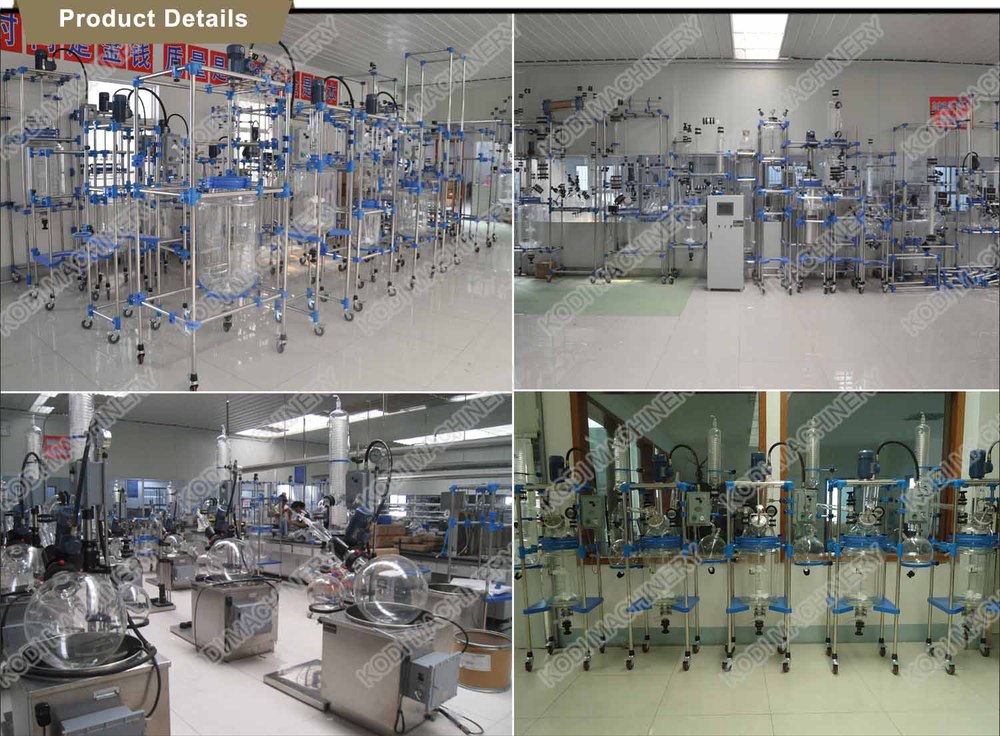 Technical Parameters of Double Layer Boro 3.3 Jacketed Glass Reactor
| | | | | | | | |
| --- | --- | --- | --- | --- | --- | --- | --- |
| Model | PGR-2 | PGR-5 | PGR-10 | PGR-20 | PGR-30 | PRG-50 | PRG-100 |
| Kettle capacity (L) | 2 | 5 | 10 | 20 | 30 | 50 | 100 |
| Nozzle number | 4 | 4 | 5 | 5 | 5 | 5 | 7 |
| Kettle cover diameter(mm) | 150 | 180 | 265 | 265 | 265 | 265 | 340 |
| Motor power (W) | 40 | 90 | 120 | 120 | 120 | 180 | 250 |
| Vacuum degree (Mpa) | 0.096 | 0.096 | 0.096 | 0.096 | 0.096 | 0.096 | 0.096 |
| Speed (RPM) | 50-800 | 50-800 | 50-600 | 50-600 | 50-600 | 50-600 | 50-600 |
| Torque (Ncm) | 30 | 44 | 162 | 162 | 210 | 300 | 400 |
| Power supply (V) | 110-450 | 110-450 | 110-450 | 110-450 | 110-450 | 110-450 | 110-450 |
Successful Experience Overseas of KODI Boro 3.3 Glass Reactor


Packaging & Shipping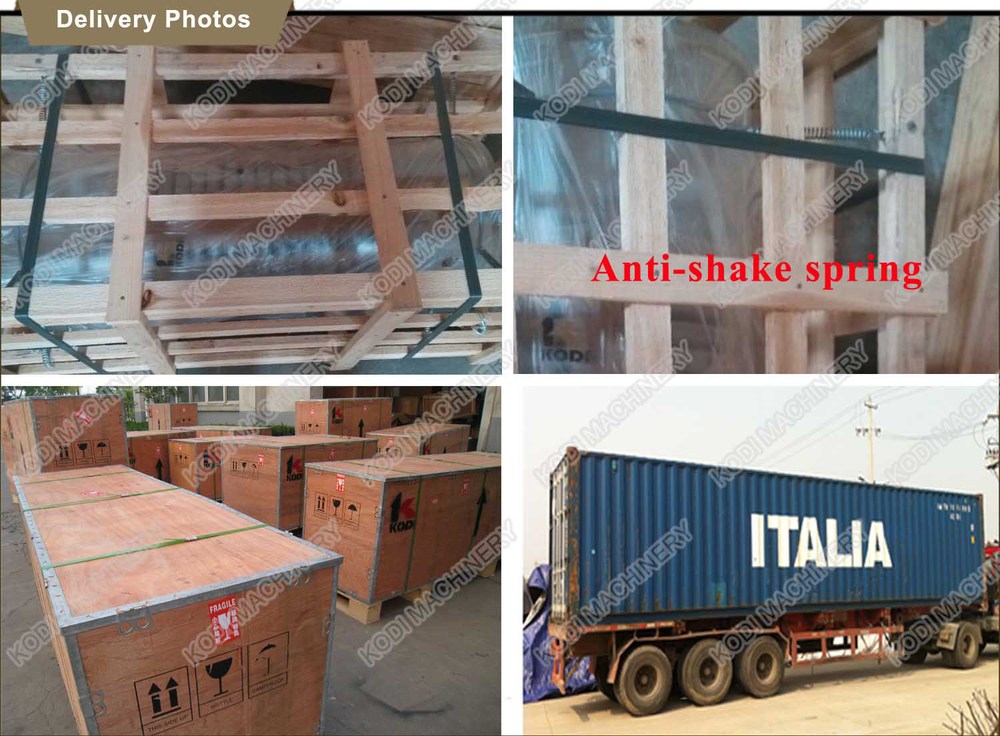 Hot Tags: boro 3-3 glass reactor pgr, China, manufacturers, cheap, price, high torque