If you are checking chinese medicine infusion horizontal xf price, or looking for cheap high torque chinese medicine infusion horizontal xf, welcome to contact KODI Machinery, we are one of the leading China chinese medicine infusion horizontal xf manufacturers.
Quick Details
Condition: New
Type: Fluid Bed Drying Equipment
Place of Origin: Jiangsu, China (Mainland)
Brand Name: KODI
Model Number: XF
Voltage: 220v-450v
Power(W): 5.5kw-37kw
Dimension(L*W*H): Deponds on the model
Weight: Deponds on the model
Certification: CE, ISO9001
Warranty: 1 year
After-sales Service Provided: Engineers available to service machinery overseas
Product name: XF Chinese Medicine Infusion Horizontal Fluid Bed Dryer Boiling Dryer
Material: Stainless steel, carbon steel
Bed area: 0.25-2.4
Drying capacity: 10-120 kgH2O/h
Inlet temperature: 120℃-140℃
Material temperature: 40℃-60℃
Occupied area: 18-56㎡
Standard: GMP
Installation: KODI service
Spare parts: supply the whole lifetime
Packaging & Delivery
| | |
| --- | --- |
| Packaging Details: | XF Model Chinese Medicine Infusion fluid bed drying machine / Chinese Medicine Infusion horizontal fluid bed dryer / Chinese Medicine Infusion boiling dryer is packing with plywood cases or as customers' requirement |
| Delivery Detail: | 25-45 days |
KODI XF Model Chinese Medicine Infusion Horizontal Fluid Bed Dryer Boiling Dryer

1. Chinese Medicine Infusion fluid bed drying machine / Chinese Medicine Infusion horizontal fluid bed dryer / Chinese Medicine Infusion boiling dryer
2. Continoud drying equipment
3. Fluidization bed
4. Good quality
Product Description
What is Chinese Medicine Infusion
Traditional Chinese medicine is a broad range of medicine practices sharing common concepts which have been developed in China and are based on a tradition of more than 2,000 years, including various forms of herbal medicine, acupuncture, massage (Tui na), exercise (qigong), and dietary therapy.It is primarily used as a complementary alternative medicine approach.TCM is widely used in China and it is also used in the West.
TCM "holds that the body's vital energy (chi or qi) circulates through channels, called meridians, that have branches connected to bodily organs and functions." Concepts of the body and of disease used in TCM reflect its origins in pre-scientific culture, similar to European humoral theory.Scientific investigation has found no histological or physiological evidence for traditional Chinese concepts such as qi, meridians, and acupuncture points. The TCM theory and practice are not based upon scientific knowledge, and its own practitioners disagree widely on what diagnosis and treatments should be used for any given patient.The effectiveness of Chinese herbal medicine remains poorly researched and documented.There are concerns over a number of potentially toxic plants, animal parts, and mineral Chinese medicinals. A review of cost-effectiveness research for TCM found that studies had low levels of evidence, but so far have not shown benefit outcomes. Pharmaceutical research has explored the potential for creating new drugs from traditional remedies, with few successful results. A Nature editorial described TCM as "fraught with pseudoscience", and said that the most obvious reason why it hasn't delivered many cures is that the majority of its treatments have no logical mechanism of action. Proponents propose that research has so far missed key features of the art of TCM, such as unknown interactions between various ingredients and complex interactive biological systems.
The doctrines of Chinese medicine are rooted in books such as the Yellow Emperor's Inner Canon and the Treatise on Cold Damage, as well as in cosmological notions such as yin-yang and the five phases. Starting in the 1950s, these precepts were standardized in the People's Republic of China, including attempts to integrate them with modern notions of anatomy and pathology. In the 1950s, the Chinese government promoted a systematized form of TCM.
XF Horizontal Chinese Medicine Infusion Horizontal Fluid Bed Dryer Descripiton
Chinese Medicine Infusion horizontal fluid bed dryer is also called fluidization bed. Through operation and improvement about twenty years, it has play an active part in fields of pharmaceutical, chemical, Chinese Medicine Infusion, grain and so on. It consists of air filter, fluidizing bed, cyclone separator, dust remover of bag, high-speed centrifuge and fan, operation table and so on. Because of the difference of property from raw material, it is necessary to equip dust remover in accordance with practical needs. It may select cyclone separator and dust remover at the same time or one of them. In general speaking, cyclone separator can be selected if the raw material is large and the dust remover of bag may be selected if the raw material is light. Moreover, there is air feeding device for your selection.
XF Chinese Medicine Infusion Fluid Bed Drying Machine Applications
It has widely applied in the fields of pharmaceutical, chemicals, powder and granular materials such as bulk Pharmaceuticals, granular patent medicines, preparations, feed, plastic resin etc. The granular diameter shall be within the range from 0.1 to 6mm and the best is 0.5 to 3mm.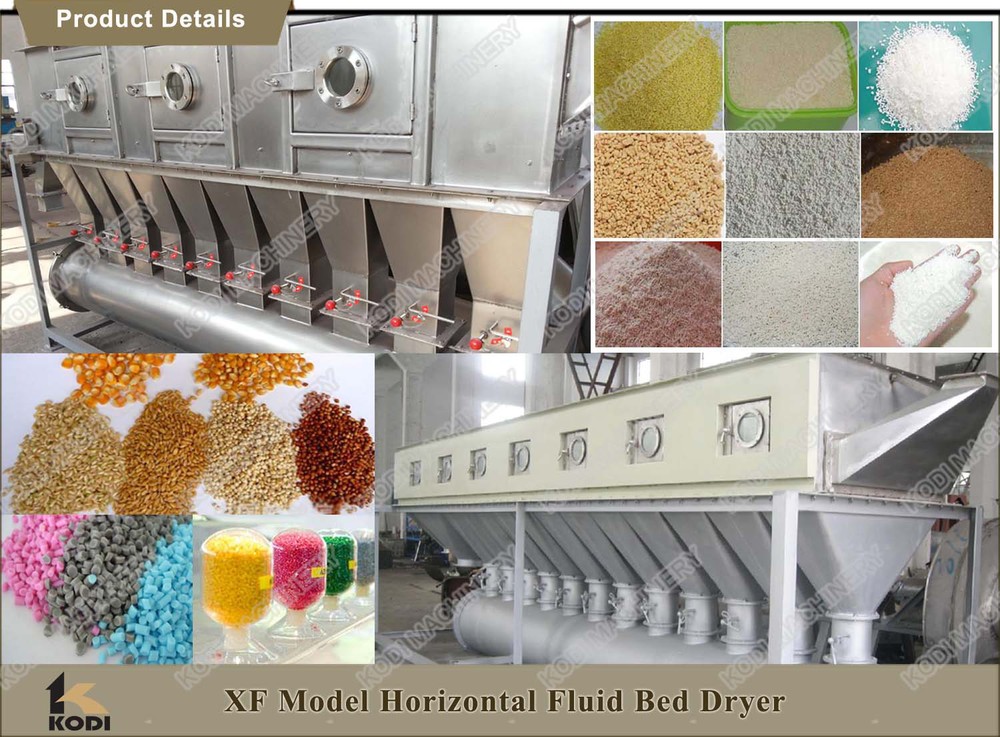 Working Principle of Horizontal Chinese Medicine Infusion Boiling Dryer
The clean and hot air enters into fluidization bed through distributor of valve plate. The wet material fed from feeder will be formed a fluidization state by hot air (jumping within the bed like boiling water), so it is called fluidizing dryer(or machine).Because of the large contacting area between hot air and materials, the drying time is short. The air enters from one end of bed, through" boiling" several minutes and then comes out automatically from the other end.

XF Chinese Medicine Infusion Horizontal Fluid Bed Dryer Technical Parameters
Type/
parameter

bed area

drying capacity(kgH2O/h)

power of fan(kw)

inlet air temperature
(°C)

material temperature
(°C)

occupied area(m2)

L×W×H(M)

XF0.25-1

0.25

10-15

5.5

120-140

40-60

18

1×0.6×3.35

XF0.25-2

0.5

20-25

7.5

120-140

40-60

25

2×0.6×3.35

XF0.25-3

1.0

30-45

15

120-140

40-60

35

4×0.6×3.35

XF0.25-6

1.5

52-75

22

120-140

40-60

40

6×0.6×3.35

XF0.3-2

0.6

-30

7.5

120-140

40-60

25

2×0.7×3

XF0.3-4

1.2

42-60

18.5

120-140

40-60

38

4×0.7×3.4

XF0.3-6

1.8

63-90

30

120-140

40-60

45

6×0.7×3.4

XF0.3-8

2.4

84-120

37

120-140

40-60

56

8×0.7×3.4

XF0.3-10

3.0

105-150

18

120-140

40-60

70

10×0.7×3.4

XF0.4-4

1.6

56-80

30

120-140

40-60

18

4×1×3.58

XF0.4-6

2.4

84-120

37

120-140

40-60

56

6×1×3.58
Successful Experience Overseas By KODI XF Horizontal Chinese Medicine Infusion Fluid Bed Drying Machine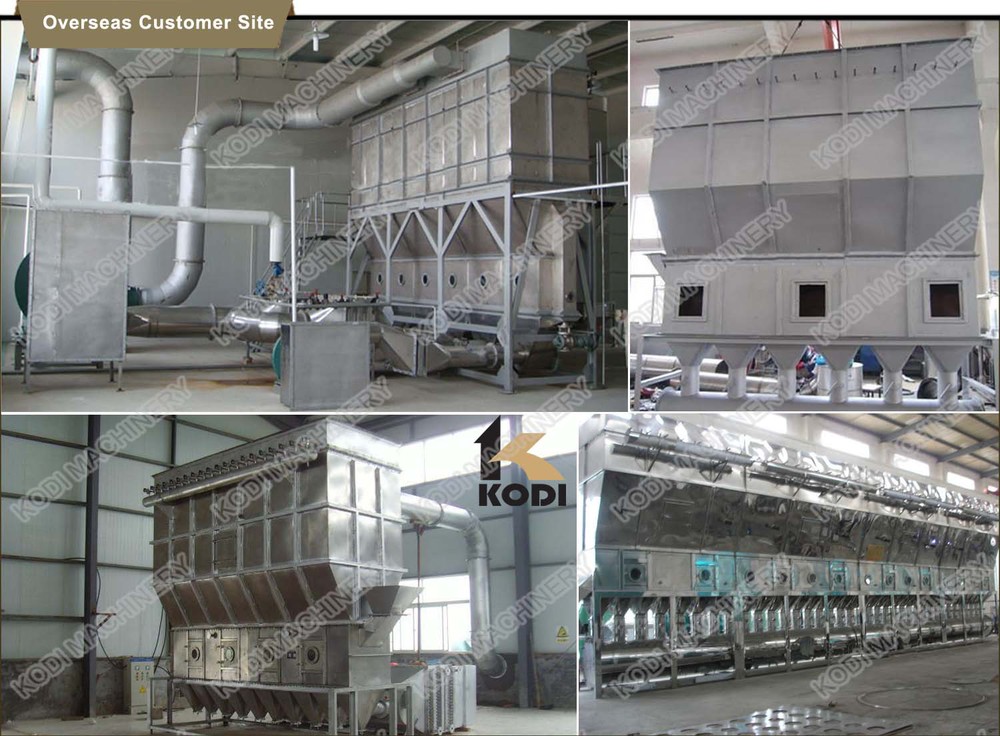 Packaging & Shipping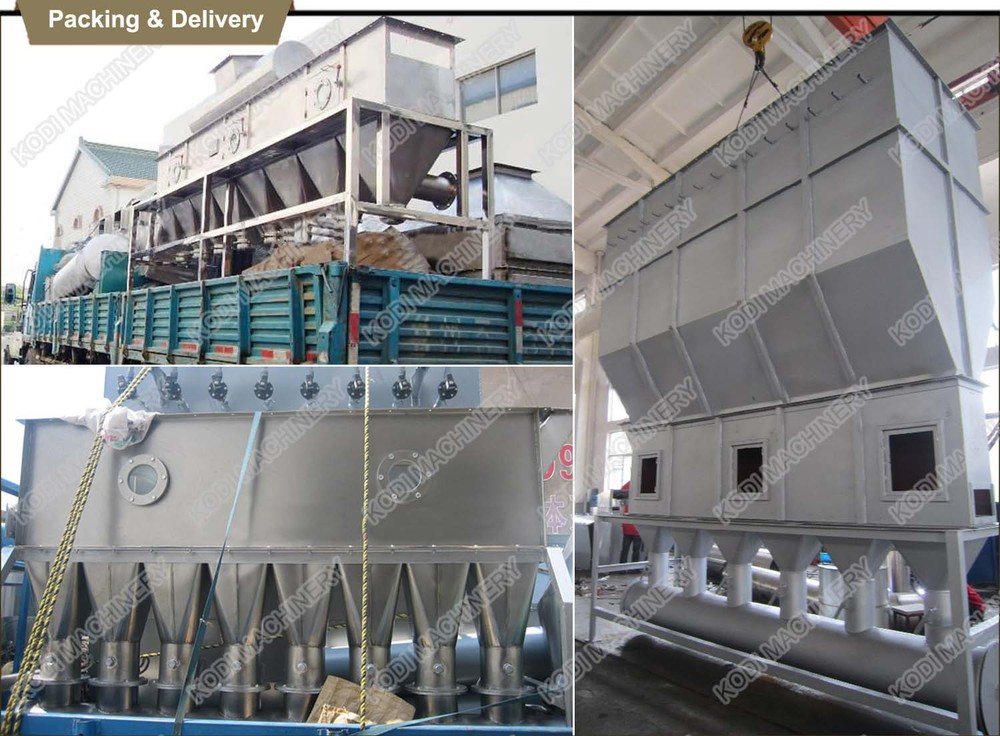 Hot Tags: chinese medicine infusion horizontal xf, China, manufacturers, cheap, price, high torque