If you are checking fertilizer roller granulator dg price, or looking for cheap high torque fertilizer roller granulator dg, welcome to contact KODI Machinery, we are one of the leading China fertilizer roller granulator dg manufacturers.
Quick Details
Machine Type: Granulator
Condition: New
Product Type: Fertilizer
Place of Origin: Jiangsu, China (Mainland)
Brand Name: KODI
Model Number: DG
Voltage: 220v-450v
Power(W): 7.5-185kw
Dimension(L*W*H): Deponds on the model
Weight: 3-24 ton
Certification: CE, ISO9001
After-sales Service Provided: Engineers available to service machinery overseas
Product Name: Hot Sale Fertilizer Roller Granulator Press Compactor
Fertilizer Pellet Mill Output capacity: 700-18000 kg/h
Granulating capacity (t/h): 1-20 t/h
Diameter of the roll: 240-800 mm
Width for use: 80-400 mm
Roller speed: 12-25 rpm
Max. pressure: 320-2900
Max. thickness of rolling sheet: 10-30 mm
Installation: KODI service
Spare parts: Supply the whole lifetime
Packaging & Delivery

| | |
| --- | --- |
| Packaging Details: | KODI Hot Sale Fertilizer roller compactor / fertilizer roller press /fertilizer roller granulator is packing with plywood box or As customers' requirement |
| Delivery Detail: | 45-90days |
Hot Sale Fertilizer Roller Granulator Press Compactor
1. Fertilizer roller compactor / fertilizer roller press /fertilizer roller granulator
2.No water/binder/dry
3.Hydraulic system
4.Mechanical press
Product Description
What is Fertilizer
fertilizer is any material of natural or synthetic origin (other than liming materials) that is applied to soils or to plant tissues (usually leaves) to supply one or more plant nutrients essential to the growth of plants.
Fertilisers enhance the growth of plants. This goal is met in two ways, the traditional one being additives that provide nutrients. The second mode by which some fertilisers act is to enhance the effectiveness of the soil by modifying its water retention and aeration.
Description of Fertilizer Roller Compactor
DG series fertilizer roller compactor is a new type of granulating machine which developed and manufactured by KODI Company in accordance with the needs of customers and on basis of absorbing word-level advanced powder granulation technology.
Without any intermediates or additives, this machine can produce uniform and densified particle products directly from raw powdery material. The design of this roll compactor is reasonable, and easy to operate, it's an idea choice for dry powder granulation.
Working Principle of Fertilizer Roller Compactor
Powdery material(chemical/mineral/fertilizer) is fed into the hopper quantificational and uniformly through the feeder to make sure a certain level inside of the hopper. After being pre-compressed by the longitudinal cone spiral in the hopper the material will be sent into arc chutes of two rollers. Half-oblate arc chutes are uniform distributed on the surface of two rollers. Under the driving of a couple of gears, the two rollers rotate inversely with constant speed. As the volume decreases through the region of maximum pressure, the material is formed into a solid compact or sheet and fall into the grinding & classifying system. Products that meet requirements will be collected from the discharging port and the rest will return back to the hopper through recycle system.
Fertilizer Roller Press Application
1.fertilizer: Potassium Sulfate(SOP), potassium chloride, Russia red potassium, potassium nitrate, ammonium chloride, Ammonium Phosphate Monobasic, Diammonium phosphate(DAP), NPK compound fertilizer, import Russia Potassium Sulfate(SOP), ground phosphorite, NH4SO4, concentrated superphosphate, humic acid etc.
2.powder material: zinc oxide, lead oxide, calcium chloride, calcium phosphate, High test bleaching powder, cryolite, chemical inhibitor, silica, Isophthalodinitrile etc.
3.chemical raw material, fine chemical material
4.FGD gypsum
Note: It takes FGD gypsum for example, vary in accordance with the material to be granulated.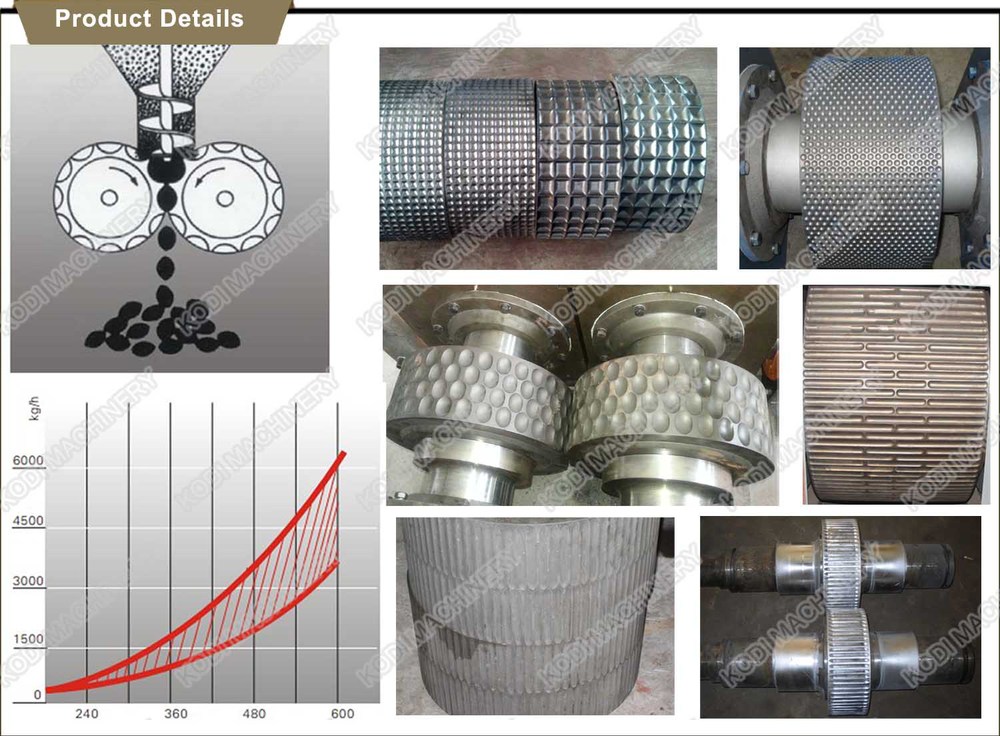 Mineral Fertilizer Roller Granulator Features:
1. With any intermediates or additives, dry powder directly can be made into particles.
2. The intensity of product can be adjusted through regulating the pressure of rollers..
3. Cycling operation, continuously production.
4. High output capacity. The maximum output of one machine can more than 2000kg/h (bulk density 1.5 x 103.kg/m3
5. Size of product is adjustable.
Advantages of Fertilizer Roller Compactor
1.Adopting increased shafts output dedicated reduce and drum gear shaft coupling effectively protects the rolls and the main bearing from damage, increase the driving efficiency and further improving the production of products. One roller's bearing seat is fixed and the other roller's bearing seat is sliding.
2.In the surface of the roller, many holes are arrayed. According to the different compression rate of the materials, choose the trough of one roller aiming at the trough of another roller, or peak to trough. Two rollers are arranged in horizon.
3.With the supporting pressure of hydraulic cylinder, they are close to each other and the hydraulic system can has the multiple and automatic protection function. The optimized hydraulic system makes the motion flexibility of dynamic rollers stronger and be able to reject the iron lumps mixed in unexpectedly and protect the equipment to run safely.
4.Roller pulling with roller removal device, it's more easily and quickly for you to change the rollers, and save your costs of changing.
Fertilizer Roller Press Technical Parameters
| | | | | | |
| --- | --- | --- | --- | --- | --- |
| Model Item | DG-240 | DG-360 | DG-450 | DG-650 | DG-800 |
| Roller dia. (mm) | Φ240 | Φ360 | Φ450 | Φ650 | Φ800 |
| Effective width (mm) | 80-120 | 160-200 | 200-250 | 280-350 | 350-400 |
| Roller speed (r/min) | 12-15 | 15-25 | 15-25 | 15-25 | 18-25 |
| Max. pressure (kw) | 320 | 800 | 1300 | 2100 | 2900 |
| Max. thickness of rolling sheet (mm) | 10 | 12 | 20 | 25 | 30 |
| Output capacity (kg/h) | 700 | 3000 | 5000 | 10000 | 18000 |
| Power of main machine (kw) | 7.5,11 | 30,37 | 55,75 | 90,110 | 132,185 |
| Power of feeding (kw) | 3 | 7.5 | 11 | 15 | 15 |
| Over dimension (m) | 2.0*2.0*1.5 | 2.3*2.2*2.4 | 2.8*2.6*2.8 | 3.0*2.8*3.0 | 3.5*3.2*3.2 |
| Total weight (ton) | 3 | 5 | 19 | 15 | 24 |
| Granulating capacity(t/h) | 1 | 4 | 7 | 12 | 20 |
Used Examples of Typical Materials by KODI Fertilizer Roller Granulator Powder:
Material

Specification

Size Requirement

Capacity(kg/h)

Anti-oxidant

DG-360

0.3-2.0

300-400

Zinc oxide

DG-360

1.5-2.5

350-500

Threonie

DG-360

1.5-3.0

350-500

Feed yeast

DG-360

0.5-05

550-700

Rubber chemicals

DG-360

1.5-5.0

500-750

Glass powder

DG-360

2.5-5.0

500-700

Snow broth

DG-360
DG-450

2.0-7.0

800-1000
2000-3000

Calcium citrate

DG-360

1.5-3.0

400-600

Bentonite

DG-360

2.0-6.0

700-800

Meta-Phthalodinitrile

DG-360

1.5-3.5

400-600

Sodium cyanide

DG-360

pincushion shape

1200-1500

Steelmaking additives

DG-360

Olive shape

1200-1500

Metal powder

DG-360

Olive shape

1200-1500

Alumina powder

DG-360

Olive shape

1200-1500

Desulfated gypsum

DG-450

Ball shape

8000-10000

Ardealite
DG-450
Ball shape
8000-10000
Sodium chloride
DG-450
2.0-7.0
2000-3000
Bromochlorohydantoin
DG-360
1.5-6.0
500-700
Fertilizer:
Material

Specification

Size Requirement

Capacity(kg/h)

Potassium chloride

DG-360
DG-450

2.0-7.0

800-1000
2000-3000

Potassium sulface

DG-360
DG-450

2.0-7.0

800-1200
2000-3500

NPK compound fertilizer

DG-360
DG-450

2.0-7.0

800-1000
2000-3500

Ammonium chloride

DG-360
DG-450

2.0-7.0

800-1000
2000-3000
Successful Project by KODI Fertilizer Roller Compactor Equipment


Packaging & Shipping
Associated Facilities of Fertilizer Roller Granulator Production Line
Configuration of a completely dry granulating process
1. Automatic feeding system
2. Auto-measuring batching and mixing system
3. Extruding and pelletizing system
4. Complete pellet smashing system
5. Screening and materials returning system
6. Auto-packaging and control system
7. Dust collector system