If you are checking flavor spray dryer tpg price, or looking for cheap high torque flavor spray dryer tpg, welcome to contact KODI Machinery, we are one of the leading China flavor spray dryer tpg manufacturers.
Quick Details
Condition: New
Type: Spray Drying Equipment
Place of Origin: Jiangsu, China (Mainland)
Brand Name: KODI
Model Number: TPG
Voltage: 220v-450v
Power(W): Depands on the model
Dimension(L*W*H): Depends on the model
Weight: Depends on the model
Certification: ISO9001, CE
Warranty: 1 year
After-sales Service Provided: Engineers available to service machinery overseas
Product Name: TPG Model Flavor Atomizer Spray Dryer Spray Drying Equipment
Material: Stainless steel
Inlet air temperature: ≤ 350°C
Outlet air temperature: 80-90°C
Evaporate capacity: 5-5000 kg/h
Rotary speed: 15000-25000 rmp
Heating source: Electricity/LPG/Natural gas/Oil/Steam
Dry powder yield: ≥ 95%
Installation: KODI service
Spare parts: Supply the whole lifetime
Packaging & Delivery
| | |
| --- | --- |
| Packaging Details: | KODI flaovr spray dryer / flavor atomizer spray dryer / flavor spray drying equipment is packing with plywood case or As customers' requirement |
| Delivery Detail: | 15-120 days |
TPG Model Centrifugal Flavor Atomizer Spray Dryer Spray Drying Equipment
1. TPG model flavor spray dryer / flavor atomizer spray dryer / flavor spray drying equipment
2. Fast in drying
3. Good quality and purity, GMP standard
4. Easy operation and control

Product Description
What is Flavor
Flavor or flavour (see spelling differences) is the sensory impression of food or other substance, and is determined primarily by the chemical senses of taste and smell. The "trigeminal senses", which detect chemical irritants in the mouth and throat as well as temperature and texture, are also important to the overall Gestalt of flavor perception. The flavor of the food, as such, can be altered with natural or artificial flavorants which affect these senses.
Flavorant is defined as a substance that gives another substance flavor, altering the characteristics of the solute, causing it to become sweet, sour, tangy, etc.
Of the three chemical senses, smell is the main determinant of a food item's flavor. While there are only five universally recognized basic tastes - sweet, sour, bitter, salty, and umami (savory) - the number of food smells is unbounded. A food's flavor, therefore, can be easily altered by changing its smell while keeping its taste similar. this is exemplified artificially flavored jellies, soft drinks, and candies, which, while made of bases with a similar taste, have dramatically different flavors due to the use of different scents or fragrances. The flavorings of commercially produced food products are typically created by flavorists.
Although the terms "flavoring" or "flavorant" in common language denote the combined chemical sensations of taste and smell, the same terms are used in the fragrance and flavors industry to refer to edible chemicals and extracts that alter the flavor of food and food products through the sense of smell. Due to the high cost or unavailability of natural flavor extracts, most commercial flavorants are nature-identical, which means that they are the chemicalequivalent of natural flavors but chemically synthesized rather than being extracted from source materials. Identification of nature-identical flavorants are done using technology such as headspace techniques.
Description of Flavor Spray Dryer
KODI flavor spray dryer is a wide applied process in liquid process shaping and drying industry. Particularly it is suitable for producing powder, granule or block solid product from solution, emulsion, suspending liquid and pumped paste liquid. Therefore when the distribution of granule size, final moisture, bulk density, granule shape of finished product must be conformed to accuracy standard, the spray drying is an ideal process.
Special for flavor
KODI Company make our TPG spray dryer with some modification against the regular model spray dryer to let the TPG model spray dryer be more suitable for flavor spray drying. We have many years of flavor spray dryer design and commissioning for different customers. The powder yield from our dryer reach amazing 99.9% for malt dextrin. and the purity reach A grade of American standard.
Flavor Spray Drying Equipment Application
Flavor spray drying equipment is widely used in foodstuff, pharmaceutical and chemical industry, such as egg powder, amino acid product, protein, blood, food flavor, food ingredients, pectin, carrageenan, spirulina, herbal extraction, pigment, cocoa, mushroom, PAC, malt dextrin, collagen, juice , yeast, Coffee, Creamer, coconut, milk, gelatin, gum and acacia etc.
Working principle of KODI Flavor Atomizer Spray Dryer
After filtering and heating, the hot fresh air enter into the air distributor at the top of drying chamber, distributed in spiral way uniformly from up to down. At the same time, the feeding liquid is pumped to the top atomizer, then be sprayed to extremely fine mist liquid drop. Through the short time of direct contact with hot air, the moisture evaporated at once, the solid remains to be powder. The dry powder will be discharged continuously from the bottom of drying tower and cyclone collector, the exhaust air will be discharged after cleaning.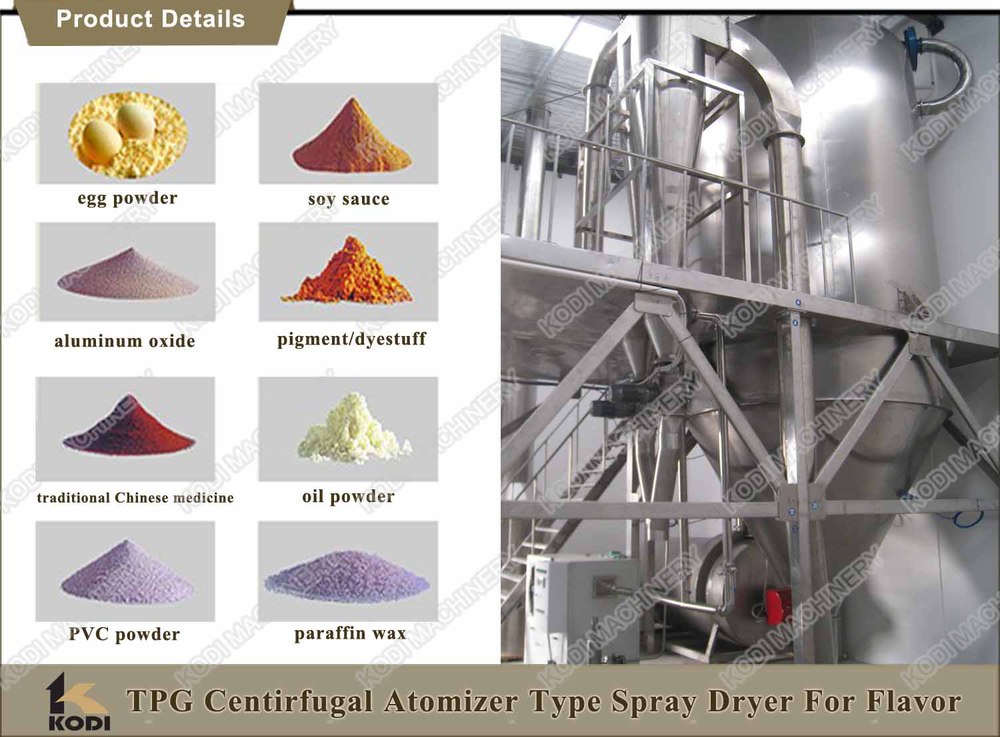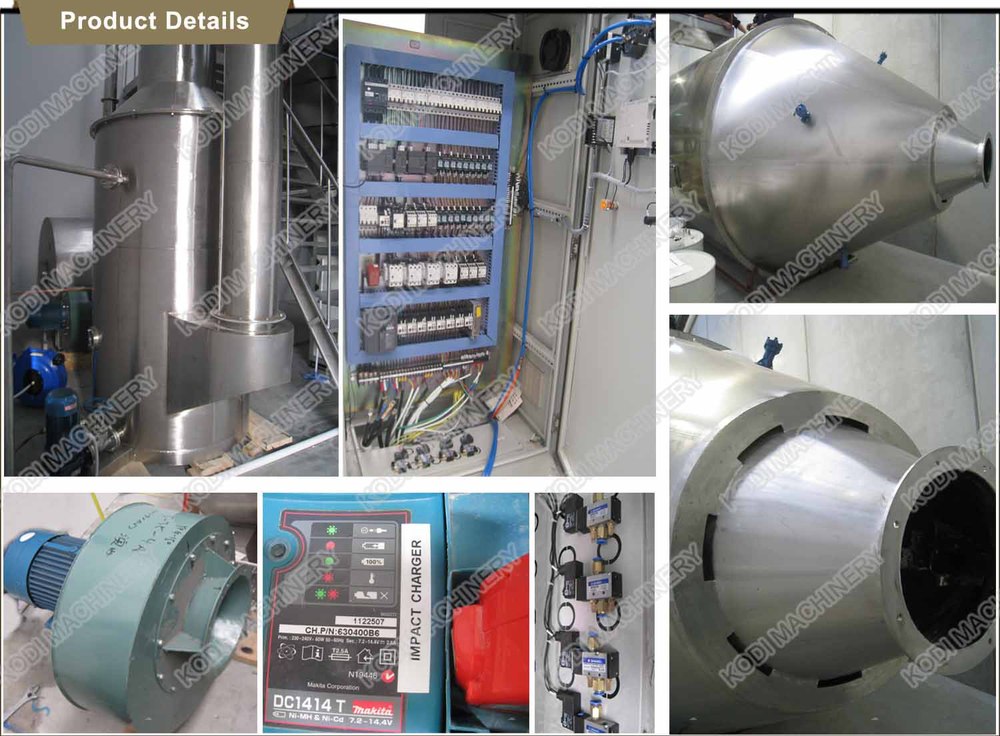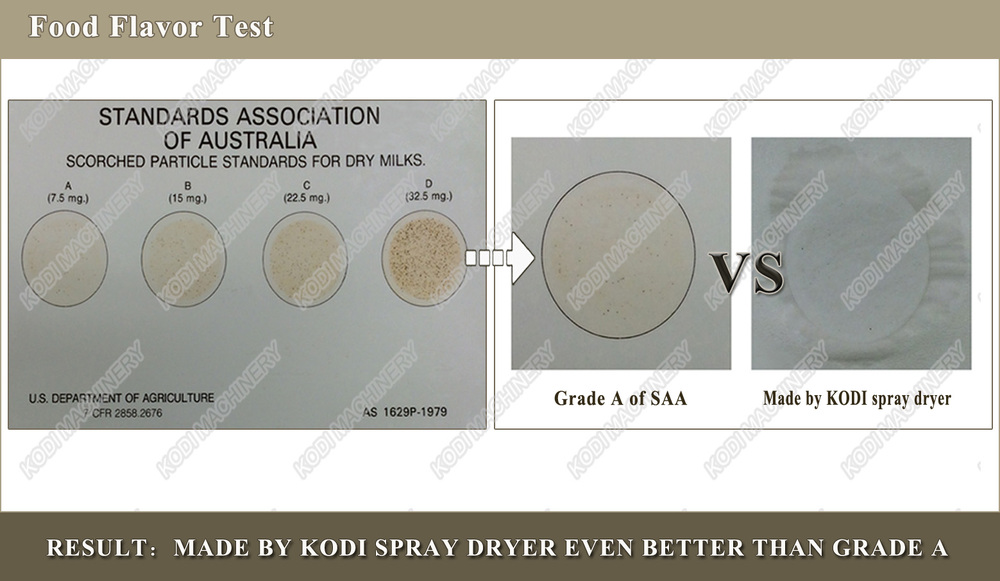 Technical Parameter of Flavor Spray Dryer

Model

Spray Dryer MODEL TPG-

5

25

50

100

150

200-5000

Inlet air temperature

≤ 350°C

Outlet air temperature

80-90°C

Evaporate capacity (kg/h)

5

25

50

100

150

200-5000

Atomizer type

compressed air drive

mechanical drive

Rotary speed

25000

22000

21500

18000

18000

15000

Diameter of atomizer disc (mm)

50

120

120

120

150

180-500

Heating source

Electricity

Electricity/LPG/
Natural gas/Oil/Steam

Electricity/LPG/
Natural gas/Oil/Steam

Electricity/LPG/
Natural gas/Oil/Steam

Electricity/LPG/
Natural gas/Oil/Steam

Electricity/LPG/
Natural gas/Oil/Steam

Electric-heating power (kw)

9

-

-

-

-

-

Dry powder yield (%)

≥ 95

≥ 95

≥ 95

≥ 95

≥ 95

≥ 95
Successful Experience Overseas of KODI Flavor Spray Drying Equipment

Packaging & Shipping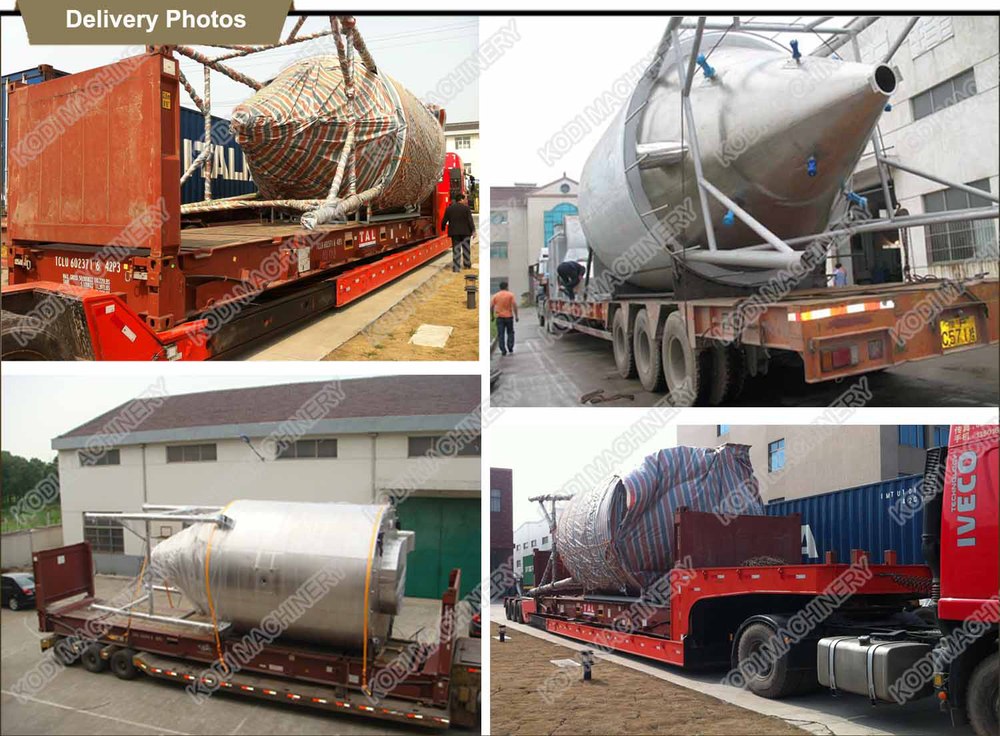 Hot Tags: flavor spray dryer tpg, China, manufacturers, cheap, price, high torque