If you are checking fruit juice sjn price, or looking for cheap high torque fruit juice sjn, welcome to contact KODI Machinery, we are one of the leading China fruit juice sjn manufacturers.
Quick Details
Place of Origin: Jiangsu, China (Mainland)
Brand Name: KODI
Model Number: SJN MODEL
Application: Liquid
Type: Concentrator
After-sales Service Provided: Engineers available to service machinery overseas
Product Name: SJN Model Fruit Juice External Circulation Vacuum Concentrator
Material: Stainless steel
Capacity: ≥500-5000 kg/h
Steam consumption: ≤275-2750 kg/h
Coolwater consumption: 14-140 kg/h
Vacuum exhaust volume: 150-1050 m³/h
Heating area: 8-78 ㎡
First-effect evaporating temp.: 75-85 ℃
Installation: KODI service
Spare parts: Supply the whole lifetime
Packaging & Delivery

| | |
| --- | --- |
| Packaging Details: | KODI SJN Model Fruit Juice vacuum concentrator / Fruit Juice concentrator / Fruit Juice external circulation concentrator is packing with plywood box or As customers' requirement |
| Delivery Detail: | 15-45 days |
SJN Model Fruit Juice External Circulation Vacuum Concentrator
1. Fruit Juice vacuum concentrator / Fruit Juice concentrator / Fruit Juice external circulation concentrator
2. Stainless Steel
3. GMP standard
4. Energy save
5. Reasonable price
Product Description
What is Fruit Juice
Juice is a liquid (drink) that is naturally contained in fruit and vegetables. It can also refer to liquids that are flavored with these or other biological food sources such as meat and seafood. It is commonly consumed as a beverage or used as an ingredient or flavoring in foods. It is also a common practice to mix juices of different fruits/vegetables. Juice did not emerge as a popular beverage choice until the development of pasteurization methods allowed for the preservation of juice without fermentation.The Food and Agriculture Organization of the United Nations (FAO) estimated the total world production of citrus fruit juices to be 12,840,318 tonnes in 2012.
Characteristics of Fruit Juice Vacuum Concentrator
1. Self-control type triple effect concentrator is intellectual product newly developed by KODI company Has such characteristics as intellectual program digital display, automatic controlled temperature, liquid level, steam pressure, vacuum degree, material density, concentration, automatic material feeding and ointment collection
2. All controls are controlled by PIC control board
3. All technical parameters are displayed on touch screen
4. Automatic operation can be programmed so that equipment can eliminate such problems as running away and boiling of material due to too high vacuum and material and agglomeration due to too high steam temperature, which are caused by improper manual operation.
5. Can eliminate fears of disturbance during safety production and can also ensure safety production, product quality and energy consumption so that production capacity is greatly enhanced. Also fundamental device for constructing modernization.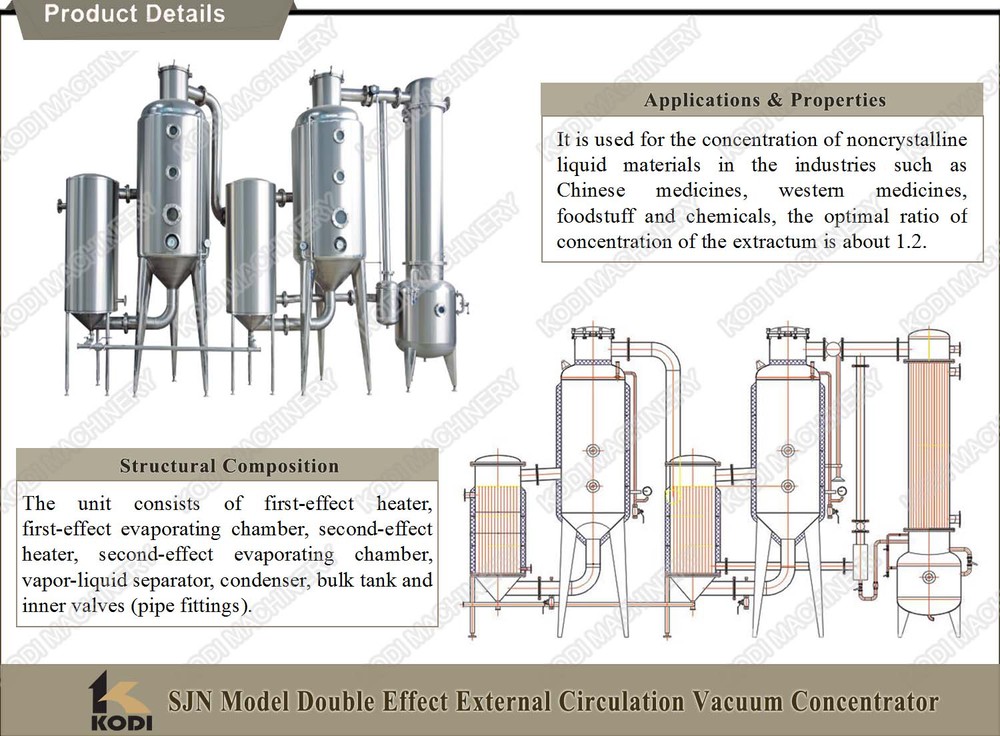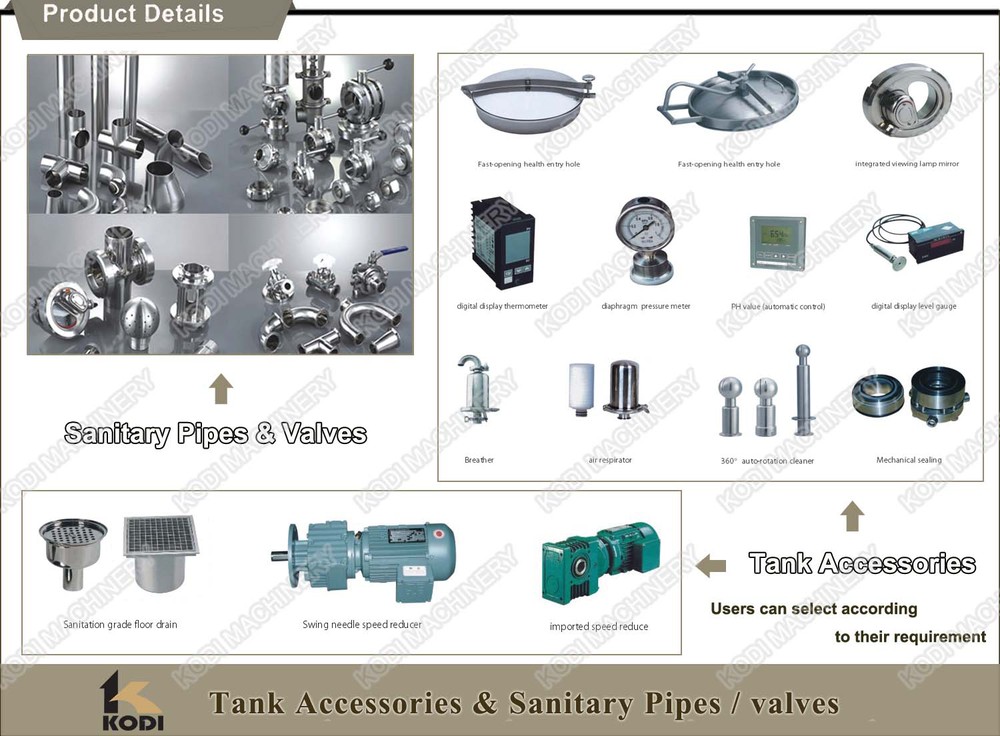 Fruit Juice External Circulation Concentrator Applications
1. Applicable for concentration of liquid materials for Herbal extraction, Medicines, glucose, starch, monosodium glutamate, dairy food and chemical industry, especially ideal for low temperature vacuum concentration of heat sensitive substances.industrial organic solvents (such as alcohol) recovery for vacuum concentration to small-volume, variety and more heat-sensitive materials.
2. After carefully calculating and designing, compared with before, equipment has more characteristics and benefits. Customers can choose concentrators with technical parameters indicated according to quantity of materials for concentration.
Benefits of Fruit Juice Vacuum Concentrator
1. Energy-saving, taking SJN-1000B type for calculating, for a year, approximately 5000 tons of steam, and cooling water of hundreds of thousands of tons can be saved, thus, cost of at least 40,000 USD is saved.
2. The concentrator adopts external heating natural cycling mode and negative pressure evaporating mode, with instant evaporation and great concentrated specific gravity up to 1.3 (common soaked Chinese medicine creams). Open boiler is not needed to reclaim creams.
3. The concentrator adopts tri-effect simultaneous evaporation and uses second time steam repetitively. Therefore, the energy can be saved by 70% when compared with single-effect concentrator. Within a year, the investment saved can be up to total investment on the concentrator.
4. All parts of the vacuum concentrator contacting with materials are made of (AISI304) stainless steel according to requirements in laws related to medicines and foods, and requirements of cGMP. It has nice appearance. And heater and evaporator have external heat preservation layers. The heat preservation layers are made of stainless steel and polished with semi-luster for nice appearance in layout of workshop.
Main Parameters of Fruit Juice External Circulation Concentrator

Model Parameter

SJN-500

SJN-1000

SJN-1500

SJN-2000

SJN-3000

SJN-5000

Capacity

≥500

≥1000

≥1500

≥2000

≥3000

≥5000

Steam consumption

≤275

≤550

≤825

≤1100

≤1650

≤2750

Coolwater consumption

14

28

42

56

84

140

Vacuum exhaust volume

150

240

375

480

600

1050

First-effect heating area

8.0

12.5

18.5

25

37

62.5

Second-effect heating area

12.5

18.5

25.0

32.5

46

78

First-effect evaporating temp.

75-85

Second-effect evaporating temp.

55-65
Sucessful Project of KODI Fruit Juice Concentrator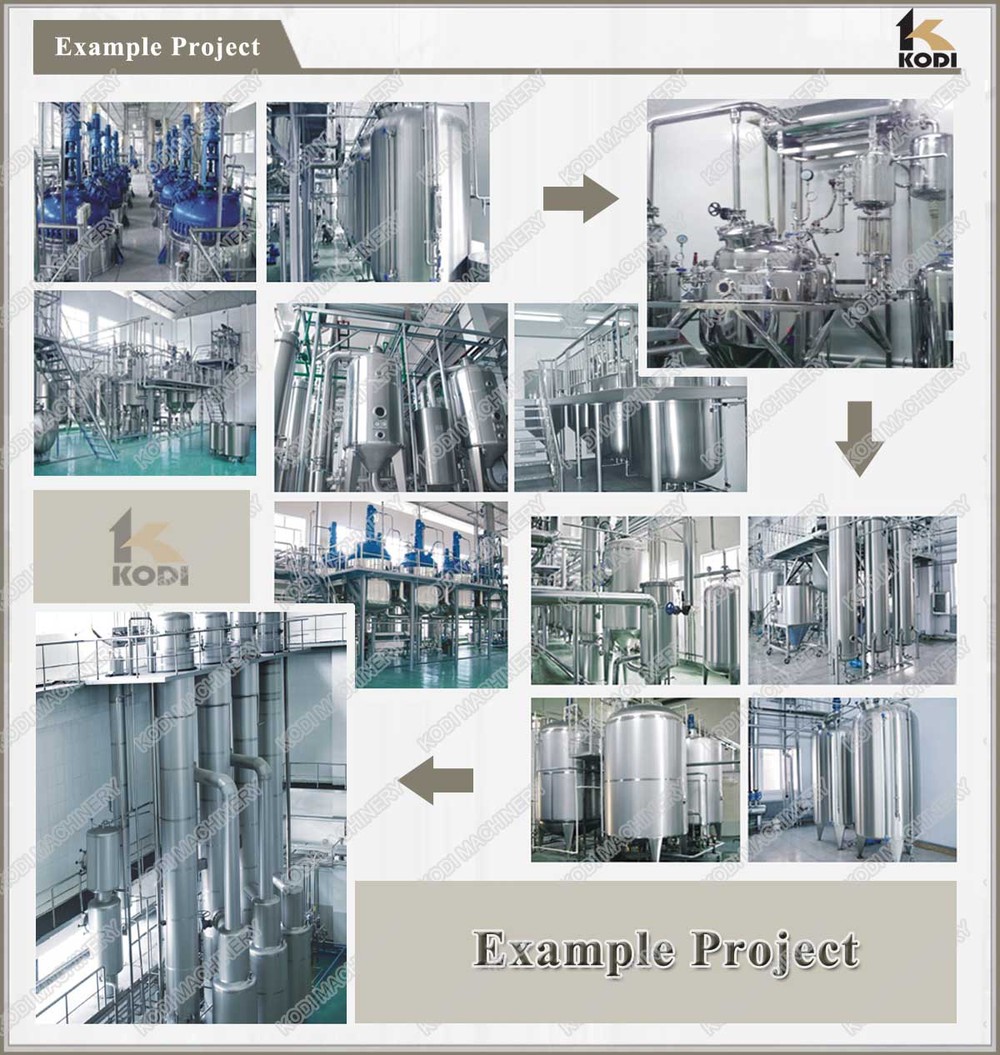 Fruit Juice Extractor Process Flow Chart

Hot Tags: fruit juice sjn, China, manufacturers, cheap, price, high torque