If you are checking gelatin spray dryer lpg price, or looking for cheap high torque gelatin spray dryer lpg, welcome to contact KODI Machinery, we are one of the leading China gelatin spray dryer lpg manufacturers.
Quick Details
Condition: New
Type: Spray Drying Equipment
Place of Origin: Jiangsu, China (Mainland)
Brand Name: KODI
Model Number: LPG series
Voltage: 220v-450v
Power(W): Depand on the model
Dimension(L*W*H): Depends on the model
Weight: Depends on the model
Certification: IS9001,CE
Warranty: 1 year
After-sales Service Provided: Engineers available to service machinery overseas
Product Name: LPG Model Gelatin Spray Dryer, Spray drying machine/equipment
Material: Stainless steel304/316L
Inlet air temperature: ≤ 350°C
Outlet air temperature: 80-90°C
Rotary speed: 15000-25000
Dry powder yield: ≥ 95%
Control: PLC touch screen/button type
Heating source: Electricity/LPG/Natural gas/Oil/Steam
Installation: KODI service
Spare parts: Supply the whole lifetime
Packaging & Delivery
| | |
| --- | --- |
| Packaging Details: | KODI LPG gelatin spray dryer/gelatin spray drying machine/gelatin spray drying equipment is packing with plywood box or As customers' requirement |
| Delivery Detail: | 15 - 90 days |
LPG Model High-speed Atomizer Gelatin Spray Dryer, Spray Drying Machine/Equipment

1, LPG model centirfugal atomizer gelatin spray dryer /gelatin spray drying equipment/ gelatin spray drying machine
2, Liquid or slurry drying processor
3, Easy operation and control
4, Stainless steel
Product Description
What is Gelatin
Gelatin or gelatine (from Latin: gelatus meaning "stiff", "frozen") is a translucent, colourless, brittle (when dry), flavourless foodstuff, derived from collagen obtained from various animal by-products. It is commonly used as a gelling agent in food, pharmaceuticals, photography, and cosmetic manufacturing. Substances containing gelatin or functioning in a similar way are calledgelatinous. Gelatin is an irreversibly hydrolyzed form of collagen. It is found in most gummy candy as well as other products such as marshmallows, gelatin dessert, and some ice cream, dip andyogurt. Household gelatin comes in the form of sheets, granules, or powder. Instant types can be added to the food as they are; others need to be soaked in water beforehand.
Probably best known as a gelling agent in cooking, different types and grades of gelatin are used in a wide range of food and non-food products: Common examples of foods that contain gelatin aregelatin desserts, trifles, aspic, marshmallows, candy corn, and confections such as Peeps, gummy bears, fruit snacks, and jelly babies. Gelatin may be used as a stabilizer, thickener, or texturizer in foods such as yogurt, cream cheese, and margarine; it is used, as well, in fat-reduced foods to simulate the mouthfeel of fat and to create volume without adding calories. Gelatin is also used in the production of several types of Chinese soup dumplings, specifically Shanghainese soup dumplings, or "Xiaolongbao" as well as "Shengjian mantou," a type of fried and steamed dumpling. The fillings of both are made by combining ground pork with gelatin cubes, and in the process of cooking, the gelatin melts, creating a soupy interior with a characteristic gelatinous stickiness.
Gelatin is used for the clarification of juices, such as apple juice, and of vinegar. Isinglass, from the swim bladders of fish, is still used as a fining agent for wine and beer. Besidehartshorn jelly, from deer antlers (hence the name "hartshorn"), isinglass was one of the oldest sources of gelatin
LPG Gelatin Spray Dryer Description
KODI gelatin spray dryer is a wide applied process in liquid process shaping and drying industry. Particularly it is suitable for producing powder, granule or block solid product from solution, emulsion, suspending liquid and pumped paste liquid. Therefore when the distribution of granule size, final moisture, bulk density, granule shape of finished product must be conformed to accuracy standard, the spray drying is an ideal process.
LPG Gelatin Spray Dryer Application
It's widely used in foodstuff, pharmaceutical and chemical industrial, such as whey, egg powder, geltain,coffee powder, white egg, amino acid product, protein, blood, food flavor, food ingredients, pectin, carrageenan, spirulina, herbal extraction, pigment, cocoa, mushroom, PAC, malt dextrin, collagen, juice, yeast, Coffee, Creamer, coconut, milk, gelatin, gum and acacia etc.
LPG Working Principle of Gelatin Spray Drying Machine
After filtering and heating, the hot fresh air enter into the air distributor at the top of drying chamber, distributed in spiral way uniformly from up to down. At the same time, the feeding liquid is pumped to the top atomizer, then be sprayed to extremely fine mist liquid drop. Through the short time of direct contact with hot air, the moisture evaporated at once, the solid remains to be powder. The dry powder will be discharged continuously from the bottom of drying tower and cyclone collector, the exhaust air will be discharged after cleaning.
Details of LPG Gelatin Spray Drying Equipment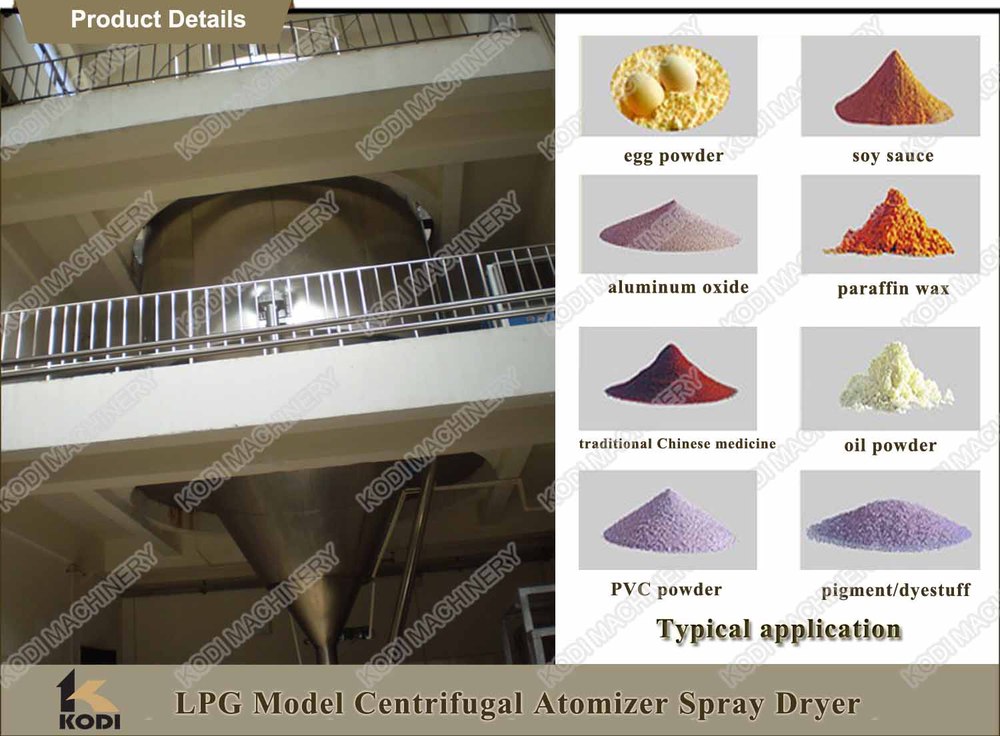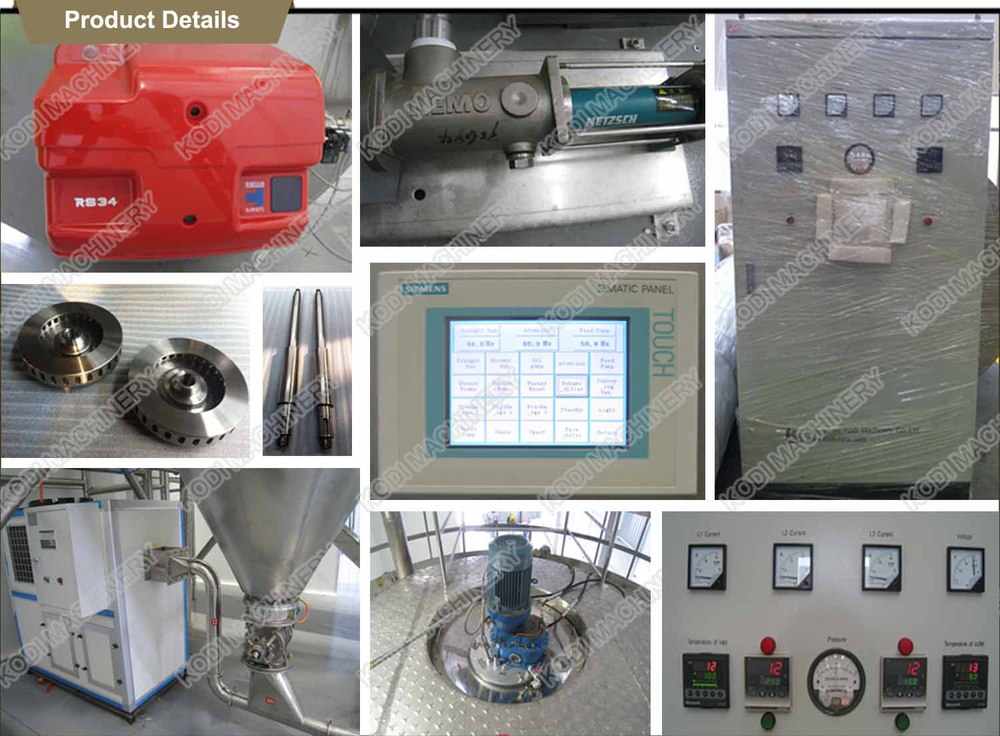 Final Product of KODI LPG Gelatin Spray Dryer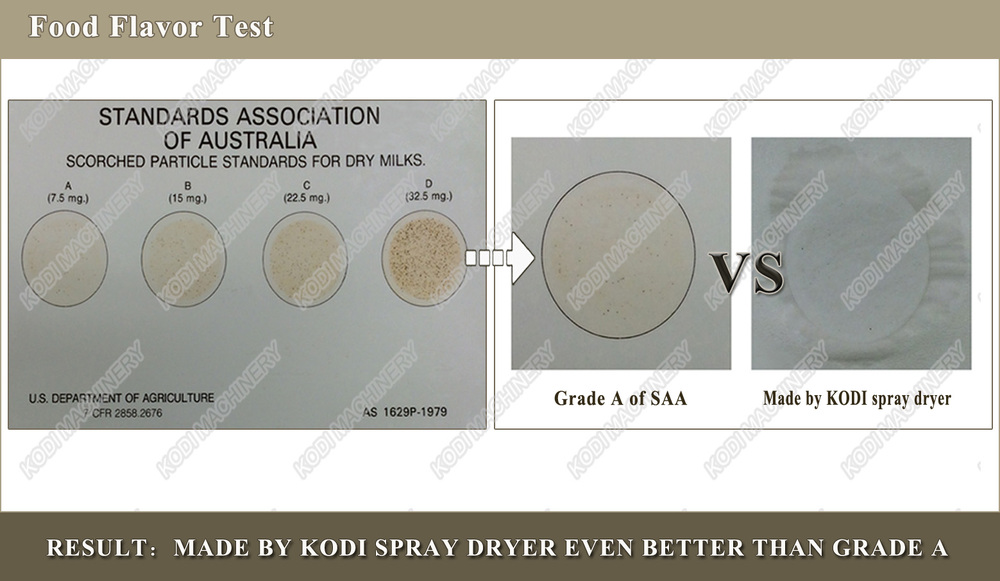 LPG Gelatin Spray Dryer Technical Parameters
Model

Gelatin spray Dryer MODEL LPG-

5
25
50
100
150
200-5000

Inlet air temperature

≤ 350°C

Outlet air temperature

80-90°C

Evaporate capacity (kg/h)

5

25

50

100

150

200-5000

Atomizer type

compressed air drive





mechanical drive





Rotary speed

25000

22000

21500

18000

18000

15000

Diameter of atomizer disc (mm)

50

120

120

120

150

180-500

Heating source

Electricity

Electricity/LPG/

Natural gas/Oil/Steam

Electricity/LPG/

Natural gas/Oil/Steam

Electricity/LPG/

Natural gas/Oil/Steam

Electricity/LPG/

Natural gas/Oil/Steam

Electricity/LPG/

Natural gas/Oil/Steam

Electric-heating power (kw)

9

-

-

-

-

-

Dry powder yield (%)

≥ 95

≥ 95

≥ 95

≥ 95

≥ 95

≥ 95
Successful Experience Overseas of KODI LPG Gelatin Spray Drying Machine
LPG gelatin spray dryer/gelatin spray drying euqipment has a very mature technology and process, and KODI company has rich overseas site installation experience and good after sale service .

Packaging & Shipping