If you are checking industrial falling film evaporator ns price, or looking for cheap high torque industrial falling film evaporator ns, welcome to contact KODI Machinery, we are one of the leading China industrial falling film evaporator ns manufacturers.
Quick Details
Condition: New
Application: Food Processing
Power Source: Steam
Process: Falling film evaporator
Place of Origin: Jiangsu, China (Mainland)
Brand Name: KODI
Model Number: NS
Voltage: 220v - 450v
Power(W): Deponds on the model
Dimension(L*W*H): Deponds on the model
Weight: Deponds on the model
Certification: ISO9001, CE
Warranty: 1 year
After-sales Service Provided: Engineers available to service machinery overseas
product name: Industrial Fallling Film Vacuum Evaporator Evaporation System
Material: Stainless steel
Mositure evaporation: 300-10000 kg/h
Material disposal quantity: 400-13800
Inlet material strenght: ≥11.5%
Outlet material strenght: 45-48
Steam consumption: 2-55 kg/h
Cooling water consumption: 5-83 kg/h
Installation: KODI service
Spare parts: Supply the whole lifetime
Packaging & Delivery
| | |
| --- | --- |
| Packaging Details: | KODI Industrial vacuum evaporator / Industrial falling film evaporator / Industrial evaporation system is packing with plywood box or As customers' requirement |
| Delivery Detail: | 30-45 days |
KODI Industrial Fallling Film Vacuum Evaporator Evaporation System
1. Industrial vacuum evaporator / Industrial falling film evaporator / Industrial evaporation system
2. Low energy consumption
3. Suitable for thermosensitive material
4. Multi-effect falling film evaporator
5. Reasonable price
Product Description
What is Industrial
It is the production of goods or services within an economy.The major source of revenue of a group or company is the indicator of its relevant industry.When a large group has multiple sources of revenue generation, it is considered to be working in different industries. Manufacturing industry became a key sector of production and labour in European and North American countries during the Industrial Revolution, upsetting previous mercantile and feudal economies. This occurred through many successive rapid advances in technology, such as the production of steel and coal.
Following the Industrial Revolution, perhaps a third of the world's economic output is derived from manufacturing industries. Many developed countries and many developing/semi-developed countries (People's Republic of China, India etc.) depend significantly on manufacturing industry. Industries, the countries they reside in, and the economies of those countries are interlinked in a complex web of interdependence.
Description of Industrial Falling Film Evaporator
Industrial falling film evaporator concentrates the solution by means of vaporizing the thin solution through film-falling principle. It introduces continuous production and it features in high concentration ratio (1/5-1/10), large viscosity scope (400CP), good heat-transferring effect, large processing capacity, etc. In this case, it can be introduced on vaporizing materials which are of high heat sensibility, high concentration, high viscosity, and corrosive characteristics.
Industrial Vacuum Evaporator Components
Industrial vacuum evaporator in every stage; separator in every stage; condenser, heat pressure pump, sterilizer, insulating tube, material transfer pump in every stage; condensate water pump, work table, electric meter control cabinet, valve, pipeline etc.
Industrial Evaporation System Applications
Industrial evaporation system is widely used for concentratingherbal extraction, Western medicine, corn slurry, glucose and maltose in starch industry, juice and MSG liquid in food industry, milk liquid in dairy industry, as well as lees filtrate in alcohol industry.
It is especially suitable for low temperature vacuum concentration of heat sensitive substances. It can carry out continuous sterilization and concentration. After carefully calculated and precisely designed and improved by professional designers of KODI Company. It has more features and benefits than the original one. The period of being heated of materials is short and the evaporation temperature is low. It has small influence on the product's color, flavor and nutritious content which is especially applicable to concentration of milk etc. heat sensitive substances.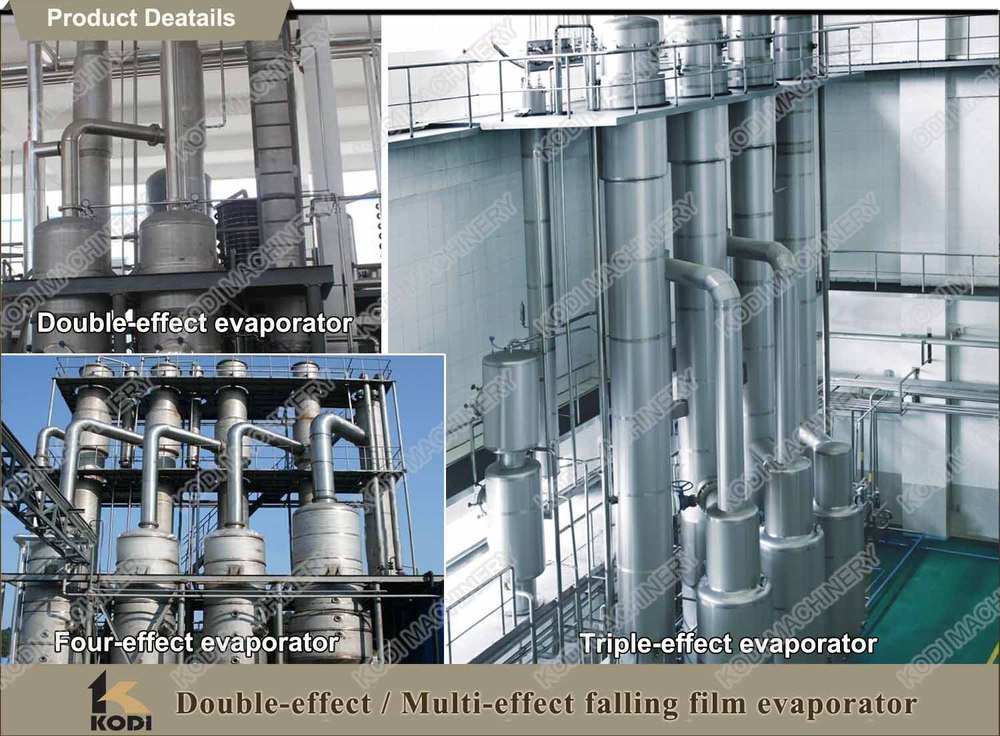 Characteristics of KODI Industrial Falling Film Evaporator
1.High heat transfer efficiency realized for the heating system even heated with steam and feed liquid in flow evaporate The equipment has smaller energy consumption. Steam consumption and cool water circulation amount if equip with heat pressure pump.
2.Feed liquid evaporated while accelerated flow downward along the pipe wall that suitable for evaporation and concentration of high viscosity material
3.Liquid heat in very short time for it inner film evaporated in every tube That make the equipment very fit food concentration can maximum protect food nutritious.
4.Whole process operated under vacuum condition which meet the sanitary requirement and environmental protection requirement. Meanwhile can significantly reduce the evaporation temperature. If equipped with heat pressure pump, part of second steam will re-sucked and mixed with live steam .Steam pass through pump into heating shell, steam rapidly spread make liquid soft heated, is very suitable for concentration of heat sensitive products.
5.Equipment suitable for evaporation and concentration of formability material Liquid film evaporated in heating tube formed liquid-vapor separate. Big part of feed extracted from the bottom of cylinder. Only small part of feel liquid and all second steam enforced to separate Feed liquid not in big impacted no foam formed in the whole process.
6.Equipment can also sterilize food Feed liquid flow to sterilizer after preheated .Temperature up to 94°Cand lasting for 24 seconds. Then flow into first stage. Liquid evaporate in few seconds then temperature drop at once.
7.Can equip with CIP cleaning system, achieve clean in spot. Completed set operated easy without dead angle
8.Can continuous feed material and discharge material
9.Can equip with automatic system, achieve automatic control of inter and outlet material, discharge viscosity and cleaning.
10.Can equip with protection facilities in case of suddenly blackout, break down which will cause trouble with heat sensitive products other safeties, alarm facilities can achieve automatic operate and control.
Industrial Falling Film Evaporator Advantages
1.This equipment is of higher heat-transferring ratio, so the heat difference requested is small.
2.It can be combined into double, triple, quadruple, or quintuple-effect evaporating system on the basis of different materials characteristics and evaporating results.
3.It can be used as waste-heat evaporator with the resources of waste steam from bundle dryer, disc dryer or other heat resources with low thermal value such as condensate steam.
4.Raw steam consumption can be greatly reduced for energy saving.
5.It is economically beneficial when waste steam can be completely used and raw steam is saved.
Industrial Falling Film Evaporator Main Parameters
Model Parameter

NS-300

NS-600

NS-700

NS-1250

NS-2000

NS-2500

Moisture evaporation(kg/h)

300

600

700

1250

2000

2500

Material disposal quantity

400

800

940

1680

2688

3360

Inlet material strenght(%)

≥11.5

≥11.5

≥11.5

≥11.5

≥11.5

≥11.5

Outlet material strenght(%)

45-48

45-48

45-48

45-48

45-48

45-48

First-effect evaporating temp. (℃)

68-72
68-72

68-72

68-72

68-72

68-72

Second-effect evaporating temp. (℃)

 

 

45-52

45-52

45-52

45-52

Steam consumption(kg/h)

2

4.2

5

9

14

18

Cooling water consumption (kg/h)
(16℃inlet,40℃outlet)

 5  

9

14.2

15

18

24.5
Model Parameter

NS-3000

NS-3200

NS-5000

NS-6400

NS-8000

NS-10000

Moisture evaporation(kg/h)

3000

3200

5000

6400

8000

10000

Material disposal quantity

4032

4300

6720

8500

11000

13800

Inlet material strenght(%)

≥11.5

≥11.5

≥11.5

≥11.5

≥11.5

≥11.5

Outlet material strenght(%)

45-48

45-48

45-48

45-48

45-48

45-48

First-effect evaporating temp. (℃)


68-72

68-72

68-72

68-72

68-72

68-72

Second-effect evaporating temp. (℃)

45-52

55-60

55-60

55-60

55-60

55-60

Third-effect evaporating temp. (℃)

 

44-48

44-48

44-48

44-48

44-48

Steam consumption(kg/h)

21

30

32

40

48

55

Cooling water consumption (kg/h)
(16℃inlet,40℃outlet)

 28

31

44.4

45

60

83
Customer Site of KODI Industrial Evaporation System


Industrial Vacuum Tank Sucessful Project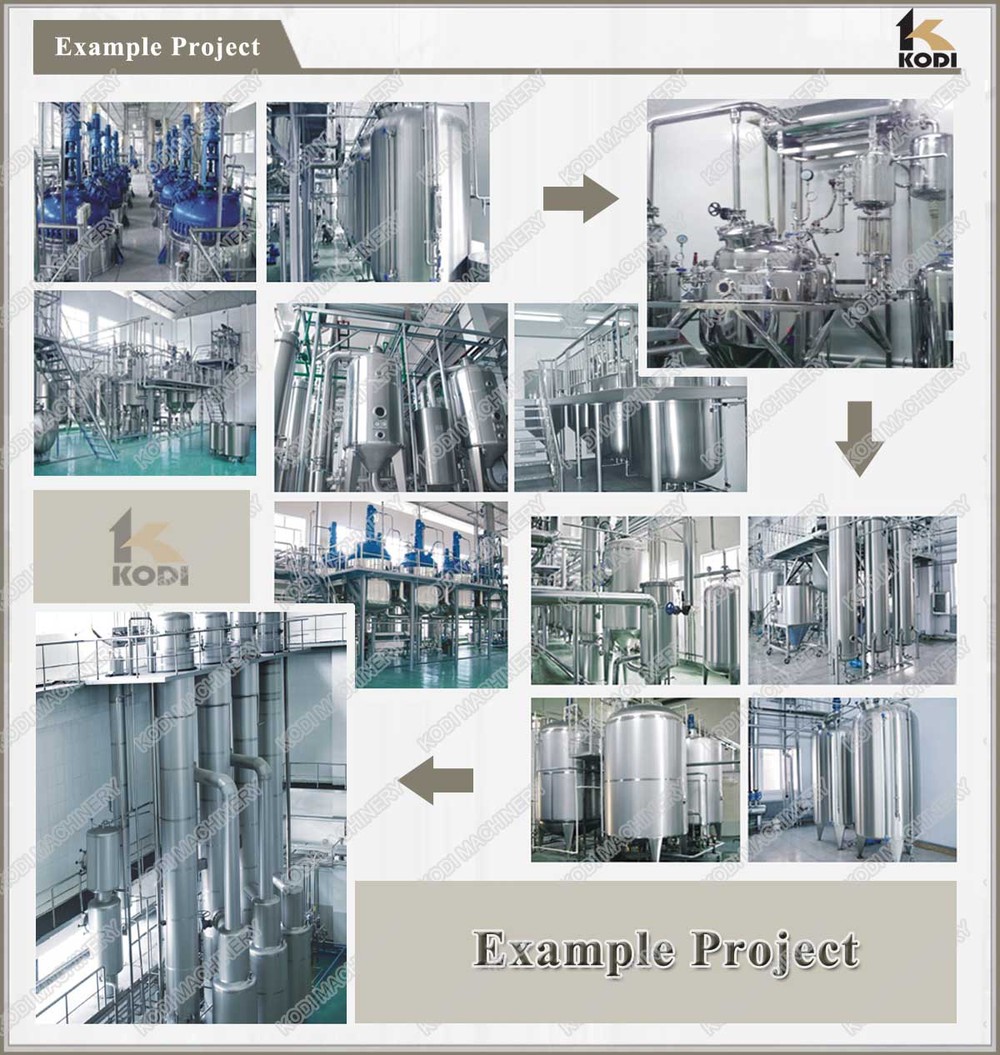 Process Flow Chart of Industrial Evaporation System


Packaging & Shipping