If you are checking pharmaceutical dynamic extractor zdh price, or looking for cheap high torque pharmaceutical dynamic extractor zdh, welcome to contact KODI Machinery, we are one of the leading China pharmaceutical dynamic extractor zdh manufacturers.
Quick Details
Place of Origin: Jiangsu, China (Mainland)
Brand Name: KODI
Model Number: ZDH / TQ
Application: Liquid
Type: Extractor
After-sales Service Provided: Engineers available to service machinery overseas
Product Name: Stainless Steel Pharmaceutical Dynamic Extracting Tank Extractor Tank
Material: Stainless steel
Volume: 1200-11000 L
Jacket design pressure: 0.3 Mpa
Diameter of feeder mouth: 400-500 mm
Cooling area: 0.5-3.0 m2
Filtration area: 0.25-0.5 m2
Steam consumption: 1150-6550 kg
Installation: KODI service
Spare parts: Supply the whole lifetime
Packaging & Delivery
| | |
| --- | --- |
| Packaging Details: | KODI Multi-functional Stainless Steel Pharmaceutical extracting tank /Pharmaceutical dynamic extractor /Pharmaceutical extractor tank is packing with plywood box or As customers' requirement |
| Delivery Detail: | 15-45 days |
Multi-functional Stainless Steel Pharmaceutical Dynamic Extracting Tank Extractor Tank
1, Pharmaceutical extracting tank / Pharmaceutical dynamic extractor / Pharmaceutical extractor tank
2, wide use range and meet Gmp standard
3, low temperature extraction
4, lower energy consumption
Product Description
What is Pharmaceutical
Pharmaceutical drug (also referred to as a medicinal product, medicine, medication, or medicament) is a drug used to diagnose, cure, treat, or prevent disease.Drug therapy (pharmacotherapy) is an important part of the medical field and relies on the science of pharmacology for continual advancement and on pharmacy for appropriate management.
Drugs are classified in various ways. One of the key divisions is by level of control, which distinguishes prescription drugs (those that a pharmacist dispenses only on the order of a physician,physician assistant, or qualified nurse) from over-the-counter drugs (those that consumers can order for themselves). Another key distinction is between traditional small molecule drugs, usually derived from chemical synthesis, and biopharmaceuticals, which include recombinant proteins, vaccines, blood products used therapeutically (such as IVIG), gene therapy, and cell therapy (for instance, stem cell therapies). Other ways to classify medicines are by mode of action, route of administration, biological system affected, or therapeutic effects. An elaborate and widely used classification system is the Anatomical Therapeutic Chemical Classification System (ATC system). The World Health Organization keeps a list of essential medicines.
Characteristics of Multi-functional Stainless Steel Pharmaceutical Extracting Tank
I. Properties & applications
It is special device applicable for leach the constituent as required for Pharmaceutical extraction by liquid solvents, which meets the production process requirements of many solvents such as water , ethanol, acetone. It is used for the extraction of effective constituent from roots, stems, leaves, flowers, fruits and seeds of plants or brains, bones and organs of animals, or natural minerals. It is widely applied in the industries including TCM, API, foodstuff and beverages.
II. Structural composition:
The unit consists of extraction tank, condenser, cooler, vapor-liquid separator, oil-water separator, filter and circulation pump.
There are various types of extraction tank: positive cone, straight cylinder, inverted cone, mushroom shape, its cylinder body is provided with jacket and insulation layer, its top is feeder nose and foam catcher, its bottom is pneumatic residue discharging door, a filter screen is equipped on the residue discharging door.
III. Technical features:
( 1 ) The residue discharging door, driven by pneumatic force , safety locking type, it is zero leaked ,does not open automatically under sudden power breakdown or gas shutting, to be operated safety and reliably.
( 2 ) The foam catcher, quick-opening, is easy for cleansing and convenient for operation.
( 3 ) Special side discharge structure prevents from the jamming of discharged materials which is easily heated and stewed ,and easily assembled and dis-assembled, or cleansed.
( 4 ) Secondary steam distributor effectively avoid the uneven distribution of steam convenient operation.
( 5 ) Oil-water separator is able to collect light or heavy oil, with intuitive and convenient operation.
( 6 ) There are sectional heating mode and bottom heating mode for jacket, which can be quickly boiled at the beginning stage ,and remain its faint boiling status after boiling up, so as to vaporize fully, and keeps a consistency of temperature in the extraction tank.
( 7 ) Multi-point reasonable layout in online cleaning device enables the cleaning to be more conveniently, quickly and completely.
( 8 ) Able to meet various extraction processes including pressurized extraction ,normal pressure extraction and pressure reduction extraction, and suit the change of the production conditions like high temperature, normal temperature and low temperature.
( 9 ) Arched filter screen, along with long & circular holed filter structure , enlarges its filtration area and enables its screen not to be jammed.
(10) The lifting cylinder of fair-sized residue discharging door is acted with double cylinder, which ensures the safety and stability of operation.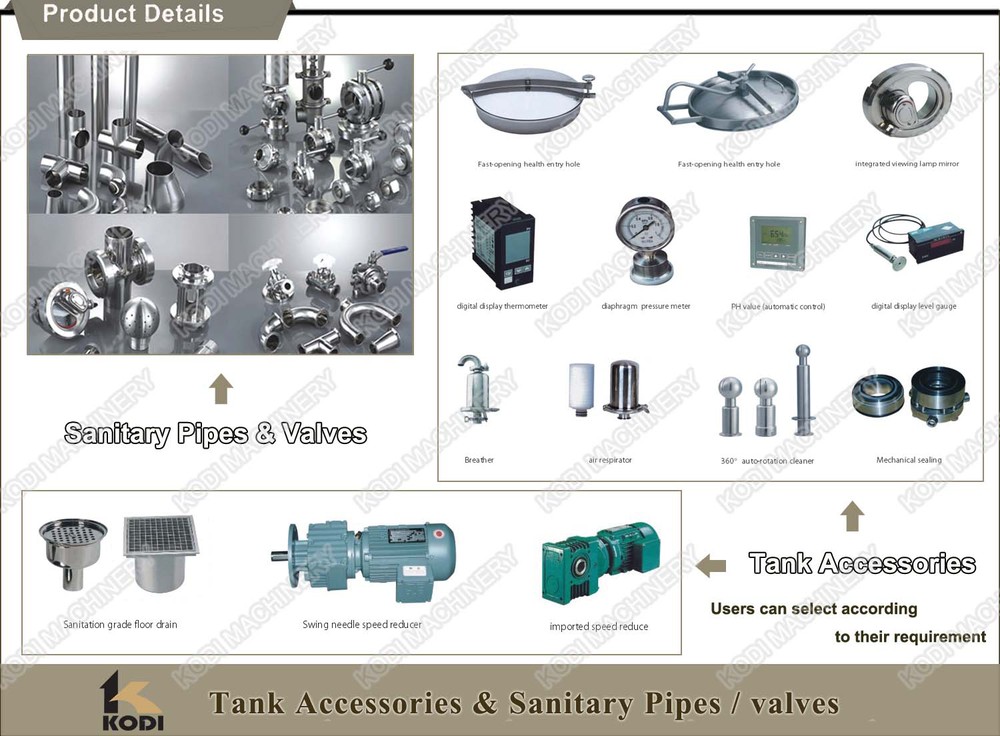 Usage of Multi-functional Pharmaceutical Extracting Tank
KODI multi-functional Pharmaceutical extracting tank is suitable for Pharmaceutical extraction. foodstuff and chemical industry. It can be applied to following process: normal pressure or high pressure water boiling, warm water soak, heat return, coercive circulation infiltration .aromatic oil extracting and organic solvent recovery etc. Best extracting effect, short extracting time and high content of extracting liquid. The agitator can be screw of blade type. Made by high quality stainless steel can meet the GMP certification needs. It can be used in pharmaceutical, food-stuff, chemical industry etc.
Main Parameters of Stainless Steel Pharmaceutical Extractor Tank
ZDH Model Pharmaceutical Extracting Tank
Model Parameter

ZDH-1.0

ZDH-2.0

ZDH-3.0

ZDH-6.0

ZDH-8.0

ZDH-10.0

Total volume

1.2

2.3

3.3

6.5

8.6

11.0

Jacket design pressure

0.30

Jacket design temp.

143

Internal design pressure

NP

Diameter of feeder mouth

400

400

400

500

500

500

Condensing area

5.0

6.5

9.5

15.0

20.0

25.0

Cooling area

0.5

1.0

1.0

2.0

2.0

3.0

Filtration area

0.25

0.25

0.3

0.3

0.4

0.5

Steam consumption

235

315

340

665

775

965

Weight

1150

1680

2500

3230

4330

6550
TQB Model Pharmaceutical Extracting Tank
Model Parameter

TQB-1

TQB-2

TQB-3

TQB-6

TQB-8

Volume

1200

2300

3200

6300

8500

Design pressure in tank ( Mpa )

0.09

Design pressure in jacket ( Mpa )

0.3

Dimeter of material inlet

400

400

400

500

500

Heating area

3

4.7
6
8
11

Condensing area

5

6

8

15

20

Cooling area

1

1

1

2

2

Steam consumption

245

325

345

645

0.4

Water consumption

5

5

7

10

12

Dimaeter of slagging door

800

800

1000

1200

1200
Remark: Dimension is used for reference only.
Pharmaceutical Dynamic Extractor Residue Discharging Door
1 Rapid open safety type residue discharging door
The tank cover can be automatically opened and closed. It adopts three-cylinder control and is provided with safety device to avoid accidental operation and provide high safety factor. It is suitable for use in small and medium-size reside discharging vent.
2 Rotary type residue discharging door
The tank cover can be automatically opened and closed. High temperature and high pressure extraction can be achieved in the swivel type product. It provides more selection for extracting technology. It can also meet some special technological requirements. With good safety guarantee functions and the extracting tank has no leakage.
3 Large-diameter residue discharging door
The tank cover can be automatically opened and closed. High temperature and high pressure extraction can be realized to provide more selection for extracting technology. With high safety factor, the residue discharging door is suitable for residue discharging of large-diameter upside-down type extracting tank.
4 Another option of liquid discharging in the extracting tank
(1) The filter board at the bottom of the extracting tank is made of two layers. The first layer is a 5-6mm thick stainless steel sheet with a thickness of 0.6mm thick is at the top of this supporting layer, and long holes of 0.5*10mm are spread over the stainless steel sheet. The long holes are comparably not easy to be blocked.
(2) According to material requirements of customers ,the filter barrel is installed on the internal bladder or the extracting tank. Vertical grain type filter screen can be adopted. The filtering area of the filter barrel is several times higher than the bottom area, which can solve the problem of blocking and difficult liquid discharging at the bottom of the extracting tank.

Sucessful Project of KODI Pharmaceutical Extractor Tank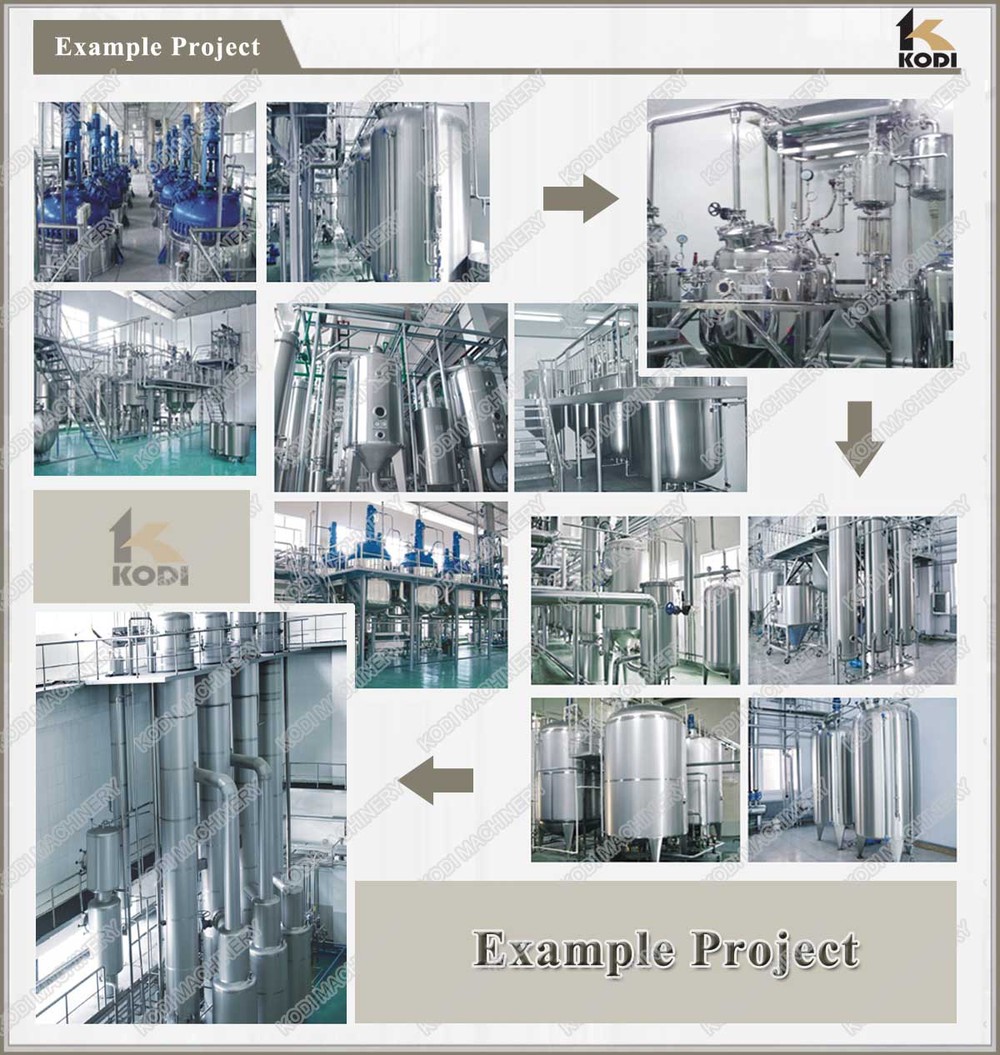 Pharmaceutical Extracting Tank Process Flow Chart