If you are checking pharmaceutical tray oven dryer ct/ct-c price, or looking for cheap high torque pharmaceutical tray oven dryer ct/ct-c, welcome to contact KODI Machinery, we are one of the leading China pharmaceutical tray oven dryer ct/ct-c manufacturers.
Quick Details
Condition: New
Type: Drying Oven
Place of Origin: Jiangsu, China (Mainland)
Brand Name: KODI
Model Number: CT/CT-C
Voltage: 220V - 450V
Power(W): 15kw
Dimension(L*W*H): Deponds on the model
Weight: Deponds on the model
Certification: ISO9001,CE
Warranty: 1 year
After-sales Service Provided: Engineers available to service machinery overseas
Product Name: CT/CT-C Hot Air Pharmaceutical Tray Oven dryer Circulating Drying Oven
Material: Stainless steel 304 and 316L
Drying capacity: 60-480 kg/batch
Steam consumption: 15-80 kg/h
Electrical heater power: 6-60 kw
Fan power: 0.4-2.2 kw
Drying shelf: 1-8 set
Drying plate: 24-192 pcs
Installation: KODI service
Spare parts: supply the whole lifetime
Packaging & Delivery
| | |
| --- | --- |
| Packaging Details: | KODI CT/CT-C Series Hot Air Pharmaceutical tray drying machine / Pharmaceutical circulating drying oven / Pharmaceutical tray oven dryer is packing with plywood box or As customers' requirement |
| Delivery Detail: | 35 days |
KODI CT/CT-C Series Hot Air Pharmaceutical Tray Oven dryer Circulating Drying Oven
1, Pharmaceutical tray drying machine / Pharmaceutical circulating drying oven / Pharmaceutical tray oven dryer
2, Automatic temperature control system
3, Low energy consumption
4, Easy operation and control
Product Description
What is Pharmaceutical
It is the branch of medicine and biologyconcerned with the study of drug action, where a drug can be broadly defined as any man-made, natural, or endogenous (from within body) molecule which exerts a biochemical and/or physiological effect on the cell, tissue, organ, or organism (sometimes the word pharmacon is used as a term to encompass these endogenous and exogenous bioactive species). More specifically, it is the study of the interactions that occur between a living organism and chemicals that affect normal or abnormal biochemical function. If substances have medicinal properties, they are considered pharmaceuticals.
The field encompasses drug composition and properties, synthesis and drug design, molecular and cellular mechanisms, organ/systems mechanisms, signal transduction/cellular communication, molecular diagnostics, interactions, toxicology, chemical biology, therapy, and medical applications and antipathogenic capabilities. The two main areas of pharmacology are pharmacodynamics andpharmacokinetics. The former studies the effects of the drug on biological systems, and the latter the effects of biological systems on the drug. In broad terms, pharmacodynamics discusses the chemicals with biological receptors, and pharmacokinetics discusses the absorption, distribution, metabolism, and excretion (ADME) of chemicals from the biological systems. Pharmacology is not synonymous with pharmacy and the two terms are frequently confused. Pharmacology, a biomedical science, deals with the research, discovery, and characterization of chemicals which show biological effects and the elucidation of cellular and organismal function in relation to these chemicals. In contrast, pharmacy, a health services profession, is concerned with application of the principles learned from pharmacology in its clinical settings; whether it be in a dispensing or clinical care role. In either field, the primary contrast between the two are their distinctions between direct-patient care, for pharmacy practice, and the science-oriented research field, driven by pharmacology.
Pharmaceutical Tray Oven Dryer Description
CT-C Drying Ovens or Tray oven dryer adopts noise elimination and thermal stable axial flow fan and automatic temperature control system. The entire circulation system is enclosed to make that the heat efficiency of the tray dryer increases from 3~7% of the traditional tray dryerto 35~45% of the present one. The highest heat efficiency can be up to 50%.The successful design of CT -C hot air circulation oven makes that the hot air circulation tray dryer in our country reach the advanced level in the world. It saves energy and increases the economic benefit.In1990, the medical management bureau of the State issued the industry standard and the uniform type is RXH.
Pharmaceutical Tray Drying Machine Application
This Pharmaceutical tray drying machine is suitable for the material and product hot solidification and dry de-watering in the pharmaceutical, chemical, food, farming, side-product, aquatic product, light industries, heavy industries and others industries. Such as: raw material medicine, crude drug, prepared herbal medicine of Chinese traditional medicine, plaster, powder, particle, drinking agent, pill, packing bottle, pigment, dyestuff, de-watering vegetable, dried fruit piece, sausage, plastics, resin, electric component, baking varnish and etc .
Pharmaceutical Circulating Drying Oven Features
1. Three kinds of heat source are used for heating : electricity, steam+ electricity.
2. Operation temperature: steam,50-140°C. Max.150°C, electricity,50~350°C.The temperature can be controlled automatically.Moreover it can be recorded through recorder.
3. The inner wall of oven body is fully welded. Each transition adopts circular arc and no dead.
4. The seal property of whole machine is good. Being adopted unique guide rail seal apparatus, the seal property can be guaranteed.
5. The air inlet is equipped with high effective air filter and the damp exhaust outlet is equipped with middle effective air filter.
6. The double doors of oven adapt mechanical interlock apparatus.
7. All parts inside the oven can be assembled and disassembled quickly in order to clean conveniently.
8. The control system has test display and touch screen for your choice.
9. The whole machine is in conformity with the requirements of GMP.

Pharmaceutical Tray Oven Dryer Technical Parameters
| | | | | | | | | |
| --- | --- | --- | --- | --- | --- | --- | --- | --- |
| Model | Drying capacity(kg/lot) | Electric heating power(kw) | Fan power(kw) | Overall dimensions W*D*H(mm) | Equipped drying shelf(set) | Drying plate equipped (pc) | Temperature automatic control box | Total weight(kg) |
| CT-C-O | 60 | 6-9 | 0.45 | 1380*1200*2000 | 1 | 24 | available | 820 |
| CT-C-I | 120 | 15 | 0.45 | 2260*1200*2000 | 2 | 48 | available | 1580 |
| CT-C-II | 240 | 30 | 0.45*2 | 2260*2200*2000 | 4 | 96 | available | 1800 |
| CT-C-II A | 240 | 30 | 0.45*2 | 4280*1200*2270 | 4 | 96 | available | 1880 |
| CT-C-III | 360 | 45 | 0.45*3 | 2260*3200*2000 | 6 | 144 | available | 2100 |
| CT-C-III A | 360 | 45 | 0.45*3 | 3240*2200*2000 | 6 | 144 | available | 2210 |
| CT-C-IV | 480 | 60 | 0.45*4 | 4480*2200*2270 | 8 | 192 | available | 2800 |
| CT- I | 120 | 15 | 1.1 | 2480*1200*2375 | 2 | 48 | none | 1220 |
| CT-II | 240 | 30 | 1.1 | 2480*2200*2438 | 4 | 96 | none | 1530 |
| CT-III | 360 | 45 | 2.2 | 3430*2200*2620 | 6 | 144 | none | 2110 |
| CT-IV | 480 | 60 | 2.2 | 4460*2200*2620 | 8 | 192 | none | 2300 |
Drawings and Flow Chart of Pharmaceutical Tray Drying Machine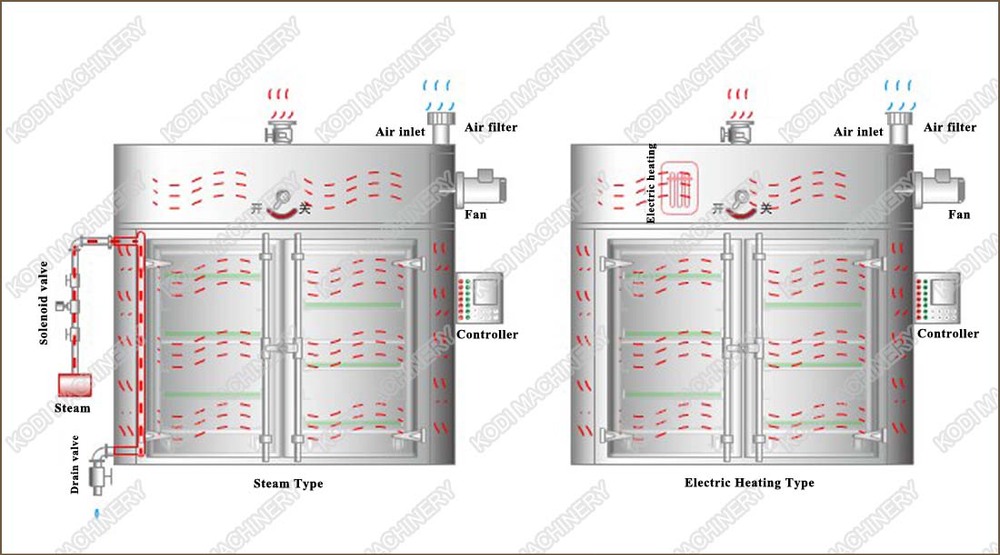 Packaging & Shipping
Hot Tags: pharmaceutical tray oven dryer ct/ct-c, China, manufacturers, cheap, price, high torque