If you are checking plastic resin vacuum dryer szg price, or looking for cheap high torque plastic resin vacuum dryer szg, welcome to contact KODI Machinery, we are one of the leading China plastic resin vacuum dryer szg manufacturers.
Quick Details
Condition: New
Type: Rotary Drying Equipment
Place of Origin: Jiangsu, China (Mainland)
Brand Name: KODI
Model Number: SZG
Voltage: 220v-450v
Power(W): 0.75kw-11kw
Dimension(L*W*H): Depends on the model
Weight: Depends on the model
Certification: ISO9001, CE
Warranty: 1 year
After-sales Service Provided: Engineers available to service machinery overseas
Product Name: SZG Model Plastic Resin Double Cone Rotary Vacuum Dryer
Material: Stainless steel
Max loading volume: 50-2500 L
Rotary height: 1750-4200 mm
Rotary speed: 4-6 rmp
Design pressure of jacket: ≤0.3 Mpa
Designed pressure in the tank: -0.1-0.15 Mpa
Working temperature: In the tank≤85℃ jacket≤140℃
Installation: KODI service
Spare parts: Supply the whole lifetime
Packaging & Delivery
| | |
| --- | --- |
| Packaging Details: | SZG Model Low Temperature Plastic Resin double cone vacuum dryer /Plastic Resin rotary vacuum dryer /Plastic Resin vacuum dryer is packing with plywood box or As customers' requirement |
| Delivery Detail: | 15-45 days |
SZG Model Low Temperature Plastic Resin Double Cone Rotary Vacuum Dryer
1. Plastic Resin double cone vacuum dryer / Plastic Resin rotary vacuum dryer / Plastic Resin vacuum dryer
2. Easy to operate and control
3. GMP standard
4. High efficiency
Product Description
What is Plastic Resin
Plastic is a material consisting of any of a wide range of synthetic or semi-synthetic organics that are malleable and can be molded into solid objects of diverse shapes. Plastics are typically organic polymers of high molecular mass, but they often contain other substances. They are usually synthetic, most commonly derived from petrochemicals, but many are partially natural.Plasticity is the general property of all materials that are able to irreversibly deform without breaking, but this occurs to such a degree with this class of moldablepolymers that their name is an emphasis on this ability.
Due to their relatively low cost, ease of manufacture, versatility, and imperviousness to water, plastics are used in an enormous and expanding range of products, from paper clips to spaceships. They have already displaced many traditional materials, such as wood, stone, horn and bone, leather, paper, metal, glass, and ceramic, in most of their former uses. In developed countries, about a third of plastic is used in packaging and another third in buildings such as piping used in plumbing or vinyl siding.Other uses include automobiles (up to 20% plastic), furniture, and toys.In the developing world, the ratios may be different - for example, reportedly 42% of India's consumption is used in packaging.Plastics have many uses in the medical field as well, to include polymer implants, however the field of plastic surgery is not named for use of plastic material, but rather the more generic meaning of the word plasticity in regards to the reshaping of flesh.
Description of Plastic Resin Double Cone Vacuum Dryer
The Plastic Resin double cone Vacuum Dryer consists of a jacketed double conical shell rotating around 6 RPM with under the state of vacuum inside the shell, pass steam or hot water in to jacket for heating. The large heating surface area presented by the internals of the cone ensures uniform drying of the product, as the product gently tumbles while the cone rotates slowly. The vaporized steam can be pumped out through vacuum exhaust pipe when the damp raw material absorbed heat. The diffusive action induced by the tumbling cone constantly presents a fresh layer to come into contact with the indirectly heated walls of the shell, the dry speed of raw material is quickened and uniform drying efficiency is raised too. A well designed sealing system enable maintenance of deep vacuum inside the shell, and also ensures positive circulation of a heating media in the jacket.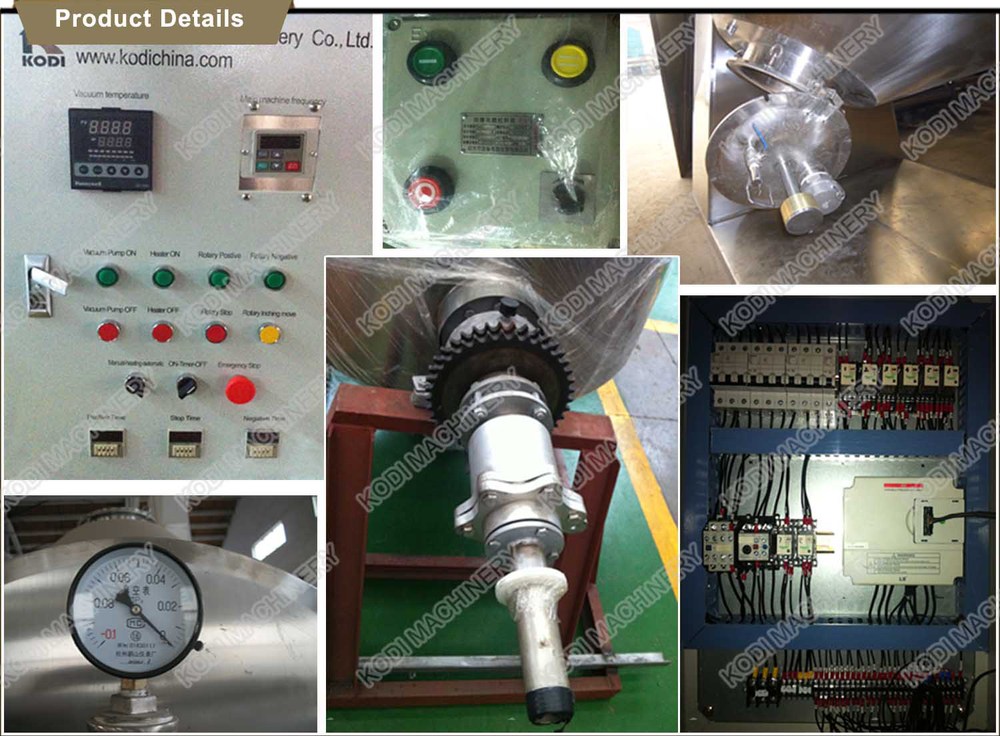 Features of Plastic Resin Vacuum Dryer
Design is GMP

All Product contact parts AISI 316/ 316L & non-contact parts AISI 304. Or completely 304.

Simple & compact Design for Easy to operate, clean, convenient & user friendly.

Automated mixing and Drying process in single bowl.

Dust free operation.

High vacuum operation

Low temperature drying.

Solvent recovery

Continuous rotation of container, material will make complex impacting motion in the container and reach to uniform mixing and drying at low temperature..

Continues vacuum maintenance during process.

Vacuumed closed system with condenser, Receiver for solvent recovery & Cyclone separator to recovery the solid particle.

Rapid & Complete discharge / Zero holdup after discharge

The product dried is homogeneous with uniform properties.

Very low value of final moisture even at low drying temperatures.

Inside Filter assembly with 5 Micron.
Optional Features :
l Option for advance PLC Controls with HMI touch screen..
l Option for Flame Proof Electrical.
l Option for lump breaker.
l Option for condenser, Receiver & Cyclone for solvent recovery.
l Option for heating media steam/ hot water / hot oil.
Applications of Plastic Resin Rotary Vacuum Dryer
1. Material that cannot undertake high temperature.
2. Material that is easy to oxidize.
3. Material that do not permit to destruct.
4. To recover material with residual volatile.
5. Material with vigorous irrelative and toxicity.
6. Biology products and mine.
7.Dry raw materials of pharmaceutical industry, chemical industry, foodstuff industry, dyestuff industry and biochemistry at low temp etc.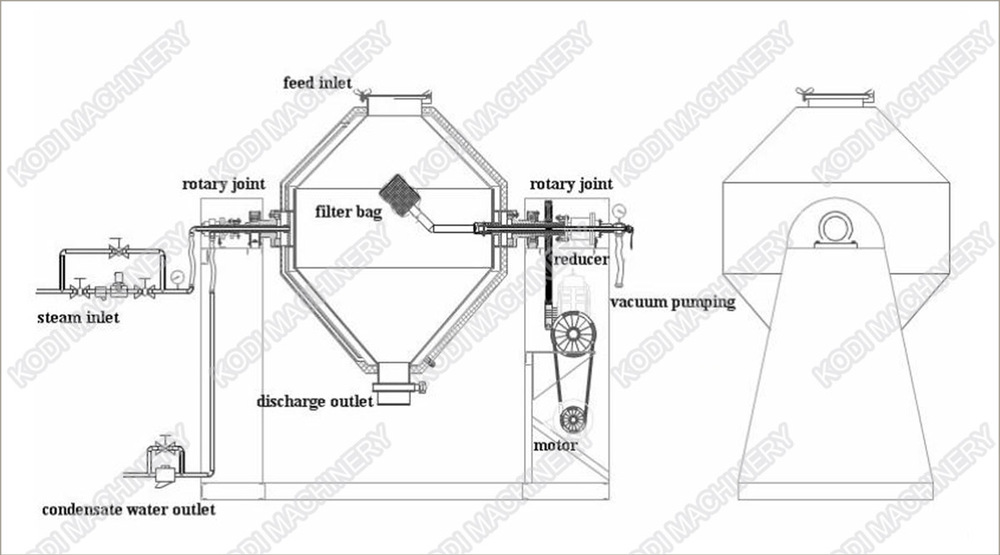 Technical Parameter of Plastic Resin Double Cone Vacuum Dryer
Model (SZG-)

100

350

500

750

1000

1500

2000

3500

4500

5000

Total volume(L)

100

350

500

750

1000

1500

2000

3500

4500

5000

Loading volume(L)

≤50

≤175

≤250

≤375

≤500

≤750

≤1000

≤1750

≤2250

≤2500

Heating area
(m2)

1.16

2

2.63

3.5

4.61

5.58

7.5

11.2

13.1

14.1

Rotary peed
(rpm)

4 - 6

Power of motor
(kw)

0.75

1.1

1.5

2

3

3

4

5.5

7.5

11

Occupied area,
L×W(mm)

2160
×800

2260
×800

2350
×800

2560
×1000

2860
×1300

3060
×1300

3260
×1400

3760
×1800

3960
×2000

4400
×2500

Rotary height
(mm)

1750

2100

2250

2490

2800

2940

2990

3490

4100

4200

Design pressure
inside the tank
(MPa)

-0.1-0.15

Design pressure
of jacket (MPa)

≤0.3

working temperature (oC)

In the tank≤85 jacket≤140

When use condenser

2X-15A

2X-15A

2X-30A

2X-30A

2X-70A

JZJX300-8

JZJX300-4

JZJX600-8

JZJX600-4

JZJX300-4

model and power
of vacuum pump

2KW

2KW

3KW

3KW

505KW

7KW

9.5KW

11KW

20.5KW

22KW

When don't use
condenser

SK-0.4

SK-0.8

SK-0.8

SK-2.7B

SK-2.7B

SK-3

SK-6

SK-6

SK-9

SK-10

model and power
of vacuum pump

1.5KW

2.2KW

2.2KW

4KW

4KW

5.5KW

11KW

11KW

15KW

18.5KW

Weight(kg)

800

1100

1200

1500

2800

3300

3600

6400

7500

8600
Successful Experience Overseas By KODI Plastic Resin Vacuum Dryer
Packaging & Shipping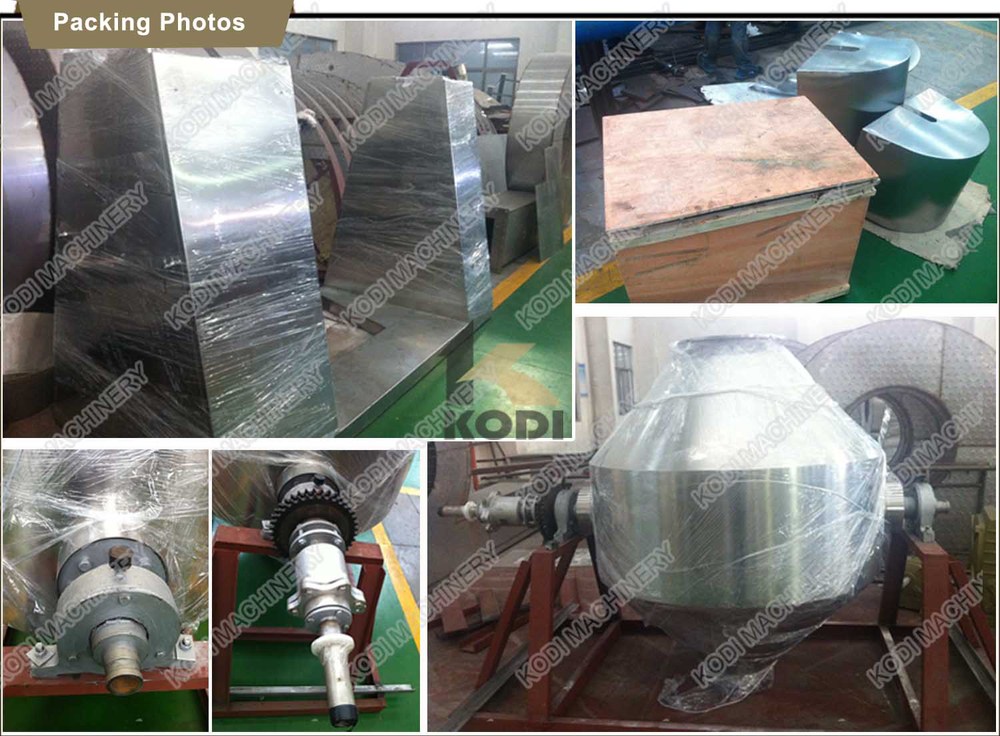 Hot Tags: plastic resin vacuum dryer szg, China, manufacturers, cheap, price, high torque