If you are checking soybean hammer mill sfsp price, or looking for cheap high torque soybean hammer mill sfsp, welcome to contact KODI Machinery, we are one of the leading China soybean hammer mill sfsp manufacturers.
Quick Details
Condition: New
Place of Origin: Jiangsu, China (Mainland)
Brand Name: KODI
Model Number: SFSP
Type: Mill Machine
Voltage: 220v-450v
Power(W): 18.5kw-350kw
Dimension(L*W*H): Deponds on the model
Weight: 600 kg
Certification: ISO9001
Warranty: 1 year
After-sales Service Provided: Engineers available to service machinery overseas
Product Name: KODI Hot Sale High Efficiency Soybean Hammer Mill Grinder Machine
Material: Carbon steel or Stainless steel
Production capacity: 5-90kg/h
Diameter of rotor: 560-1380mm
Width of chamber: 360-1000mm
Speed of hammers: 86-105 m/s
Hammer quantity: 20-180 pcs
Speed of rotor: 1480/2980 r/min
Spare parts: supply the whole lifetime
Installation: KODI service
Packaging & Delivery
| | |
| --- | --- |
| Packaging Details: | KODI High Efficiency Soybean Hammer Mill / Soybean hammer mill machine / Soybean hammer mill grinder is packing with plywood box or As customers' requirement |
| Delivery Detail: | 30 days |
KODI Hot Sale High Efficiency Soybean Hammer Mill Grinder Machine
1. Soybean Hammer Mill / Soybean hammer mill machine / Soybean hammer mill grinder
2.High efficiency
3.SKF bearings
4.Fine crushing
5.Can grind various kinds of materials
Product Description
What is Soybean
The soybean or soya bean is a species of legume native to East Asia, widely grown for its edible bean which has numerous uses. The plant is classed as an oilseed rather than a pulse by the UN Food and Agriculture Organization (FAO).
Fat-free (defatted) soybean meal is a significant and cheap source of protein for animal feeds and many packaged meals; soy vegetable oil is another product of processing the soybean crop. For example, soybean products such as textured vegetable protein (TVP) are ingredients in many meat and dairy analogues.Soybeans produce significantly more protein per acre than most other uses of land
Traditional nonfermented food uses of soybeans include soy milk, and from the latter tofu and tofu skin. Fermented foods include soy sauce, fermented bean paste, natto, and tempeh, among others. The oil is used in many industrial applications. The main producers of soy are the United States (36%), Brazil (36%), Argentina (18%), China (5%) and India (4%).The beans contain significant amounts of phytic acid, alpha-linolenic acid, and isoflavones.
Description of Soybean Hammer Mill
1. SFSP Soybean hammer mill is used for grinding raw materials of large and medium livestock and aqua feed mills. It can also be used for grass and pharmacy fine grinding. The granular raw materials, such as corn, sorghum, wheat, beans, etc can be grinded;
2. The Soybean hammer mill is derived from the tear circle type hammer mill and efficiency can be improved by 45%-90% compared to universal hammer mill;
3. It can produce qualified aqua feed under full load with 0.8,1 screen and reduce jam significantly. Both coarse and fine grinding can be completed without changing screens;
4. The right aspiration can make materials go through screen quickly, reduce temperature of grinding chamber and increase output effectively.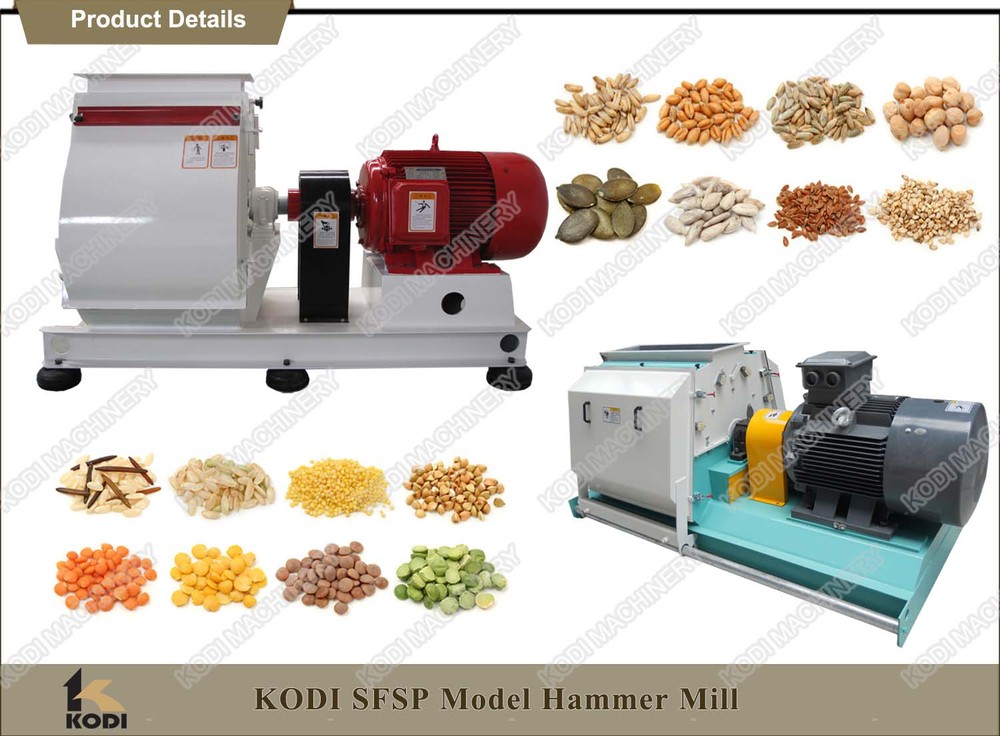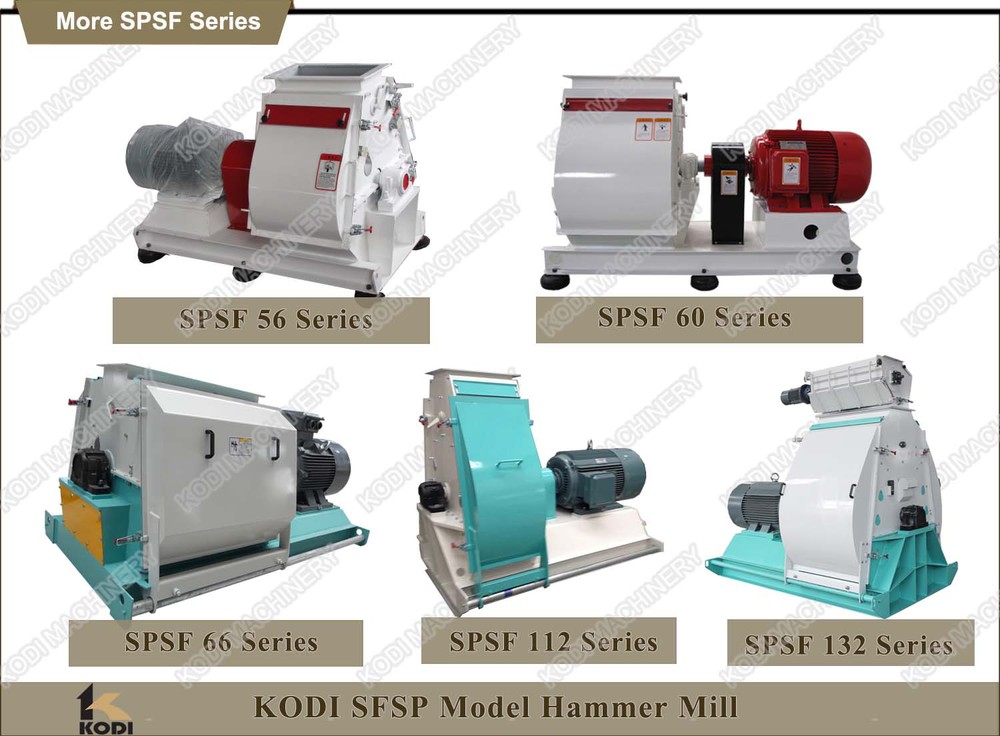 Features of Soybean Hammer Mill
• General type products, stable performance, widely used in large and medium-sized feed, food processing enterprise raw material crushing.
• The machine can both common shattered, and fine crushing. The series of products used for fine crushing.
• Used for fine crushing the final products can be more than 50 mesh.
• A variety of sieve net specifications optional, quick and open the door to the mechanical and elastic pressure type screen institution, change sieve quick, convenient operation and maintenance.
• Adopt of imported high-quality SKF bearings for long life and smooth operation.

Drawings of SFSP Series Soybean Hammer Mill Machine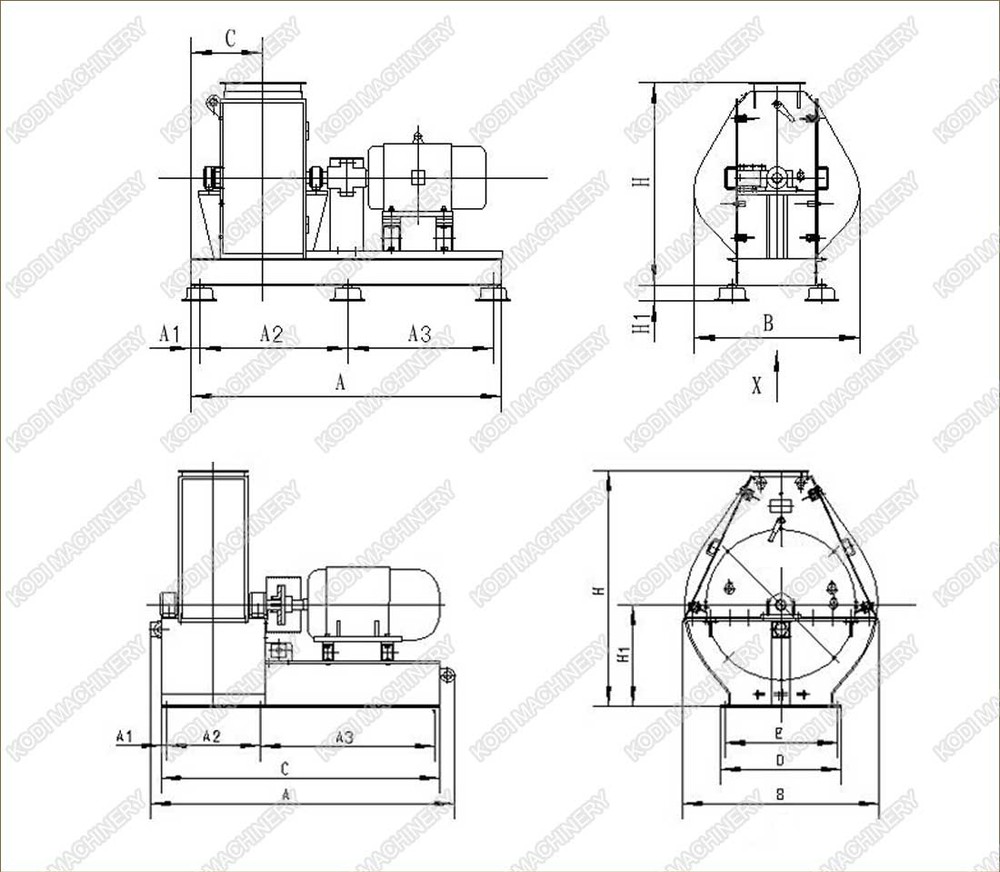 Technical Parameters of Soybean Hammer Mill Grinder
| | | | | | | |
| --- | --- | --- | --- | --- | --- | --- |
| Model | SFSP56*36 | SFSP56*40 | SFSP60*30 | SFSP60*45 | SFSP60*60 | SFSP60*75 |
| Capacity(t/h) | 2.5--5 | 4--7 | 2--5.5 | 5--9 | 7-11 | 8--13 |
| Diameter of rotor(mm) | 560 | 560 | 600 | 600 | 600 | 600 |
| Width of chamber mm | 360 | 400 | 300 | 450 | 600 | 750 |
| Speed of hammersm/s | 86 | 86 | 94 | 94 | 94 | 94 |
| Hammer QTY(pcs) | 20 | 24 | 24 | 44 | 48 | 60 |
| Speed of rotor (r/min) | 2980 | 2980 | 2980 | 2980 | 2980 | 2980 |
| Power (kw) | 18.5-22 | 30-37 | 18.5-22 | 45-55 | 55-75 | 75-90 |
| Model | SFSP66*40 | SFSP66*80 | SFSP66*100 | SFSP66*120 | SFSP112*30 | SFSP112*50 |
| Capacity(t/h) | 5-7 | 15-18 | 22-26 | 33-37 | 6-14 | 15-25 |
| Diameter of rotor(mm) | 660 | 660 | 660 | 660 | 1120 | 1120 |
| Width of chamber mm | 400 | 800 | 1000 | 1200 | 290 | 500 |
| Speed of hammersm/s | 102 | 102 | 102 | 102 | 86.5 | 86.5 |
| Hammer QTY(pcs) | 56 | 120 | 152 | 184 | 54 | 90 |
| Speed of rotor (r/min) | 2980 | 2980 | 2980 | 2980 | 1480 | 1480 |
| Power (kw) | 37-45 | 90-110 | 132-160 | 200-220 | 55-75 | 132-160 |
| Model | SFSP112*75 | SFSP112*100 | SFSP138*38 | SFSP138*50 | SFSP138*75 | SFSP138*125 |
| Capacity(t/h) | 30-40 | 40-50 | 16-20 | 24-29 | 48-55 | 66-72 |
| Diameter of rotor(mm) | 1120 | 1120 | 1380 | 1380 | 1380 | 1380 |
| Width of chamber mm | 780 | 1000 | 380 | 500 | 750 | 1000 |
| Speed of hammersm/s | 86.5 | 86.5 | 105 | 105 | 105 | 105 |
| Hammer QTY(pcs) | 136 | 180 | ---- | ---- | ---- | ---- |
| Speed of rotor (r/min) | 1480 | 1480 | 1480 | 1480 | 1480 | 1480 |
| Power (kw) | 200-220 | 250-300 | 75-90 | 110-132 | 220-250 | 315-350 |
Packaging & Shipping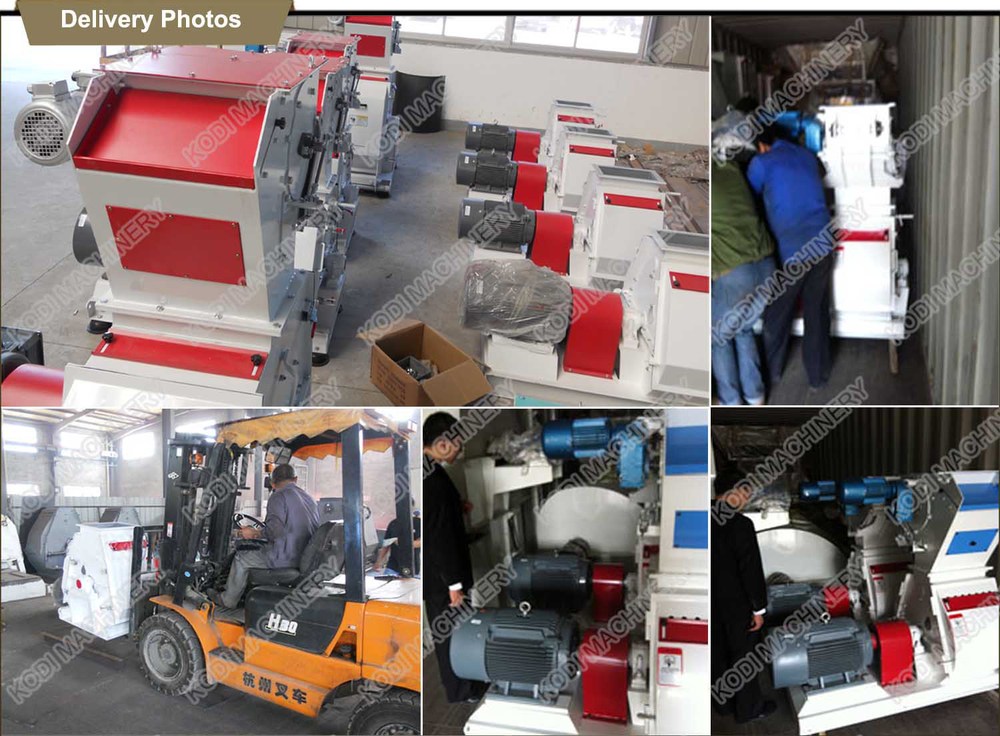 Hot Tags: soybean hammer mill sfsp, China, manufacturers, cheap, price, high torque