If you are checking stainless steel ribbon mixer wldh price, or looking for cheap high torque stainless steel ribbon mixer wldh, welcome to contact KODI Machinery, we are one of the leading China stainless steel ribbon mixer wldh manufacturers.
Quick Details
Condition: New
Mixer Type: Ribbon
Product Type: powder
Application: Powder
Additional Capabilities: Ribbon Blender
Place of Origin: Jiangsu, China (Mainland)
Brand Name: KODI
Model Number: WLDH
Max. Loading Capacity: 15000L
Voltage: 220v-450v
Power(W): 3-55kw
Dimension(L*W*H): Deponds on the model
Certification: CE,ISO9001
Warranty: 1 year
After-sales Service Provided: Engineers available to service machinery overseas
Product Name: WLDH Model Horizontal Stainless Steel Ribbon Blender
Material: Stainless steel, carbon steel
Volume: 0.1-15m³
Loads coefficient: 0.4-0.8
Weight: 330-9950kg
Spare parts: supply the whole lifetime
Installation: KODI service
Energy consumption: Low
Power: 3-55kw
Cylinder shape: U shape
Packaging & Delivery
| | |
| --- | --- |
| Packaging Details: | WLDH Model Horizontal Stainless Steel Ribbon Blender is packing with plywood box or As customers' requirement |
| Delivery Detail: | 30-40 days |
WLDH Model Horizontal Stainless Steel Ribbon Blender
1, Stainless Steel Ribbon Blender/ horizontal Stainless Steel ribbon mixer/ Stainless Steel spiral mixer
2, U shaping design
3, Easy operate and maintance
4, Widely application
Product Description
What is Stainless Steel
In metallurgy, stainless steel, also known as inox steel or inox from French "inoxydable", is a steel alloy with a minimum of 10.5% chromium content by mass.
Stainless steel does not readily corrode, rust or stain with water as ordinary steel does. However, it is not fully stain-proof in low-oxygen, high-salinity, or poor air-circulation environments.There are different grades and surface finishes of stainless steel to suit the environment the alloy must endure. Stainless steel is used where both the properties of steel andcorrosion resistance are required.
Stainless steel differs from carbon steel by the amount of chromium present. Unprotected carbon steel rusts readily when exposed to air and moisture. This iron oxide film (the rust) is active and accelerates corrosion by forming more iron oxide; and, because of the greater volume of the iron oxide, this tends to flake and fall away. Stainless steels contain sufficient chromium to form a passive film of chromium oxide, which prevents further surface corrosion by blocking oxygen diffusion to the steel surface and blocks corrosion from spreading into the metal's internal structure.Due to the similar size of the steel and oxide ions, they bond very strongly and remain attached to the surface.Passivation occurs only if the proportion of chromium is high enough and oxygen is present.
Description of Horizontal Stainless Steel Ribbon Blender
Stainless Steel Ribbon Mixer is a brand-new mixer. It is characterized in high efficiency, high degree of homogeneity, high load coefficient, low energy consumption, low pollution, little destruction to frangible material. It is suitable for mixing a wide range of materials such as powder-powder, power-liquid, especially for paste, thick materials.
Horizontal Stainless Steel Ribbon Blender is composed of container, screw stirring paddles and transitional parts: the screw paddle are generally made into 1 layers or 3 layers, the outer screw converge is the material to the center from two sides, and the inner layer of screw conveys the material to the two sides from the center, so as to from convection mixing of powder which needs to add liquid, and paste material.
Main Use and Application of Horizontal Stainless Steel Ribbon Mixer
The Horizontal ribbon mixer is generally used to mix viscous or adhesive powder material,or powder with liquid additive,or pasty material.Because it is difficult to clean viscous material,the machine is good at mixing material with large capacity and continuous demand.
This machine is applied in the industry of pharmaceutical,foodstuff,chemical,pesticides,plastic,pigment and cosmetics.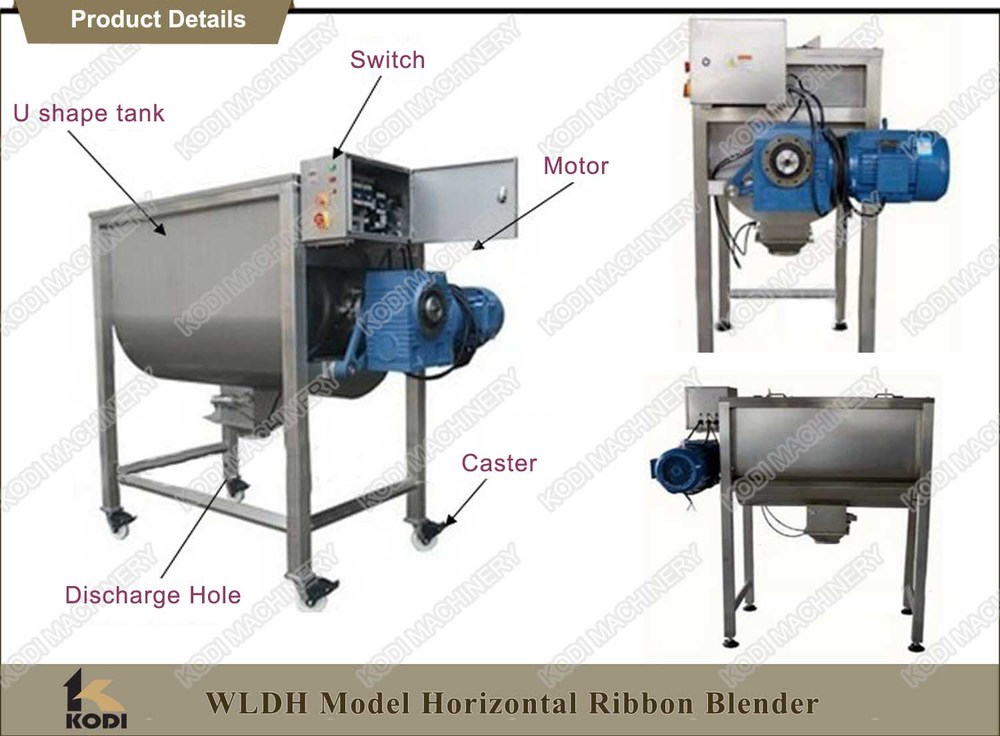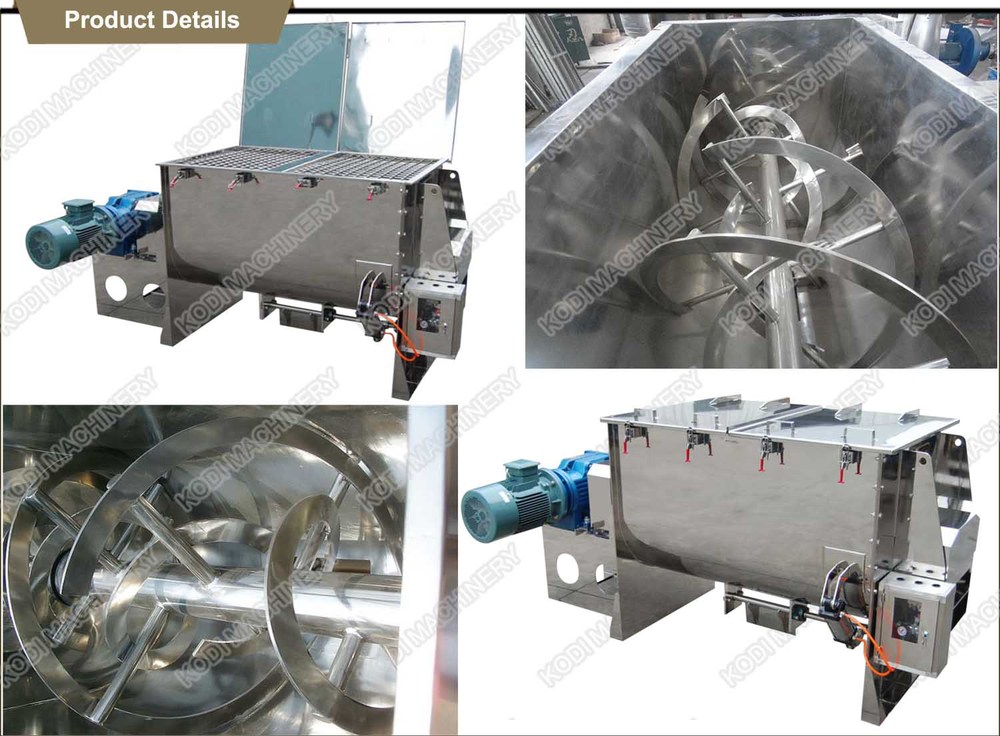 Features of KODI Stainless Steel Ribbon Blender
1) Stable working, noiseless, easy to disassemble;
2) Available for continuous use;
3) Energy saving, compact structure, high precision transmission;
4) Strong loading capability and easy to assemble;
5) Less influenced by particle size and density;
6) With jacket or coil to heating;
7) Dedusting system and injection system for option;
8) Star/knife-edge/butterfly types valve for option;
9) Manual or pneumatic valve discharge.
Technical Parameters of Horizontal Stainless Steel Ribbon Blender
Model

All volume
(M3)

Loads coefficient

Electrical machinery power
(KW)

Size(mm)× Max-diameter ×High

Equipment weight (kg)

WLDH-0.1

0.1

0.4-0.8

3

1190×740×770

330

WLDH-0.3

0.3

0.4-0.8

4

2030×630×980

720

WLDH-0.5

0.5

0.4-0.8

7.5

2320×730×1130

980

WLDH-1

1

0.4-0.8

11

2800×920×1320

1700

WLDH-1.5

1.5

0.4-0.8

11

3180×1020×1550

1800

WLDH-2

2

0.4-0.8

15

3310×1120×1640

2100

WLDH-3

3

0.4-0.8

18.5

3750×1290×1820

3000

WLDH-4

4

0.4-0.8

22

4220×1400×1990

3980

WLDH-5

5

0.4-0.8

22

4220×1500×2100

4620

WLDH-6

6

0.4-0.8

30

4700×1610×2260

6180

WLDH-8

8

0.4-0.8

37

4420×2150×2470

8200

WLDH-10

10

0.4-0.8

45

5520×2960×2720

8920

WLDH-12

12

0.4-0.8

45

5720×3010×2840

9520

WLDH-15

15

0.4-0.8

55

5840×3540×2940

9950
Drawings of Stainless Steel Spiral Mixer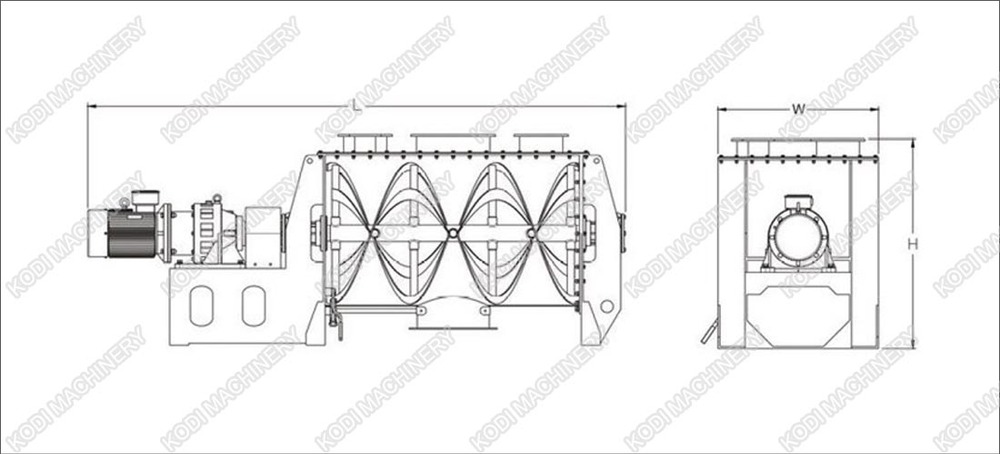 Packaging & Shipping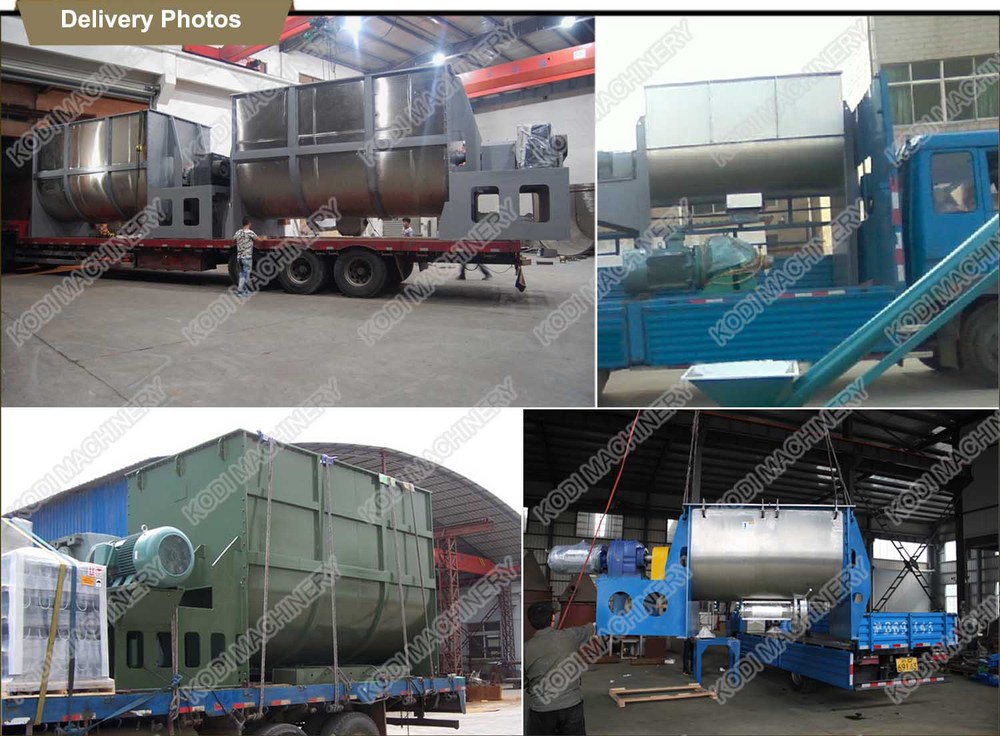 Hot Tags: stainless steel ribbon mixer wldh, China, manufacturers, cheap, price, high torque