If you are checking stainless steel tray oven dryer ct/ct-c price, or looking for cheap high torque stainless steel tray oven dryer ct/ct-c, welcome to contact KODI Machinery, we are one of the leading China stainless steel tray oven dryer ct/ct-c manufacturers.
Quick Details
Condition: New
Type: Drying Oven
Place of Origin: Jiangsu, China (Mainland)
Brand Name: KODI
Model Number: CT/CT-C
Voltage: 220V - 450V
Power(W): 15kw
Dimension(L*W*H): Deponds on the model
Weight: Deponds on the model
Certification: ISO9001,CE
Warranty: 1 year
After-sales Service Provided: Engineers available to service machinery overseas
Product Name: CT/CT-C Stainless Steel Tray Oven dryer Circulating Drying Oven
Material: Stainless steel 304 and 316L
Drying capacity: 60-480 kg/batch
Steam consumption: 15-80 kg/h
Electrical heater power: 6-60 kw
Fan power: 0.4-2.2 kw
Drying shelf: 1-8 set
Drying plate: 24-192 pcs
Installation: KODI service
Spare parts: supply the whole lifetime
Packaging & Delivery
| | |
| --- | --- |
| Packaging Details: | KODI CT/CT-C Series Hot Air Stainless Steel tray drying machine / Stainless Steel circulating drying oven / Stainless Steel tray oven dryer is packing with plywood box or As customers' requirement |
| Delivery Detail: | 35 days |
KODI CT/CT-C Series Hot Air Stainless Steel Tray Oven dryer Circulating Drying Oven
1, Stainless Steel tray drying machine / Stainless Steel circulating drying oven / Stainless Steel tray oven dryer
2, Automatic temperature control system
3, Low energy consumption
4, Easy operation and control
Product Description
What is Stainless Steel
Stainless steel, also known as inox steel or inox from French "inoxydable", is a steel alloy with a minimum of 10.5% chromium content by mass.
Stainless steel does not readily corrode, rust or stain with water as ordinary steel does. However, it is not fully stain-proof in low-oxygen, high-salinity, or poor air-circulation environments. There are different grades and surface finishes of stainless steel to suit the environment the alloy must endure. Stainless steel is used where both the properties of steel andcorrosion resistance are required.
Stainless steel differs from carbon steel by the amount of chromium present. Unprotected carbon steel rusts readily when exposed to air and moisture. This iron oxide film (the rust) is active and accelerates corrosion by forming more iron oxide; and, because of the greater volume of the iron oxide, this tends to flake and fall away. Stainless steels contain sufficient chromium to form a passive film of chromium oxide, which prevents further surface corrosion by blocking oxygen diffusion to the steel surface and blocks corrosion from spreading into the metal's internal structure.Due to the similar size of the steel and oxide ions, they bond very strongly and remain attached to the surface.
Passivation occurs only if the proportion of chromium is high enough and oxygen is present.
Stainless Steel Tray Oven Dryer Description
CT-C Drying Ovens or Tray oven dryer adopts noise elimination and thermal stable axial flow fan and automatic temperature control system. The entire circulation system is enclosed to make that the heat efficiency of the tray dryer increases from 3~7% of the traditional tray dryerto 35~45% of the present one. The highest heat efficiency can be up to 50%.The successful design of CT -C hot air circulation oven makes that the hot air circulation tray dryer in our country reach the advanced level in the world. It saves energy and increases the economic benefit.In1990, the medical management bureau of the State issued the industry standard and the uniform type is RXH.
Stainless Steel Tray Drying Machine Application
This Stainless Steel tray drying machine is suitable for the material and product hot solidification and dry de-watering in the pharmaceutical, chemical, food, farming, side-product, aquatic product, light industries, heavy industries and others industries. Such as: raw material medicine, crude drug, prepared herbal medicine of Chinese traditional medicine, plaster, powder, particle, drinking agent, pill, packing bottle, pigment, dyestuff, de-watering vegetable, dried fruit piece, sausage, plastics, resin, electric component, baking varnish and etc .
Stainless Steel Circulating Drying Oven Features
1. Three kinds of heat source are used for heating : electricity, steam+ electricity.
2. Operation temperature: steam,50-140°C. Max.150°C, electricity,50~350°C. The temperature can be controlled automatically. Moreover it can be recorded through recorder.
3. The inner wall of oven body is fully welded. Each transition adopts circular arc and no dead.
4. The seal property of whole machine is good. Being adopted unique guide rail seal apparatus, the seal property can be guaranteed.
5. The air inlet is equipped with high effective air filter and the damp exhaust outlet is equipped with middle effective air filter.
6. The double doors of oven adapt mechanical interlock apparatus.
7. All parts inside the oven can be assembled and disassembled quickly in order to clean conveniently.
8. The control system has test display and touch screen for your choice.
9. The whole machine is in conformity with the requirements of GMP.
Stainless Steel Tray Oven Dryer Technical Parameters
| | | | | | | | | |
| --- | --- | --- | --- | --- | --- | --- | --- | --- |
| Model | Drying capacity(kg/lot) | Electric heating power(kw) | Fan power(kw) | Overall dimensions W*D*H(mm) | Equipped drying shelf(set) | Drying plate equipped (pc) | Temperature automatic control box | Total weight(kg) |
| CT-C-O | 60 | 6-9 | 0.45 | 1380*1200*2000 | 1 | 24 | available | 820 |
| CT-C-I | 120 | 15 | 0.45 | 2260*1200*2000 | 2 | 48 | available | 1580 |
| CT-C-II | 240 | 30 | 0.45*2 | 2260*2200*2000 | 4 | 96 | available | 1800 |
| CT-C-II A | 240 | 30 | 0.45*2 | 4280*1200*2270 | 4 | 96 | available | 1880 |
| CT-C-III | 360 | 45 | 0.45*3 | 2260*3200*2000 | 6 | 144 | available | 2100 |
| CT-C-III A | 360 | 45 | 0.45*3 | 3240*2200*2000 | 6 | 144 | available | 2210 |
| CT-C-IV | 480 | 60 | 0.45*4 | 4480*2200*2270 | 8 | 192 | available | 2800 |
| CT- I | 120 | 15 | 1.1 | 2480*1200*2375 | 2 | 48 | none | 1220 |
| CT-II | 240 | 30 | 1.1 | 2480*2200*2438 | 4 | 96 | none | 1530 |
| CT-III | 360 | 45 | 2.2 | 3430*2200*2620 | 6 | 144 | none | 2110 |
| CT-IV | 480 | 60 | 2.2 | 4460*2200*2620 | 8 | 192 | none | 2300 |
Drawings and Flow Chart of Stainless Steel Tray Drying Machine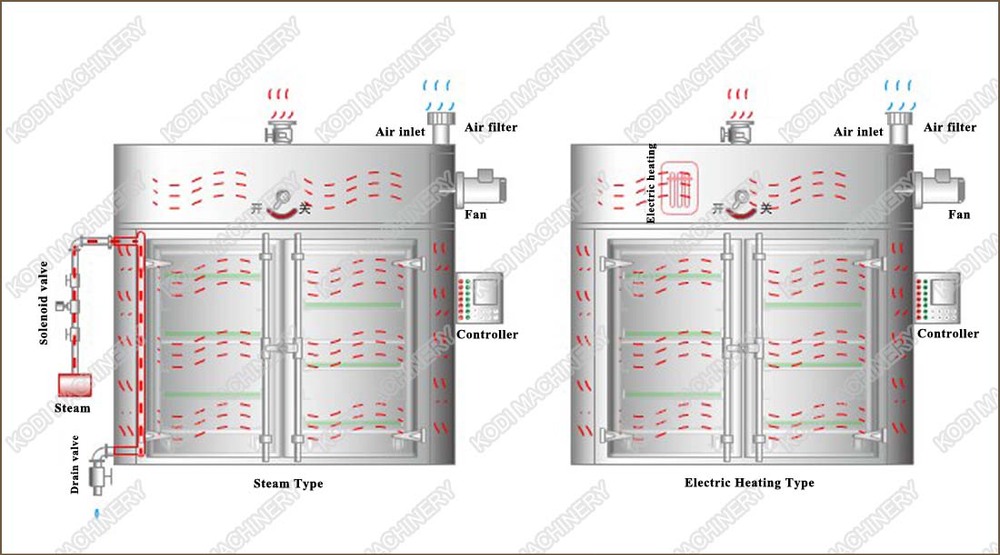 Packaging & Shipping
Hot Tags: stainless steel tray oven dryer ct/ct-c, China, manufacturers, cheap, price, high torque