If you are checking vitamin spray dryer lpg price, or looking for cheap high torque vitamin spray dryer lpg, welcome to contact KODI Machinery, we are one of the leading China vitamin spray dryer lpg manufacturers.
Quick Details
Condition: New
Type: Spray Drying Equipment
Place of Origin: Jiangsu, China (Mainland)
Brand Name: KODI
Model Number: LPG series
Voltage: 220v-450v
Power(W): Depand on the model
Dimension(L*W*H): Depends on the model
Weight: Depends on the model
Certification: IS9001,CE
Warranty: 1 year
After-sales Service Provided: Engineers available to service machinery overseas
Product Name: LPG Model Vitamin Spray Dryer, Spray Drying Process
Material: Stainless steel304/316L
Inlet air temperature: ≤ 350°C
Rotary speed: 15000-25000
Outlet air temperature: 80-90°C
Dry powder yield: ≥ 95%
Control: PLC touch screen/button type
Heating source: Electricity/LPG/Natural gas/Oil/Steam
Installation: KODI service
Spare parts: Supply the whole lifetime
Packaging & Delivery
| | |
| --- | --- |
| Packaging Details: | KODI LPG Vitamin spray dryer / Vitamin dryer / Vitamin spray drying process is packing with plywood box or As customers' requirement |
| Delivery Detail: | 15 - 90 days |
LPG Model Vitamin Spray Dryer, Spray Drying Process
1, Vitamin spray dryer / Vitamin dryer / Vitamin spray drying process
2, Liquid or slurry drying processor
3, Easy operation and control
4, Stainless steel

Product Description
What is Vitamin
Vitamin is an organic compound and a vital nutrient that an organism requires in limited amounts. An organic chemical compound (or related set of compounds) is called a vitamin when the organism cannot synthesize the compound in sufficient quantities, and it must be obtained through the diet; thus, the term "vitamin" is conditional upon the circumstances and the particular organism. For example, ascorbic acid (one form of vitamin C) is a vitamin for humans, but not for most other animal organisms. Supplementation is important for the treatment of certain health problems, but there is little evidence of nutritional benefit when used by otherwise healthy people.
By convention, the term vitamin includes neither other essential nutrients, such as dietary minerals, essential fatty acids, or essential amino acids (which are needed in greater amounts than vitamins) nor the great number of other nutrients that promote health, and are required less often to maintain the health of the organism.Thirteen vitamins are universally recognized at present. Vitamins are classified by their biological and chemical activity, not their structure. Thus, each "vitamin" refers to a number of vitamer compounds that all show the biological activity associated with a particular vitamin. Such a set of chemicals is grouped under an alphabetized vitamin "generic descriptor" title, such as "vitamin A", which includes the compounds retinal, retinol, and four known carotenoids. Vitamers by definition are convertible to the active form of the vitamin in the body, and are sometimes inter-convertible to one another, as well.
Vitamins have diverse biochemical functions. Some, such as vitamin D, have hormone-like functions as regulators of mineral metabolism, or regulators of cell and tissue growth and differentiation (such as some forms of vitamin A). Others function as antioxidants (e.g., vitamin E and sometimes vitamin C).The largest number of vitamins, the B complex vitamins, function as precursors for enzyme cofactors, that help enzymes in their work as catalysts in metabolism. In this role, vitamins may be tightly bound to enzymes as part of prosthetic groups: For example, biotin is part of enzymes involved in making fatty acids. They may also be less tightly bound to enzyme catalysts as coenzymes, detachable molecules that function to carry chemical groups or electrons between molecules. For example, folic acid may carry methyl, formyl, and methylene groups in the cell. Although these roles in assisting enzyme-substrate reactions are vitamins' best-known function, the other vitamin functions are equally important.

LPG Vitamin Spray Dryer Description
KODI Vitamin spray dryer is a wide applied process in liquid process shaping and drying industry. Particularly it is suitable for producing powder, granule or block solid product from solution, Vitamin, suspending liquid and pumped paste liquid. Therefore when the distribution of granule size, final moisture, bulk density, granule shape of finished product must be conformed to accuracy standard, the spray drying is an ideal process.
LPG Vitamin Spray Dryer Application
Spray dryer is widely used in foodstuff, Vitamin and Pharmaceutical industrial, such as whey, egg powder, geltain,coffee powder, white egg, amino acid product, protein, Vitamin , food flavor, food ingredients, carrageenan, spirulina, herbal extraction, pigment, cocoa, mushroom, PAC, malt dextrin, collagen, juice, yeast, Coffee, Creamer, coconut, milk, blood , gum and acacia etc.

LPG Working Principle of Vitamin Spray Drying Process
After filtering and heating, the hot fresh air enter into the air distributor at the top of drying chamber, distributed in spiral way uniformly from up to down. At the same time, the feeding liquid is pumped to the top atomizer, then be sprayed to extremely fine mist liquid drop. Through the short time of direct contact with hot air, the moisture evaporated at once, the solid remains to be powder. The dry powder will be discharged continuously from the bottom of drying tower and cyclone collector, the exhaust air will be discharged after cleaning.

Details of LPG Vitamin Spray Dryer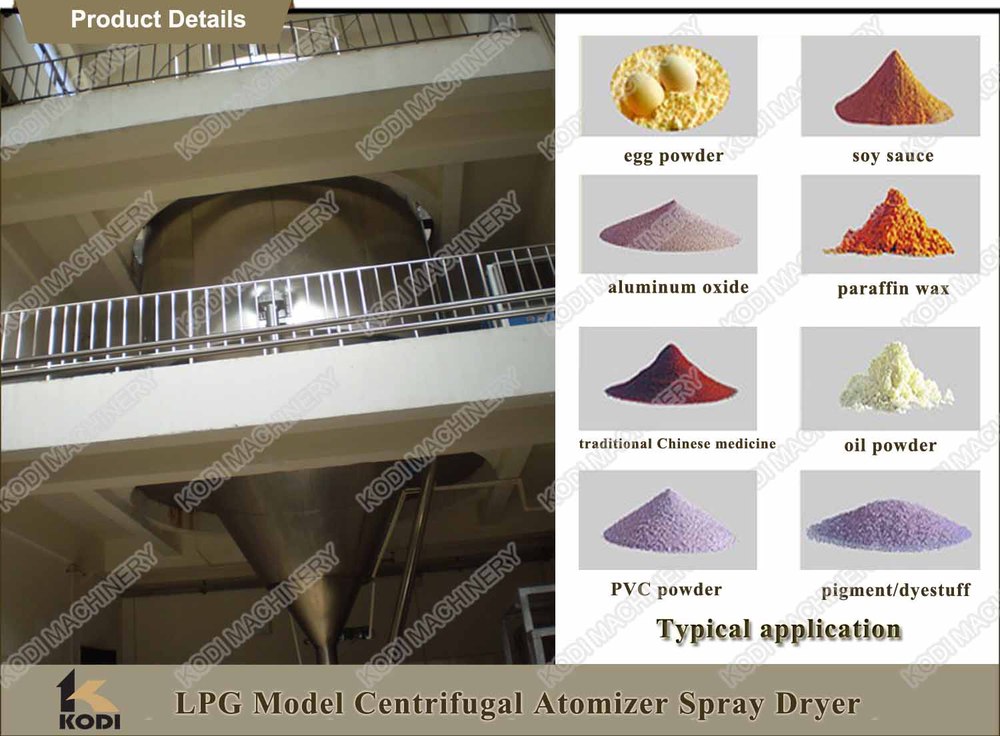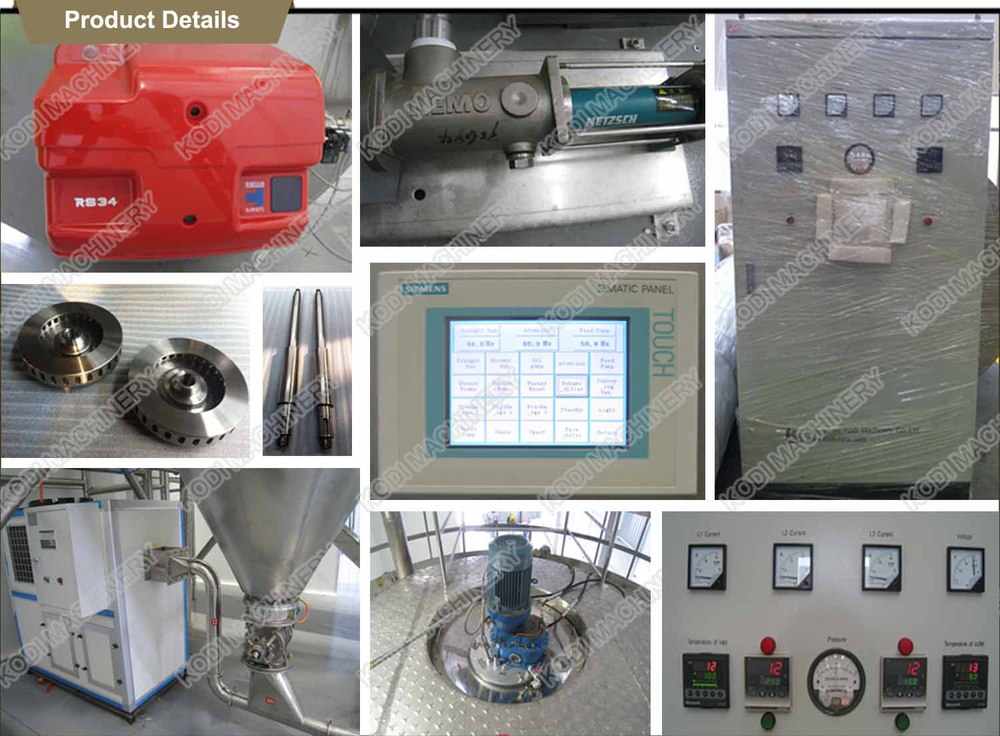 Final Product of KODI LPG Vitamin Dryer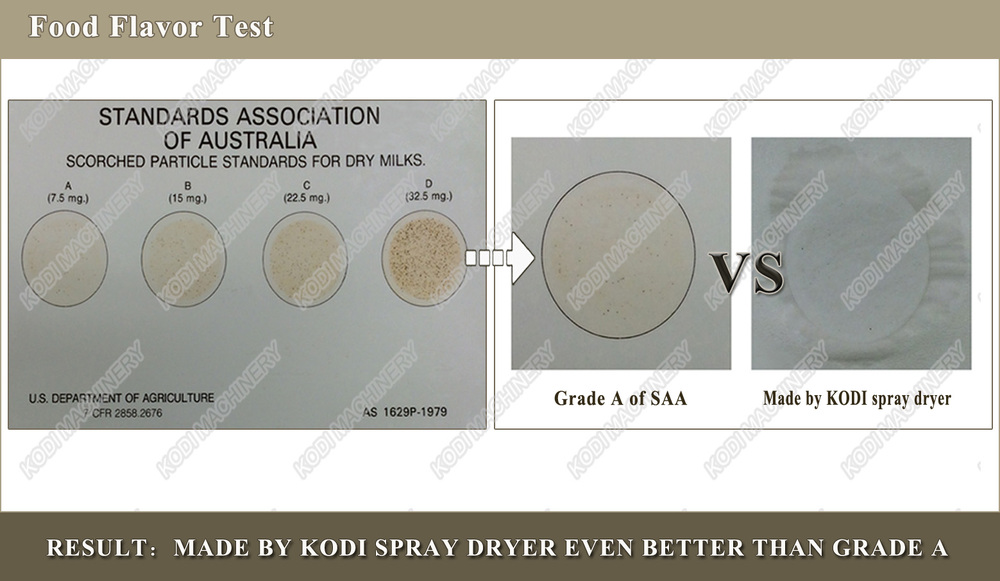 LPG Vitamin Spray Dryer Spray Drying Process Technical Parameters

Model

Vitamin spray Dryer MODEL LPG-

5
25
50
100
150
200-5000

Inlet air temperature

≤ 350°C

Outlet air temperature

80-90°C

Evaporate capacity (kg/h)

5

25

50

100

150

200-5000

Atomizer type

compressed air drive






mechanical drive





Rotary speed

25000

22000

21500

18000

18000

15000

Diameter of atomizer disc (mm)

50

120

120

120

150

180-500

Heating source

Electricity

Electricity/LPG/

Natural gas/Oil/Steam

Electricity/LPG/

Natural gas/Oil/Steam

Electricity/LPG/

Natural gas/Oil/Steam

Electricity/LPG/

Natural gas/Oil/Steam

Electricity/LPG/

Natural gas/Oil/Steam

Electric-heating power (kw)

9

-

-

-

-

-

Dry powder yield (%)

≥ 95

≥ 95

≥ 95

≥ 95

≥ 95

≥ 95
Successful Experience Overseas of KODI LPG Vitamin Spray Drying Process
LPG Vitamin spray dryer has a very mature technology and process, and KODI company has rich overseas site installation experience and good after sale service .

Packaging & Shipping
Hot Tags: vitamin spray dryer lpg, China, manufacturers, cheap, price, high torque